Ports & Ships Maritime News
October 14-15, 2010
Author: Terry Hutson
Shipping, freight, trade and transport related news of interest for Africa
Want to advertise on the website using your Banner? - contact info@ports.co.za
SEND NEWS REPORTS AND PRESS RELEASES TO info@ports.co.za
TODAY'S BULLETIN OF MARITIME NEWS
Click on headline to go direct to story – use the BACK key to return
Looking for help? Try our MARITIME SERVICES DIRECTORY CLICK HERE
First View – IVS KWELA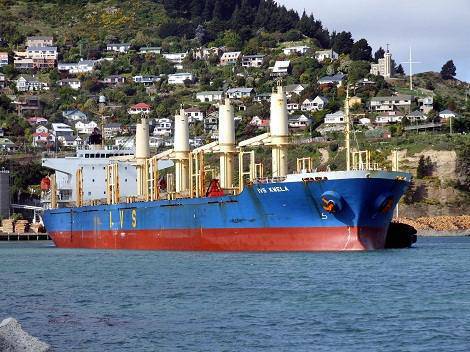 Island View Shipping's bulk carrier IVS KWELA (32,474-dwt, built 2002) seen departing the port of Lyttelton, NZ after discharging a cargo of urea. Picture by Alan Calvert
News continues below...

African Union turns attention to improving maritime security and safety in Africa
Addis Ababa – Africa has thirty-eight (38) countries that are either coastal or island states, the African Union (AU) Commissioner for Peace and Security has pointed out. Briefing the AU Peace and Security Council on maritime security and safety during the its 242nd meeting held on 4 October 2010, the commissioner said: "Africa borders the major sea lanes of the world and is therefore strategically situated. This in and of itself demands great attention on the part of Africa's coastal states in terms of protection of the maritime domain that had so far not been comprehensively secured for the African people. As the backbone of international commerce, oceans and seas are vital to African expectations in peace, in security, in economic development, transportation, trade, environmental and scientific research, historical and cultural heritage."
The AU says that over the past decade maritime security and safety has become a major challenge for several African coastal countries. Piracy has become a major threat, generating or exacerbating political and social instability in the surroundings. Drug and human trafficking, financing the purchase of weapons, oil spills and other environmental crimes, to name a few, are threats that weaken the continent.
In this regard, Mr Erastus Mwencha, Deputy Chairperson of the African Union Commission has been invited at the headquarters of US Africa Command (Africom) in Stuttgart, Germany, in order to address these issues.
Conscious of the impact of maritime security and safety on Africa's growth the AU has put together the African Integrated Maritime Strategy (AIM-Strategy) aiming to achieve a comprehensive understanding of existing and potential challenges and allocation of resources to identified priorities. It also aims at designing a comprehensive, concerted, coherent and coordinated approach that improves maritime conditions in respect of environmental and socio-economic development. – source: AU statement
News continues below…

Walvis Bay upgrade on target for 2014

Map of Namibia - Visit us for more Africa Maps
Namibia's port authority Namport plans to spend R2.7 billion (N$2.7bn) on upgrading the port of Walvis Bay within the next three to four years, says Walvis Bay Corridor Group CEO, Johny Smith.
As has been previously reported in PORTS & SHIPS, Walvis Bay is to be expanded with a new container terminal that will double the annual capacity of the port from approximately 250,000-TEU currently to 500,000-TEU. Namport hopes to have completed this phase of the port expansion by 2013 or 2014 and will at the same time have increased the draught to enable much larger ships to make use of the port as required.
The real issue facing Walvis Bay however, remains that of having to successfully market the port and region as an alternative to South African and other African ports on the Indian Ocean, which is where the Walvis Bay Corridor Group (WBCG) comes in.
WBCG is a private-public partnership with the task of promoting and selling the concept of Namibia's corridors to South Africa, Botswana, Zimbabwe, Zambia, the DRC and even southern Angola. In this it has already had some success, although not to the extent that it might have hoped. Volumes moving along the respective road and fairly limited rail corridors remain low, but represent a start and a hint of promise to what is possible.
But to accomplish that promise the port needs some work – this includes deepening the somewhat tricky channels and increasing the capacity of the port generally. In this regard Smith says that a start has been made, with a short list of prospective funders having been identified, and a tender calling for engineering, procurement and construction contractors also issued. He indicated that construction at the port could commence as early as the second quarter of 2011.
Walvis Bay is increasingly marketed as an alternative to South African ports, notably Durban, using the advantage for Gauteng customers that the Namibian port can shave between three and five days off the time taken to ship imports via Durban. This of course applies to cargo coming from Europe or the America's - obviously this principal does not apply for cargo to or from the Far or Middle East.
As a result of this approach the Trans-Kalahari Corridor was developed, involving a road network extending from Walvis Bay across the widths of Namibia and Botswana before reaching the South African border. A rail corridor option exists via the southern route from South Africa's De Aar via Upington but has not operated since the early 1990s. More recently Namibia and Botswana have been in talks aimed at building a new railway across central Botswana.
The WBCG hopes to increase the volume of traffic on the Trans Kalahari route and to this end agreements have been reached with the three governments and authorities concerned to remove most of the bureaucratic restrictions that normally hinder and delay road traffic in Africa. This includes the introduction of one-stop border control posts and custom clearance procedures on Botswana's borders with Namibia and South Africa respectively, where a 20 – 30 minute administrative delay is now said to be the norm.
Although the Trans Kalahari Corridor represents a much longer landside transport challenge than does the shorter road and rail route from Durban to Gauteng, Smith believes the Walvis Bay option is effective in saving a minimum of three days for customers. For time sensitive cargo this can be a determining factor. According to the WBCG it will take no more than 48 hours to complete the transit from the port of Walvis Bay to Gauteng.
The WBCG also promotes the use of the Trans-Caprivi Corridor from Walvis Bay to the Caprivi and the Zambian border in the north-east of Namibia. From here the route is open through Zambia and into the DRC, while further west Namibia is developing the Trans-Cunene Corridor, using rail and road to link the port of Walvis Bay with southern Angola.
One of the boasts used by those promoting Walvis Bay as a port is that the port experiences no congestion and is efficiently operated. This can be an important marketing tool but it hasn't yet been shown how Walvis Bay or any other southern African port including modern new ports like Ngqura in South Africa's Eastern Cape will cope once they attract and experience really heavy traffic volumes. Most ports can perform well with low numbers of ships arriving – but it's how the port copes when the ships begin to bunch and accumulate that will answer the question about real efficiencies and productivity. In that respect the jury is still out
In the meantime it is reassuring to shippers to have increasing options for importing and exporting goods in well equipped ports with hopefully well-run landside transport choices also available.
News continues below...

News of ships and shipping lines
MOL achieves continuous operation of main engine in all load ranges
Japanese shipping giant Mitsui OSK Line (MOL) says it has verified continuous operation of the main engine in all load ranges, by increasing the output of the engine's blower motor.
Generally, the main engine of an ocean shipping vessel takes air into the combustion chamber using an auxiliary blower for low speeds or low-load ranges, and a turbocharger for high speeds or in high-load ranges. However, continuous operation of the engine in-between range has been difficult due to degraded combustion and increased exhaust gas temperature caused by air shortage. MOL's says that recent tests have verified that increasing the output of the auxiliary blower motor ensures a sufficient air supply to allow continuous operation in all load ranges.
Low-speed vessel operation is an effective way to reduce fuel consumption and CO2 emissions. Allowing for vessel operation without limiting load ranges opens up more opportunities for low-speed operation than ever before. According to MOL it is also one of the basic technologies for the 'ISHIN-III' series of next-generation vessels which MOL has announced as an initiative to reduce the environmental impact of its ocean shipping operations.

Idled container fleet set to grow over northern winter - Alphaliner
According to French shipping analyst Alphaliner, the world's idle containership fleet is expected to increase over the coming months as carriers lay-up ships for the quiet winter season.
Alphaliner says the idle fleet currently stands at 225,000 TEU, compared with 1.5 million TEU in January, but it is likely to rise to between 600,000 TEU and one million TEU by the end of December.
"Although not a single carrier has confirmed its winter schedule yet, the withdrawal of some capacity is already being planned. Such moves will be required to bring supply and demand into balance, as demand trends show signs of weakening after the past nine-month surge," said Alphaliner. "The decline of the idle containership fleet looks certain to be reversed in the next few weeks, as seasonal volume reductions are due, especially on the Asia-Europe trade where some 10% of the ships deployed could be removed." The analyst said most ships to be laid up will be larger than 3,000-TEU.

Safmarine appoints Bimal Kanal as regional executive of new Indian Subcontinent Region
Container carrier Safmarine has appointed Bimal Kanal to be its regional executive for the newly created Indian Subcontinent region, previously announced on PORTS & SHIPS. The region covers India, Pakistan, Sri Lanka, Bangladesh, Nepal and the Maldives. Kanal has previously served in senior positions with the AP Moller-Maersk Group

Wärtsilä and Esospec team up for greener operations
Wärtsilä and Esospec have signed a MoU to work on developing cleaner engine power solutions.
The two companies believe that by combining the joint expertise of Wärtsilä and Ecospec, the carbon footprint of both marine and onshore heavy industries can be significantly reduced through the development of clean power solutions. The aim is to achieve the lowest possible CO2 emissions, near zero SOx emissions - even when using heavy residual fuel, and to attain the capability to meet future NOx emission requirements.
Under the MOU, Wärtsilä is responsible for integrating the CSNOx system into various engine applications. This includes the engineering, installation, supervision, project management, and commissioning of the system for both newbuildings and retrofits. Ecospec, as the supplier of the CSNOx system, would be responsible for supplying the key components of the system.
"Ecospec has always been on the lookout for suitable organisations with whom we could develop strategic alliances for the various technologies we have developed," said Tany Tay, General Manager of Ecospec.
News continues below…

Tanzanian concern over loss of maritime personnel
The number of qualified Tanzanian maritime personnel is declining fast, it was revealed in Dar es Salaam recently.
According to All Africa news journal, the Tanzania Ports Authority (TPA) Director, Ephraim Mgawe, said at present there are 32 ship's masters and 19 marine engineers in Tanzania. He said most of the experts in the field are at advanced age. "This situation is not encouraging at all. We need to find a solution to the problem as soon as possible," Mgawe said.
"It takes about ten years to train a marine officer or an engineer. We must act swiftly." Mgawe was speaking at the World Maritime Day held at Harbour's Club in the city. The chief guest, the Minister for Infrastructure Developments, Dr Shukuru Kawambwa, who failed to attend due to election campaigns was represented by the ministry's Deputy Director of Marine Transport, Saad Fungafunga.
Fungafunga acknowledged that the situation needed immediate intervention, but pointed out that funds to that effect would soon be available. "The cost of training these specialists is high. We need a special fund to train such professionals as is the case with pilots," he said.
Ship's master Captain Juma Saire, who has a masters degree in marine studies, said grooming of the marine experts was being ignored due to lack of a state-owned shipping company where the training and field practice could be carried out.
"There is no point of going to school while relying on a single employer – TPA (Tanzania Ports Authority)," he said. "This discourages potential sailors to come aboard." This was echoed by the Tanzania Seamens' Union (TASU) Chairman Kinemo Momboka who pleaded with the stakeholders to find jobs for graduates of Dar es Salaam Maritime Institute. – source Waves
News continues below…

SA AGULHAS arrives in Durban Friday with all-women crew

Antarctic survey and supply ship SA AGULHAS
SMIT Amandla Marine says it is a proud supporter of the SA AGULHAS Women in Maritime project driven by the South African Maritime Safety Authority.
The statement was made as the Antarctic research and supply ship sailed from Cape Town for Port Elizabeth and Durban with an all-women crew. The special crew was drawn from various companies to enable the point to be driven home that women have a meaningful role to play in South Africa's maritime industry.
SA AGULHAS is due to dock in Durban tomorrow morning (Friday) and will berth at N Shed passenger terminal.
"Maritime career promotion has always been a key focus area at the company – which is why being given the opportunity to play a role in the SA Agulhas voyage in SMIT Amandla Marine's role as vessel manager for the vessel's owner - the Department of Environmental Affairs - has been an important project." SMIT said the company is key to the Department being able to achieve the objectives of its mandate with respect to Antarctica & Islands projects through its manning, management and maintenance of the Antarctic supply vessel. Master, Officers and crew onboard are highly trained with a great depth of experience.
"It is important to focus on the career opportunities in the maritime industry – and to support women seafarers in particular in this way. Our company employs more than 700 South Africans for its operations country wide. 80% of our employees are Black and we believe that diversity is strength. Promoting our industry in communities with traditionally little exposure to things maritime is important to ensure sustainability into the future," notes Managing Director Paul Maclons.
Maclons says he is proud of the company's people development record. "SMIT Amandla Marine has invested in the maritime industry of the future by refocusing on skills development as a key business priority. We also proactively promote our industry at schools and in the communities in which we work – like Port Nolloth, where we are training 20 unemployed residents to enter the industry. And the results speak for themselves."
Over the course of the next three years, in addition to the ongoing development of its own employees, SMIT Amandla Marine will train 80 unemployed South Africans by providing them with the qualifications required to embark on a career at sea – both at entry level and as cadets on the company's SAMSA accredited accelerated cadet training scheme.
In November, the company will launch two new bursaries for full time maritime studies at training institutions in Cape Town and Durban and continues to fund bursaries at the dedicated maritime education facility Lawhill House at Simonstown High School in the Cape. In 2011, 20 unemployed South Africans will be trained by the company for entry into the industry – 10 from Mossel Bay, 5 from Port Elizabeth and 5 from East London, in addition to new cadets entering the training scheme.
"For us it is about sustainability. We put our money where our mouth is and invest in people in order to serve our employment needs well into the future. South Africans are highly sought after seafarers globally and an ongoing commitment to training by companies in our industry in South Africa is critical," says Maclons – adding that the company has sponsored a dedicated website careersatsea.co.za – aimed at positioning itself as a resource for learners, educators and those seeking career guidance alike.
News continues below…

Fishing boat sinks in Cape Town harbour
This report may be behind the actual news but requires acknowledging as an event in the life of Cape Town harbour.
A 43m stern trawler named LAVERNE sank in the V&A harbour about a week ago. The trawler is said to have been heavily loaded with fish after having returned from the fishing grounds at the time – some reports suggest between 80 and 100 tonnes, but there was no-one on board when she sank.
Further details of this sinking would be welcome.
Pics of the Day – DURBAN BAY and Durban SBM with VLCC
A typical Durban Bay scene, with a fisherman collecting fresh bait on the central sandbank while a pleasure yacht passes and the container ship MAERSK VERA CRUZ takes up the background. Picture by Terry Hutson
A VLCC (very large crude carrier) on the single buoy mooring (SBM) off Durban. Picture by Terry Hutson
Don't forget to send us your news and press releases for inclusion in the News Bulletins. Shipping related pictures submitted by readers are always welcome – please email to info@ports.co.za
Did you know that Ports & Ships lists ship movements for all southern African ports between Walvis Bay on the West Coast and Mombasa on the East Coast?
TABLE BAY UNDERWAY SHIPPING
SHIP PHOTOGRAPHERS
Colour photographs and slides for sale of a variety of ships.

Thousands of items listed featuring famous passenger liners of the past to cruise ships of today, freighters, container vessels, tankers, bulkers, naval and research vessels.
P O BOX 809, CAPE TOWN, 8000, SOUTH AFRICA
snai@worldonline.co.za
http://home.worldonline.co.za/~snai
South Africa's most comprehensive Directory of Maritime Services is now listed on this site. Please check if your company is included. To sign up for a free listing contact info@ports.co.za or register online
PROVIDING INFORMATION TO THE MARITIME INDUSTRY