Ports & Ships Maritime News
October 13, 2010
Author: Terry Hutson
Shipping, freight, trade and transport related news of interest for Africa
Want to advertise on the website using your Banner? - contact info@ports.co.za
SEND NEWS REPORTS AND PRESS RELEASES TO info@ports.co.za
TODAY'S BULLETIN OF MARITIME NEWS
Click on headline to go direct to story – use the BACK key to return
Looking for help? Try our MARITIME SERVICES DIRECTORY CLICK HERE
First View – GLORIA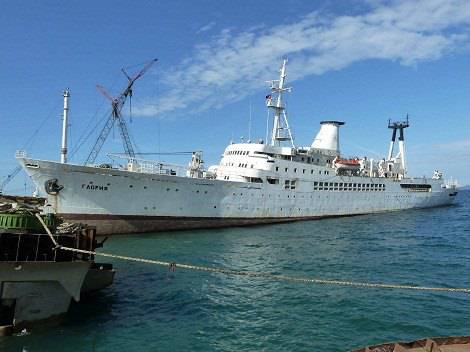 The former passenger ship GLORIA at the Turkish breaker's yard of Aliaga, awaiting cutting up. Picture by Selim San via Robert de Lange
News continues below...

NSRI heroes will be going to London
Thanks to the generosity of two shipping companies, Sturrock Shipping and Calulo Shipping, the three NSRI volunteers who manned station 18's NSRI Melkbosstrand rescue craft and rescued 25 seafarers from the stricken bulker SELI 1 in November last year, will after all be going to London as a group to attend the award ceremony of the IMO on 24 November 2010.
See our report in yesterday's News Bulletin for details - NSRI coxswain and crew honoured by IMO.
Notwithstanding the severe sea and weather conditions, the three men, coxswain Myck Jubber, crewman Kobus Meyer and crewman Kim Germishuys, took their rescue boat Spirit of Rotary – Blouberg alongside the ship and safely brought off all crew members without loss of life or injury. In yesterday's report we recounted how their brave efforts have been recognised by the International Maritime Organization, which is to present them with commendations for exceptional bravery at sea.
At the time of yesterday's report sufficient money had been raised to send only one of the three, coxswain Myck Jubber, to attend the ceremony in London. But following the publication of the story in PORTS & SHIPS, Sturrock Shipping came forward unhesitatingly and made an offer that ensures all three will make the trip together – this includes their accommodation and meals at a hotel in London.
The response and generosity of both Sturrock Shipping and Calulo Shipping is a fitting tribute from two of the South African shipping community's most highly respected companies.
News continues below...

Freight Forwarding: DSV Air & Sea comes to South Africa – meanwhile Drewry says shipper-carrier relationships have changed
DSV Sea & Air buys into South Africa
Danish freight forwarder and logistics specialist DSV Air & Sea Holding has taken a foothold in South Africa with the acquisition of its former agent Transmedit Forwarding, which has offices in Johannesburg and Cape Town.
The new business will act as a direct subsidiary of the parent company DSV, thus strengthening DSV's global network. Although still subject to certain conditions being met the deal is expected to be finalised before 1 December 2010.
DSV acts in the fields of transport, logistics and freight forwarding, focusing on key market segments including industrial goods, textiles, automotive, retail, Hi-tech, pharmaceuticals and healthcare, FMCG, air and ship charter, and heavy and over dimensioned transport. The company operates with offices in more than 60 countries across Europe, North America, South America, the Middle East and Oceania and now Africa and employs approximately 21,000 employees.

Shipper-Carrier relationships have changed, say Drewry
The days of negotiating lower rates for larger volumes as a means of securing market share may have gone, says Drewry Shipping Consultants in its 2010/11 Annual Container Market Review and Forecast.
The report says that shipping lines are now more concerned with profitability, having learned the lessons of the recent economic downturn. No longer is there a 'volume is king' attitude and this change in focus is redefining the relationships between shipper and shipping line.
"The basic contract between shipper and carrier should no longer be seen as a straight rate deal. … A combination of slow steaming, fewer weekly strings and increasing vessel-sharing agreements between carriers means that the traditional carrier-shipper partnership has changed forever," said Neil Dekker, who edited the annual report.
Instead, shippers must adjust to capacity cuts and shipping lines will only increase active tonnage if the necessary volumes are there. Shippers and carriers will have to think more creatively and to work together constructively to provide much-needed security in the supply chain, the report stated.
The relationship between the two parties must be repaired and carriers must now look to properly differentiate themselves once again from their competitors.
"Carriers will react decisively by taking capacity out of the system and will not return tonnage in 2011 until demand has shown the required upturn. Maintenance of the positive supply/demand equilibrium next year is dependent on the continuation of this disciplined approach. Lay-ups could be a feature if there is any fear of overcapacity returning. By managing capacity at the individual trade route level, they [the carriers] have been able to rapidly improve freight rates and their profitability," said Dekker.
According to Drewry the 2008-2009 recession managed to upset all the normal relationships in the container industry. It says that shipping patterns are now seriously skewed to the extent that there is no consensus any more on what is re-stocking or new demand. Continued uncertainty in the wider economic environment means that retailers and major importers are unsure of even their short-term inventory requirements. Government incentive programmes have also skewed buying patterns since they have been one-off and unnatural events geared towards an immediate kick-start of consumption.
Nevertheless, the consultancy predicts mid to long-term container growth of around 7% a year for the next five years, which represents a return to stability for the container industry. Drewry has upgraded its 2010 global growth forecast to 10.9%, which it says would indicate that global trade has made a surprisingly speedy recovery from 2009. This has allowed ocean carriers to re-deploy laid-up tonnage and work newbuilds into their core east-west services with relatively few problems.
"Many stakeholders in the industry will be feeling confident with the state of affairs in the container market right now. Volumes moving out of China on headhaul routes continue to be strong; the newbuild market has been reactivated; there is growing interest in port developments; the charter market has strengthened; ocean freight rates have nearly recovered to 2008 levels and cash-rich outsiders are looking to invest. Much that was broken last year has at least been partially fixed and irrespective of some of the still negative macro-economic indicators in advanced western countries, sentiment is just on the bullish side."
News continues below…

Angola: Public Private Partnerships sought for Angola's railways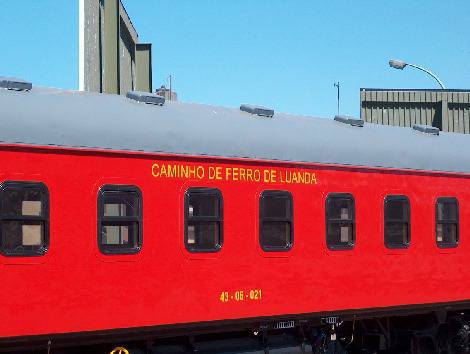 CFL Luanda Railway coach. Picture by Terry Hutson
Angola's director of the National Railway Institute (INCFA), Julio Bango said this week that private participation in the operation of Angola's refurbished railways would be sought to help government develop and improve the sector and its services.
Bango said the state railway companies should not look for exclusive rights over the respective railway, as opportunities are open for those interested in becoming involved in the business of running railways. INCFA is the appointed body that certifies all equipment and licences operators.
The meeting was attended by representatives of the various provinces and the presidents of CFL, the Luanda Railway; CFB the Benguela Railway, and CFM the Moçamedes Railway.
It was learned that the Luanda to Malanje railway will become operational only in 2011 and not this year as was previously expected. Bango said that technical, operational and administrative delays meant the service could only be introduced by the middle of next year.
The Luanda – Malanje railway last ran some 18 years ago as a result of Angola's civil war. Work on rehabilitating the 310 mile railway commenced in 2005 with the assistance and support of the Chinese and has involved the reconstruction and repair of 40 bridges and 16 railway stations. – source Angop
News continues below...

YESTERYEAR: those classic ships of yesteryear - BELTANA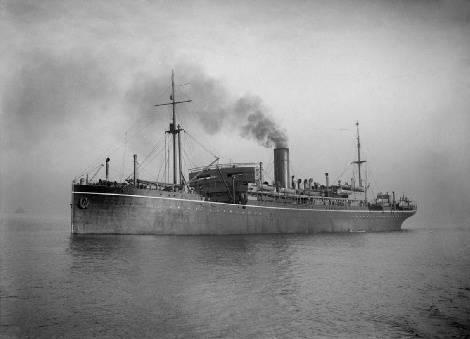 Built for P&O Line by Caird & Co of Greenock in 1912, the passenger ship BELTANA (11,167-gt) entered service with the Peninsular & Oriental Steam Navigation Co on the London, Cape Town, Melbourne and Sydney service, where she remained until the outbreak of World War 1 in 1914.
At that time the ship was transformed into a troopship for the duration of the war. In 1919 she reentered service for P&O Lines between the UK and Australia but this time via the Suez, where she continued until 1930 when the ship was sold to Japanese interests to be converted into a whaling factory ship.
This was not to be and Beltana ended her days being broken up in 1933. Picture courtesy Robert de Lange
News continues below…

Safmarine's first female engineer wins Seafarer of the Year Award
PICTURE HERE XXXMarine Engineer Kelly Klaasen (22) is the winner of the 2010 SAMSA Seafarer of the Year Award.
The Award – which aims to recognise the valuable contribution seafarers make to everyday life – was presented on Saturday 9 October to Kelly's parents, Kenneth and Rolene Klaasen.
Klaasen, who made Safmarine history in July this year when she was appointed the company's first female engineer, said she was extremely happy and surprised to have won, considering the calibre of her fellow nominees, which include Safmarine's first female Master, Captain Louise Angel and Chief Engineer Rob Lawson.
She is currently serving as Fourth Engineer onboard the Safmarine Bayete and was on the European coast at the time of the Award. Commenting on her win, Safmarine's Africa Region Executive, Jonathan Horn, said: "We are immensely proud that a Safmariner has been chosen as the winner of this prestigious maritime industry award.
"Having a former head girl of Simon's Town High School and a graduate of the school's Maritime Studies Programme selected as the winner, supports Safmarine's decision to pioneer the Maritime Studies Programme at this school more than 15 years ago."
The Maritime Studies Programme prepares young South Africans for a career in the maritime industry by providing them with practical skills while they are still at school.
Klaasen's day-to-day responsibilities on board vessel include the usual watch-keeping responsibilities in the engine room as well as working with the ship's fuel system, pumps and purifiers. Getting her hands dirty is all part of a day's work as she assists in maintaining the vessel's air compressors, cooler systems, the chemical treatment of water, sludge and bunker transfers and the overhauling of engines.
Klaasen, who is passionate about the sea and sailing, says she hopes to qualify in 2020 as Safmarine's first female Chief Engineer.
News continues below…

Road Transport: Truckers roadmap to a healthy lifestyle
Pretoria – Truck drivers across South Africa have been encouraged to lead a healthy lifestyle by making use of the 20 roadside wellness centres countrywide.
As part of Transport Month, Mercedes-Benz South Africa, in partnership with South African Business Coalition on HIV and AIDS (SABCOHA), re-launched the programme on Tuesday.
Previously known as Trucking Against AIDS, the programme was established in 1999 to ensure universal access to quality STI, HIV and AIDS prevention, treatment, care and support for truckers, including their families and sex workers in the industry.
The roadside wellness centres consist of modified six-meter containers, with one fully equipped with medication and staffed by a qualified nursing sister, who provides healthcare and counseling to patients suffering from STIs.
The second container is used as an awareness education and training facility.
Mercedes Benz Vice President, Kobus van Zyl, said to date, a total of 388,840 patients have received education at wellness centres; 141,038 patients were treated, 48,573 of which were specifically treated for STIs.
"More than 10 million condoms have been distributed since 2000 across the various centres," van Zyl said.
Mercedes Benz allocated R3.5 million in 2009 to scale up the work of the programme in targeted areas.
Transport Minister Sibusiso Ndebele welcomed the Mercedes Benz intervention, adding that he hoped the centres were not only used by Mercedes Benz employees, but by all truck drivers.
"Their work is necessary and urgent to ensure that drivers are safe from accidents [and] also adopt a holistic approach to health and safety," Ndebele said. – BuaNews
News continues below…

Pics of the Day – SAFMARINE BENGUELA and TOLEDO
SAFMARINE BENGUELA (35,835-gt, built 2009) picture by SR Smera courtesy Robert de Lange
A rare visitor to Cape Town, the car carrier TOLEDO called at the Mother City in February 2008. Picture by Ian Shiffman
Don't forget to send us your news and press releases for inclusion in the News Bulletins. Shipping related pictures submitted by readers are always welcome – please email to info@ports.co.za
Did you know that Ports & Ships lists ship movements for all southern African ports between Walvis Bay on the West Coast and Mombasa on the East Coast?
TABLE BAY UNDERWAY SHIPPING
SHIP PHOTOGRAPHERS
Colour photographs and slides for sale of a variety of ships.

Thousands of items listed featuring famous passenger liners of the past to cruise ships of today, freighters, container vessels, tankers, bulkers, naval and research vessels.
P O BOX 809, CAPE TOWN, 8000, SOUTH AFRICA
snai@worldonline.co.za
http://home.worldonline.co.za/~snai
South Africa's most comprehensive Directory of Maritime Services is now listed on this site. Please check if your company is included. To sign up for a free listing contact info@ports.co.za or register online
PROVIDING INFORMATION TO THE MARITIME INDUSTRY