Ports & Ships Maritime News
October 11, 2010
Author: Terry Hutson
Shipping, freight, trade and transport related news of interest for Africa
Want to advertise on the website using your Banner? - contact info@ports.co.za
SEND NEWS REPORTS AND PRESS RELEASES TO info@ports.co.za
TODAY'S BULLETIN OF MARITIME NEWS
Click on headline to go direct to story – use the BACK key to return
Looking for help? Try our MARITIME SERVICES DIRECTORY CLICK HERE
First View – SEA RESCUE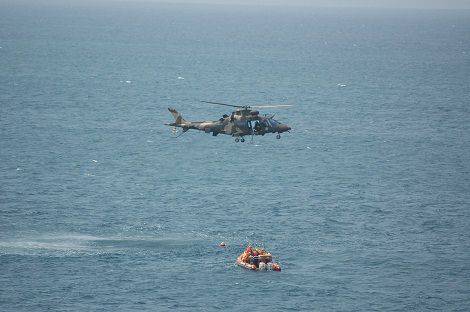 Picture by Clinton Wyness
A Westland Agusta A109 helicopter of 15 Squadron, South African Air Force, based at Durban, hovers over the sea outside Durban recently while assisting in exercises involving the NSRI and the New York National Air Guard 103 Squadron Rescue Unit, of which eight members have been on an exchange visit in South Africa sharing ideas and techniques with their local colleagues.
New York National Air Guard 103 Squadron is regarded as one of the world's elite search and rescue units. The squadron was among the first rescue units to go to the Twin Towers during 9/11 and was also involved with search and rescue following Hurricane Katrina. The squadron acts on standby for NASA launches and possible splashdowns.
After attending the recent aeronautic Airshow at Cape Town the unit enaged with NSRI in the Western Cape on similar exercises to those held later off Plettenberg Bay, Port Elizabeth and Durban, which were made possible with the cooperation of various helicopter squadrons of the SAAF.
The NSRI and the National Air Guard Rescue squadron have held three consecutive annual joint exercises – one in Cape Town, one in New York and this year's at four centres in South Africa, all with the aim of exchanging knowledge and sharing skills. Andre Fletcher, deputy station commander of NSRI Station 5 at Durban told PORTS & SHIPS that the exchange programme had proven beneficial to the NSRI which had been able to learn greatly from exercising directly with one of the world's best rescue units. He described the use of aircraft in sea rescue as being in its infancy here in South Africa but said that valuable support was provided unstintingly by the SAAF and the Transnet port helicopters based at Durban and Richards Bay.
He said that for budgetary reasons the NSRI was unable to exercise often with the port helicopters, which are in 24-hour use ferrying marine polits to and from ships outside either Durban or Richards Bay. The NSRI was however able to exercise every second month with the SAAF. Nevertheless, two of the more dramatic rescues off the KwaZulu Natal coast in recent years were carried out with the aid of the port helicopters – that of rescuing the crew off the Spanish fishing vessel ACECHADOR which was thought to be sinking 40 miles offshore of Durban, and in which no less than 54 hoists had to be carried out by the solitary helicopter. The account of this rescue can be read HERE
The other dramatic rescue involve the Durban port chopper which had to fly to Hibberdene on the South Coast and then to sea to lift off of the crew from the yacht EGGNOG off the KZN South Coast near Hibberdene, after midnight and in strong winds with poor visibility. Read that account HERE. Both these rescues were carried out with the assistance of personnel from the NSRI.
News continues below...

SA Shipyards to expand into Nigeria – NIMASA acts to 'ease the way'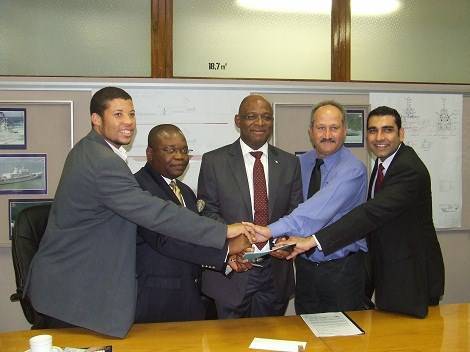 Time for a handshake after the signing of a MoU which will result in Southern African Shipyards expanding its operations into Nigeria. From left are Neville Matjie, Trade & Investment KZN; David O Nwachukwu, MD of LECON; Temisan Omatseye, Director General & CEO of NIMASA; Louis Gontier, MD of SA Shipyards; and Prasheen Maharaj, Chief Financial Officer SA Shipyards. Picture by Terry Hutson
On Friday (8 October) an important Memorandum of Understanding was signed by representatives of Durban-based Southern African Shipyards (SAS), the Nigerian National Maritime and Safety Agency (NIMASA) and the Leasing Company of Nigeria (LECON), a subsidiary of the Bank of Industry of Nigeria.
This Memorandum of Understanding is in line with South Africa's intention of engaging with the development of the African Continent and SAS's vision of developing an African footprint. The MOU is underpinned by the South Africa-Nigeria Bi-National Commission which celebrated its 10 year anniversary last year and the African Maritime Charter signed by Ministers responsible for Maritime Transport in Africa at the conference in Durban last year.
The intention behind the MOU is for SAS to develop shipyards in Nigeria in order to service Africa's largest offshore oil and gas industry as well as build smaller vessels in Nigeria. This will be done using as much local Nigerian labour and local content as is practically feasible. Initially the Nigerian workforce will undergo training and skills development at SAS in Durban, which will eventually evolve into train the trainer programmes for more employees to be trained in Nigeria. In addition, there will be a marine engineering technology transfer programme from South Africa to Nigeria.
NIMASA will ensure that a stable and transparent regulatory regime prevails in order to make the project a long term sustainable success. In addition NIMASA will facilitate government incentives to ensure financial success. Using its mandate to drive the development of the Nigerian Maritime Industry and Nigeria's Local Content Policy, the Nigerian maritime authority will encourage the new building and maintenance of vessels to be done in Nigeria. This will ensure sufficient workflow for the new shipyards to be established in Nigeria. Larger vessels that cannot be built in Nigeria will be built in South Africa.
A delegation from SAS is leaving for Nigeria within the next fortnight to inspect two naval dockyards at Lagos and Port Harcourt with a view to developing them as future commercially operated shipbuilding and ship repair yards.
According to Temisan Omatseye, NIMASA's DG and CEO, the MoU falls in line with Nigeria's emphasis on implementing a cabotage regime in that country. He said Nigeria's Cabotage Act is aimed at increasing the local content in Nigeria's maritime industry, particularly in relation to the oil and gas segments. The Cabotage Act specifies that intra- Nigerian coastal traffic must be performed by Nigerian vessels, owned and manned by Nigerians and where possible performed on ships built locally in Nigeria.
Omatseye said NIMASA intends that this will be achieved by building ships of the smaller offshore workboat and tug variety, flagging them on the local Ships Registry, ensuring they are owned locally, and manning them with Nigerian seafarers.
As a subsidiary of the Bank of Industry and a premier provider of effective lease financing solutions in the Nigerian economy, LECON will, by using its broad knowledge of the international business environment and expertise in Nigeria's industrial issues, be a key local financial partner in the Nigerian business activities of SAS. LECON will also, undertake Fund Sourcing from local and International Banks and Other Financial institutions to finance on behalf of its customers, the acquisition of vessels produced by SAS.
Southern African Shipyards has been assisted by Trade and Investment Kwa-Zulu Natal in expanding its local operations to go global as well as facilitating export promotion for the company. With operations in South Africa, Nigeria and another planned for Angola, SAS says it is destined to become a major player in Africa's Oil and Gas Industry and the giant of Africa's Marine Engineering Industry.
News continues below…

SA Revenue Services operation nets 46 illegal motor imports
Pretoria - A joint operation between the police and the South African Revenue Services (SARS) last week resulted in the detention of 46 cars worth over R1.8 million.
The week-long joint operation targeted illegal second hand vehicle importers in Durban.
"The operation focused on cracking down on non-compliance to the Customs and Excise Act amongst license holders and bonded warehouses," said SARS spokesperson Sibabalwenathi Mfabe.
During the operation nine warehouses were visited of which the Revenue Services suspects that the warehouses were part of an illegal scheme whereby second hand cars are imported to South Africa from Asian countries.
The scheme exports these vehicles to other African countries. However these cars never leave South Africa and are in the end sold to unsuspecting citizens.
Mfabe said all vehicles detained during the operation will be seized by the state as the vehicles have exceeded the maximum time permitted to stay at a bonded warehouse. Eight warehouses have been closed pending further investigations.
The Revenue Services warns owners of second hand vehicles that have been imported into the country irregularly that they could face criminal charges.
"In terms of the Customs and Excise Act, the liability of irregularly imported vehicles stays with the goods, meaning that the owner of such a vehicle is solely accountable," said Mfabe.
He said the practice is illegal in South Africa so as to protect the motor industry and safety purposes as these vehicles carry different specifications from those that are produced locally.
"SARS appeals to consumers to purchase their second hand vehicles from reputable and trusted importers."
The Durban seizure constitutes to the first phase of the initiative to improve compliance levels in the industry and is set to continue with the help of the Departments of Trade and Industry and Home Affairs. – BuaNews
News continues below...

Piracy: Mauritius hesitates over hanging clause
Impasse between EU and Mauritius over pirate prosecution plans
Pirates stand to gain the most following a dispute between the European Union and the government of Mauritius over the question of the death penalty, which Mauritius retains on its statutes.
The question arose after a delegation from the EU, headed by the European Union's High Representative on Foreign and Security Policy, Baroness Catherine Ashton, visited the island to co-chair a regional ministerial committee on piracy, during which the question of Mauritius providing a special court to try captured suspected pirates came up for debate.
The discussion met with a setback however after Prime Minister Navin Ramgoolam reportedly refused to agree with the EU demands that Mauritius abolish the death penalty.
Internationally, few countries have legislation that will allow a successful prosecution of Somalis suspected of being pirates, even when they are caught in possession of a merchant ship. Instead nations such as the EU grouping and the United States have turned to encouraging African nations such as the Seychelles, Kenya, Tanzania and Mauritius to provide not only the legislative process but also the jails in which to house convicted pirates.
However, these wishes come with clauses, such as not wanting the death penalty to be imposed. The likes of Calico Jack, Captains Kidd and Vane, Blackbeard and others might have, given the choice, preferred living in the 21st Century.

Taiwanese fishing vessel FENG GUO 168 never seized
The Taiwanese fishing vessel FENG GUO 168 which was reported last week as being captured by pirates east of Madagascar in the most southerly position thus far, is now reported as never having been captured at all. EU NAVFOR says the report of its highjacking arose after the fishing vessel failed to report in to the owner.
News continues below…

Boundary safe in Cape Town after fire scare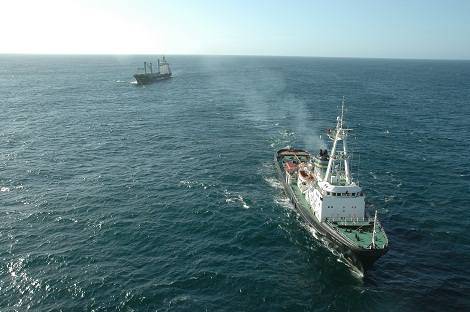 Boundary under tow on Friday. Picture courtesy Kevin Tate/Smit
The Ocean Africa Container Line ship BOUNDARY, whose engine room caught fire while the ship was off the coast near Cape Columbine on Friday, has arrived safely in Cape Town under tow behind the Cape Town-based salvage tug SMIT AMANDLA. See our report of the incident HERE
According to SMIT a salvage team departed from Cape Town on Friday by helicopter and was able to board the ship safely before midday. The fire which at one stage threatened the ship, was later reported to be smouldering but under control.
The tug SMIT Amandla arrived at 15h00 that day and was able to connect to the ship which was disabled as a result of the fire. Once the vessel had been stabilized a course was set for Cape Town while the salvage team began its preliminary investigation.
All personnel on board the container ship were safe with no injuries being reported.
Boundary was on a voyage from Durban to Walvis Bay at the time of the fire.
News continues below…

South Africa recommits to development of Africa through trade
South Africa's Minister of Trade & Industry, Rob Davies says South Africa will remain at the centre of new foreign investment in Africa.
Davies was talking at a Doing Business with Botswana forum in Centurion, Gauteng last week. He said South Africa believed that its economy and the economies of neighbouring states were interdependent. "Development can only be sustainable if we cooperate for mutual benefit with all our neighbours. South Africa is thus committed to utilising its technology, technical expertise and private-sector capabilities to make a direct and meaningful contribution towards regional integration, economic growth and poverty alleviation on the continent," he said.
He gave support for major infrastructure projects such as the Mmamabula power project and the Trans-Kalahari Railway line which he said can unlock economic development.
"They can also raise consumer expectations, and encourage local producers to improve competitiveness. Developmental approaches to private procurement can also be an important driver of local business development," he said.
News continues below…

QUEEN ELIZABETH to be named today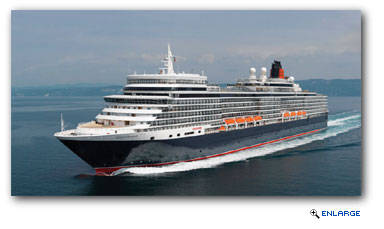 Queen Elizabeth. Picture provided by courtesy Ian Shiffman
By Paul Ridgeway
The latest Cunard cruise liner, QUEEN ELIZABETH is to be named at a naming ceremony in Southampton today, 11 October by Her Majesty Queen Elizabeth.
The 90,900-gt ship, which is to be homeported in Southampton, has a service speed of 23.7 knots, a passenger capacity of 2,068, and a crew of 996. The ship is 294m long, 32.3m wide (able to go through the existing Panama Canal) and has a draught of 7.9 metres.
Pics of the Day – BORONIA and BBC NEW YORK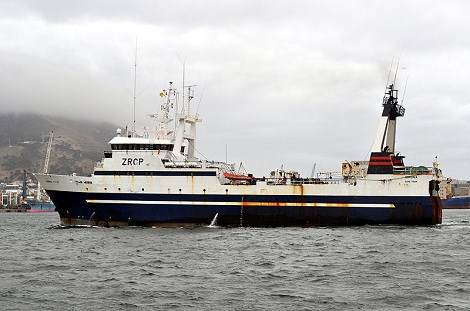 The Irvin and Johnston factory trawler BORONIA seen entering Cape Town harbour. Picture by Ian Shiffman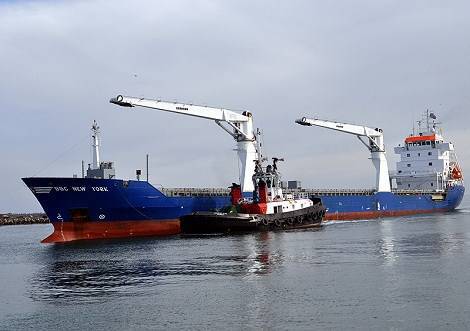 The general cargo and projects cargo ship BBC NEW YORK (6,351-gt, built 2009) in Cape Town harbour this past week. Picture by Ian Shiffman
Don't forget to send us your news and press releases for inclusion in the News Bulletins. Shipping related pictures submitted by readers are always welcome – please email to info@ports.co.za
Did you know that Ports & Ships lists ship movements for all southern African ports between Walvis Bay on the West Coast and Mombasa on the East Coast?
TABLE BAY UNDERWAY SHIPPING
SHIP PHOTOGRAPHERS
Colour photographs and slides for sale of a variety of ships.

Thousands of items listed featuring famous passenger liners of the past to cruise ships of today, freighters, container vessels, tankers, bulkers, naval and research vessels.
P O BOX 809, CAPE TOWN, 8000, SOUTH AFRICA
snai@worldonline.co.za
http://home.worldonline.co.za/~snai
South Africa's most comprehensive Directory of Maritime Services is now listed on this site. Please check if your company is included. To sign up for a free listing contact info@ports.co.za or register online
PROVIDING INFORMATION TO THE MARITIME INDUSTRY