Ports & Ships Maritime News
October 8, 2010
Author: Terry Hutson
Late Update - 18h00
The fire in the engine room has been brought under control and there is no longer any danger of the crew having to abandon ship. The tug Smit Amandla is arriving on scene and will be able to assist the vessel to reach a suitable port. Boundary was en route from Durban for Walvis Bay when the fire broke out.
Further Update - 21h00
The tug Smit Amandla has the casualty ship under tow and is underway.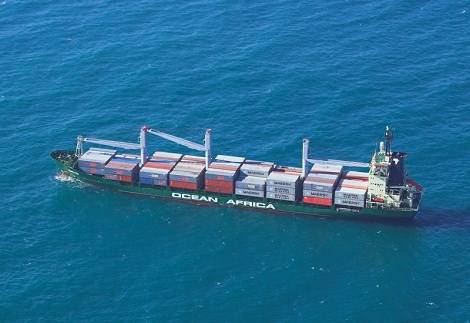 The coastal trading containership Boundary. Picture by Steve McCurrach www.airserve.co.za
Breaking News….
Containership BOUNDARY on fire off Cape Columbine
The National Sea Rescue Institute (NSRI) Station Mykonos reports that it has been activated to respond to the coastal container ship BOUNDARY, operated by Durban-based Ocean Africa Container Line, which has a fire in the engine room.
The ship is 27 n.miles offshore of Britannia Bay (24 n.miles northeast of Cape Columbine). Two ships in the vicinity are standing by on-scene to assist if necessary. The 21 crew of the Boundary are reported to be safe and still on board their ship despite the fire being reported as becoming increasingly uncontainable and that they are prepared to abandon ship if necessary.
The NSRI Mykonos has launched its sea rescue craft Spirit of Freemasonry and is due on scene a 12h00 today (Friday). The Maritime Rescue Coordination Centre (MRCC) has also dispatched a salvage vessel to assist in the operation.
The South African Air Force 22 Squadron Air Sea Rescue Unit and the Titan Air Sea Rescue Unit are both on high alert to respond to the scene if necessary. Other emergency units such as Metro Ambulance are also on alert.