Ports & Ships Maritime News
October 7-8, 2010
Author: Terry Hutson
Shipping, freight, trade and transport related news of interest for Africa
Want to advertise on the website using your Banner? - contact info@ports.co.za
SEND NEWS REPORTS AND PRESS RELEASES TO info@ports.co.za
TODAY'S BULLETIN OF MARITIME NEWS
Click on headline to go direct to story – use the BACK key to return
Looking for help? Try our MARITIME SERVICES DIRECTORY CLICK HERE
First View – ICE FLAKE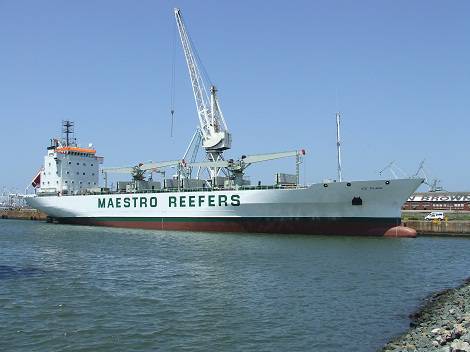 The reefer ship ICE FLAKE (5,989-gt, built 1987), seen at the Durban ship repair jetty during November 2007. Picture by Terry Hutson
News continues below...

Read the latest SA port statistics for month of September
South African port statistics for the month of September 2010 are now to hand, courtesy Transnet. The nation's ports have experienced another relatively busy month, although not quite of the same level as for August. The port of Ngqura, now one year old, continues to grow in volume and at this rate may soon overtake Cape Town as the country's second container port. When combined with the adjacent Port Elizabeth, to which it ought not be separated, they have already overtaken Cape Town, handling 1.615 million tonnes of cargo compared with Cape Town's 1.156mt for the recent month. The number of containers handled at the twin Eastern Cape ports was 81,087-TEU compared with Cape Town's 58,835-TEU. On an historic note, Algoa Bay (now Mandela Bay) was for many years the premier port of the Cape Colony so perhaps things have reverted to being are just as they should. See details below.
As is customary the figures shown in this report reflect an adjustment on the overall tonnage to include containers by weight – an adjustment necessary because Transnet NPA measures containers in terms of the number of TEUs and no longer by weight - for which PORTS & SHIPS estimates an adjustment of 13,5 tonnes per TEU to reflect tonnages. This figure is on the conservative side with 14 tonnes or even more perhaps being a more realistic figure, particularly in view of the increasing quantity of bulk cargo which is now being handled in containers. Were we to use this the actual tonnages achieved would be considerably higher.
For comparative purposes readers can see statistics from 12 months ago by clicking HERE for September 2009 figures.
Use your BACK button to return to this page.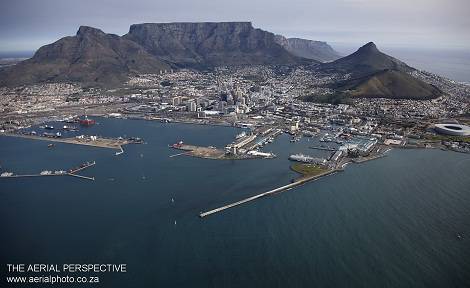 Cape Town Harbour – picture courtesy Aerial Perspective Photos
Figures for the respective ports during September 2010 are (with August 2010 figures shown bracketed):
Cargo handled by tonnes during September 2010
| | | |
| --- | --- | --- |
| PORT | Sept 2010 mt | Aug 2010 mt |
| Richards Bay | 6.524 | 7.321 |
| Durban | 5.930 | 7.747 |
| Saldanha Bay | 4.049 | 2.592 |
| Cape Town | 1.156 | 1.212 |
| Port Elizabeth | 0.967 | 1.129 |
| Ngqura | 0.648 | 0.691 |
| Mossel Bay | 0.173 | 0.153 |
| East London | 0.199 | 0.215 |
| | | |
| Total all ports | 19.645mt | 21.061mt |


Containers (measured by TEUs) during September 2010 (TEUs include Deepsea, Coastal, Tranship and empty containers all subject to being invoiced by NPA
| | | |
| --- | --- | --- |
| PORT | Sept 2010 TEUs | Aug 2010 TEUs |
| Durban | 232,411 | 261,605 |
| Cape Town | 58,835 | 62,858 |
| Port Elizabeth | 33,096 | 36,913 |
| Ngqura | 47,991 | 47,991 |
| East London | 6,206 | 4,798 |
| Richards Bay | 1,388 | 1,813 |
| | | |
| Total all ports | 379,927 | 415,978 |
Ship Calls for September 2010
| | | | | |
| --- | --- | --- | --- | --- |
| PORT | Sept 2010 vessels | Gross tonnage | Aug 2010 vessels | Gross tonnage |
| Durban | 456 | 11.978 | 414 | 10.950 |
| Richards Bay | 166 | 5.810 | 161 | 5.180 |
| Cape Town | 209 | 4.193 | 209 | 4.077 |
| Port Elizabeth | 107 | 2.398 | 95 | 2.564 |
| Ngqura | 33 | 1.410 | 33 | 1.510 |
| Saldanha | 41 | 2.729 | 34 | 1.790 |
| East London | 22 | 0.566 | 24 | 0.544 |
| Mossel Bay | 127 | 0.226 | 139 | 0.257 |
| | | | | |
| Total ship calls | 1128 | 27.901 | 1076 | 25.363 |

- source TNPA, but with adjustments made by Ports & Ships to include container tonnages
Coal exports for September 2010 Coal exports through the port of Richards Bay Coal Terminal increased to 5.36 million tonnes for September, compared with 4.16mt for the same month in 2009. August exports via RBCT were 5.45mt.
News continues below…

Piracy – EU's chief diplomat Catherine Ashton meets with Zuma over Somali piracy
The European Union's High Representative on Foreign and Security Policy, Catherine Ashton met with South African president Jacob Zuma yesterday to discuss regional security in Zimbabwe, Sudan and Somalia, and it was expected that she would raise the issue of rampant piracy in the so-called 'Somali Basin'.
Ahead of her one-day visit Baroness Ashton described Somali piracy as "one of the big challenges of our times both for the region and for the international community." She said it undermined maritime security in the Indian Ocean and stability and development in the region.
She described South Africa as an important strategic partner of the EU on these security issues. Baroness Ashton was due to travel to Mauritius to co-chair a regional ministerial conference on piracy, the second to be held since a May meeting in the Seychelles.
The EU has given its support for calls for regional countries to take on the prosecution and detention of pirates captured off Somalia. Mauritius has indicated that it might be willing to take on the role and is expected to sign an accord with the EU.

On Sunday evening the German frigate FGS KŐLN intercepted an attempted pirate attack on a merchant ship, STAR II and succeeded in chasing off the suspected pirates. The German ship responded to a Mayday from the Star II and launched its helicopter in time to persuade the pirates to abort their attempt on the ship. The occupants of the skiff began throwing object overboard and attempted to make off until the helicopter fired warning shots into the water, resulting in the skiff coming to a halt.
On arrival at the scene a boarding party from the FGS Köln found six suspected pirates and a large amount of fuel, of which an excess was confiscated before the Somalis were released.

US security company Marque Star which says it is acting in response to a US Presidential Executive order 'Blocking Property of Certain Persons Contributing to Conflict in Somalia' by offering what it terms "close protection for money for ships passing through the danger area".
The company has placed deposits on two ships and says it is looking at acquiring more than a dozen others but denies it will be forming a private navy.
"We're trying to steer clear of the phrase 'private navy', although it does lend itself to that. We'd rather describe ourselves as a private maritime security company," said Greg Stenstrom, Marque Star's founder. He indicated that the ships would however be armed with deck-mounted heavy machine guns and that the group might make use of unmanned aerial drones and even a small airship for surveillance.
The company hopes to be in a position to offer ships as escorts to merchant vessels by 2011.
The idea is nothing new and several attempts have been made to introduce private naval groups to prevent pirate attacks. A South African security company announced last year that it was seeking to do just this but as far as is known nothing has transpired. Meanwhile a number of private security companies have for several years been providing armed guards for discreet security purposes on board merchant ships, including on board several passenger vessels.
Stenstrom indicated that his ships would be registered with an African country.
News continues below...

Angolan government buys Chinese patrol boats to help combat illegal fishing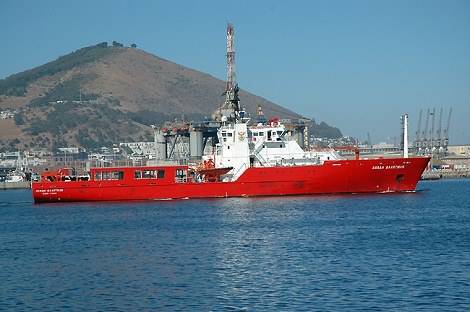 The South African 80m sea fishery patrol boat SARAH BAARTMAN. Picture by Ian Shiffman
Luanda, Angola, 6 Oct – Macauhub reports that the Angolan government has acquired 10 new patrol boats from China to assist in the combating illegal fishing off the country's coast. The vessels cost a total of US$ 62 million.
Announcing the purchase this week, the Minister for Agriculture, Rural Development and Fishing, Afonso Canga described the vessels as being 47 metres in length and capable of speeds up to 22 knots. He said they would be used for inspection and combating of fishing violations along the Angolan coast including Cabinda.
The ten ships, which were built in China, will be used by the National Fishing and Aquaculture Inspection Service, which is run by the Ministry for Agriculture, Rural Development and Fishing. The ministry previously carried out inspections along the Angolan coast using 11 other vessels.
"The government will continue to invest in building and repairing fishing terminals and ports, shipyards for repairing vessels, as well as training staff on every level for scientific research and in the areas of processing, distribution and sale of fishing products," he said.
He added that investment in the ships and training of crew would have positive results, including a significant drop in illegal fishing. (macauhub)
News continues below…

China-Africa trade rebounds – will exceed US$100 billion this year
Beijing - Trade between China and African countries will rebound from a year ago and exceed 100 billion US dollars again this year, according to a forecast by the Chinese Ministry of Commerce (MOC).
The MOC data showed trade between China and Africa jumped sharply by 65 percent year on year to US$ 61.2 billion in the first half of this year.
Due to the global economic downturn last year, China-Africa trade fell 14.7 percent from the previous year to $ 91.06 billion in 2009, compared with US$ 106.8 billion in 2008.
According to the MOC the Chinese government supports reputable Chinese enterprises to invest in Africa on the principle of equality, mutual benefit and common development. More than 1,600 Chinese enterprises are now investing in Africa in the fields of agriculture, mining, processing and manufacturing, infrastructure facilities and commerce.
The Ministry announced in July this year that China would stop levying tariffs on 60 percent of imports from 26 least developed African nations from July this year.
News continues below…

News from the shipping lines
NYK returns to profitability The Japanese shipping group NYK is predicting a return to profitability but its president, Yasumi Kudo warns that it will be a mistake to claim the containership business has become a fully sustainable business model.
Mr Kudo said the company had plunged into an enormous deficit in the previous year, "the biggest ever since the inception of our group."
He said the containership business had made an unexpectedly quick recovery, but "owing to an extraordinarily sharp surge in fuel oil prices and a steep fall in cargo traffic, almost all containership operators found themselves with no alternative but to resort to slow steaming and ship lay-up. At the start of the year, however, cargo traffic displayed an unexpectedly swift recovery.
"On the other hand, shipping firms that remained sceptical about the rapid rebound in cargo movements continued to maintain a cautious stance on increasing shipping capacity. Consequently, the supply and demand situation worsened, sending freight rates shooting up to levels prevailing before the Lehman Brothers shock, which in turn enabled the containership business to rapidly improve its earnings.
"As usual, some containership operators have been quick to explore the possibility of expanding shipping capacity at a pace faster than the recovery of cargo traffic. Meanwhile, another cause for concern is an unexpectedly slow recovery in European and US cargo traffic," he said.
Kudo said that whether or not the containership business can be transformed into a sustainable business model will depend on containership operators voluntarily choosing to lay up ships according to shipping capacity during the next slack season. "The problem, however, is that even if all operators resort to ship lay-up during the next slack season, it may not be truly possible to expect such a measure on a permanent basis."

Safmarine says new Chennai Express service presents new opportunities for trade with Africa Safmarine says the introduction of its new Chennai Express service linking India and the Far East will not only boost trade between these two regions, but will also open up opportunities for increased trade between Southern Africa and South India.
According to Safmarine's South Africa Trade Director, Alex de Bruyn, because the new Chennai Express service and the existing Safari 1 and 3 services (between South Africa and the Far East) call at Tanjung Pelepas, Southern African exporters and importers are able to combine the Safari and Chennai Express services to gain faster and quicker access to and from the South Indian market.
De Bruyn said the Chennai Express' Tanjung Pelepas call also opens up opportunities and improved access for Indian and Southern African cargo into the Horn of Africa.
The Horn of Africa service, introduced in July this year, currently calls at Tanjung Pelepas, Jebel Ali, Djibouti, Jeddah and Port Sudan.
"This service can be used to connect cargo from either India (on the Chennai Express service) or South Africa (on Safari) to Tanjung Pelepas and then into the ports in the Middle East and the Horn of Africa," he said.
The Middle East - South Africa trade is currently served by the weekly MESA service which calls Salalah, Jebel Ali, Bandar Abbas and JNPT (India).
News continues below…

News flash… Pakistan warships to visit Durban this month
In news to hand shortly before this Bulletin went live, two Pakistan warships, the destroyer PNS SHAH JAHAN (D186) and the combat support ship PNS MOAWIN (A20) will be visiting the port of Durban from 18 – 21 October 2010.
There is no confirmation whether the ships will also call at other South African ports.
The destroyer PNS SHA JAHAN is the former British Type 21 frigate, HMS ACTIVE (F171), now re-classified as a Tariq-class destroyer. PNS MOAWIN is of Dutch origin.
Pics of the Day – QUEEN ELIZABETH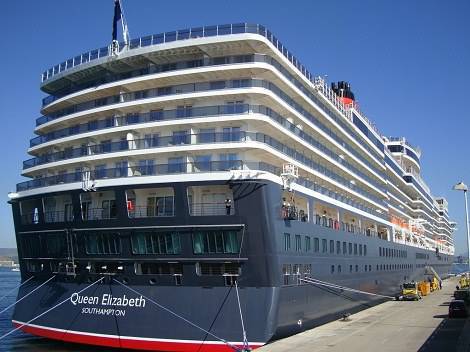 First pictures to hand of the new Cunard liner QUEEN ELIZABETH, courtesy Ian Shiffman, showing the 90,901-gt ship at Algeciras on Tuesday taking bunkers. The lower photograph was taken of the ship during sea trials and also comes courtesy Ian Shiffman.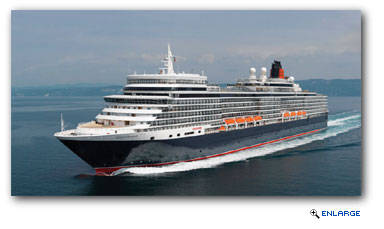 Don't forget to send us your news and press releases for inclusion in the News Bulletins. Shipping related pictures submitted by readers are always welcome – please email to info@ports.co.za
Did you know that Ports & Ships lists ship movements for all southern African ports between Walvis Bay on the West Coast and Mombasa on the East Coast?
TABLE BAY UNDERWAY SHIPPING
SHIP PHOTOGRAPHERS
Colour photographs and slides for sale of a variety of ships.

Thousands of items listed featuring famous passenger liners of the past to cruise ships of today, freighters, container vessels, tankers, bulkers, naval and research vessels.
P O BOX 809, CAPE TOWN, 8000, SOUTH AFRICA
snai@worldonline.co.za
http://home.worldonline.co.za/~snai
South Africa's most comprehensive Directory of Maritime Services is now listed on this site. Please check if your company is included. To sign up for a free listing contact info@ports.co.za or register online
PROVIDING INFORMATION TO THE MARITIME INDUSTRY