Ports & Ships Maritime News
October 6, 2010
Author: Terry Hutson

Shipping, freight, trade and transport related news of interest for Africa
PROVIDING INFORMATION TO THE MARITIME INDUSTRY
Want to advertise on the website using your Banner? - contact info@ports.co.za
SEND NEWS REPORTS AND PRESS RELEASES TO info@ports.co.za
TODAY'S BULLETIN OF MARITIME NEWS
Click on headline to go direct to story – use the BACK key to return
Looking for help? Try our MARITIME SERVICES DIRECTORY CLICK HERE
First View – CAETÉ and JAUÁ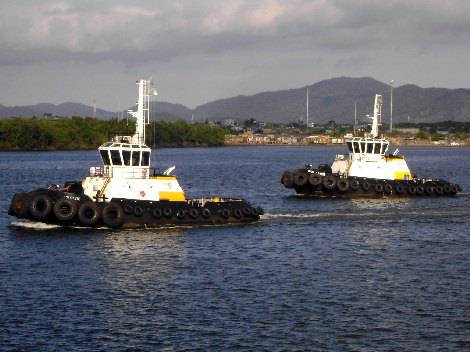 Two harbour tugs from the Port of Santos, Brazil, the CAETÉ and JAUÁ. Picture by Gustavo Castro de Sousa
News continues below...

AfDB to finance 2nd phase of Nacala Corridor roads project

The Nacala Corridor consists also of a railway extending into Malawi and Zambia, with the road corridor maintaining close proximity along much of the distance.
Maputo, Mozambique – According to a report in the Maputo Portuguese language newspaper Noticias, the African Development Bank (ADB) has approved a US$ 86.5 million loan to Mozambique to finance the second phase of the Nacala Corridor roads project.
The Nacala Corridor road network extends from the northern Mozambique port of Nacala, one of the largest and deepest natural bays along the entire African coast, inland into Malawi and Zambia, with a combined distance of 1,533km.
The first phase of the project covered 348km of roads in Mozambique and another 13km of secondary road in Malawi. Phase 2 is a continuation of the first and includes a further 360km of roads in Zambia between Luangwa and Mwami. The project includes improvements and the asphalting of 114.7km of roads in the three countries.
Also included in the overall project is the construction of two border posts between Malawi and Zambia and Malawi and Mozambique.
Apart from improving communication and the movement of freight and people along these routes, the intention of the project is to help reduce the cost of transport.
The total cost of the project is estimated at US$ 104 million.
News continues below…

Why Queen Elizabeth differs from Queen Victoria

Cunard's Queen Victoria, with a tiered aft deck section that adds appeal to the vessel's looks. Picture by Alan Calvert
One of our readers enquired what was meant by our description of the new cruise liner QUEEN ELIZABTH as being a "near sister" to another Cunard liner, QUEEN VICTORIA, shown in a picture accompanying our report in yesterday's NEWS.
Unfortunately we don't yet have photographs of the new ship, which is probably one of the easiest methods of making a comparison, but suffice it to say that Cunard's latest ship has been built to the enlarged Vista class design, matching those built earlier for associated company Holland America as well as the other Cunard liner in the class, Queen Victoria, which entered service in 2007. As is common with most ships built to a certain class or type, each newbuild takes on small and sometimes significant refinements which may affect the appearance of the latest ship in comparison to the others.
Such is the case with Queen Elizabeth, which while following on as a sister ship to Queen Victoria, has been given an additional 39 cabins. The reason for this is financial and has nothing to do with any perceived need of wanting to make Queen Elizabeth a slightly larger ship than her predecessor.
The additional cabins will, it has been estimated, earn her operators an additional US$ 3.9 million in revenue each year, but the extra cabins have come at the expense of the ships appearance at the stern, where the aft section of Queen Victoria featured tiered decks. Queen Elizabeth by contrast has a more squared off stern and is, according to some reports, less appealing.
The operators won't be too concerned with that however. Cunard's owners will notice the additional income rather than the aesthetics of their latest ship – they have been ringing these alterations to a number of other vessels in the various stables owned and controlled by Carnival.
Several of the Holland America ships have undergone internal alterations to increase the number of cabins, including taking away some swimming pools in the process. Eurodam and Nieuw Amsterdam, their latest ships also feature the squared off stern and have up to 125 more cabins than some of their earlier sisters. That stands to bring Holland America an annual US$ 13m in additional revenue per ship compared with the earliest of the class. Both of the later Holland America ships also feature an additional deck in comparison to the earlier Vista class vessels.
Parent company Carnival Corporation has extended the idea to other lines in the group. Norwegian Cruise Line for instance has increased the number of cabins in a number of its ships which has seen an increase of up to 111 extra cabins and an additional income of US$ 11.1 million a year.
Acknowledgements to Cybercruising.com for some of the above information.
News continues below...

YESTERYEAR: those classic ships – BIRGITTE SKOU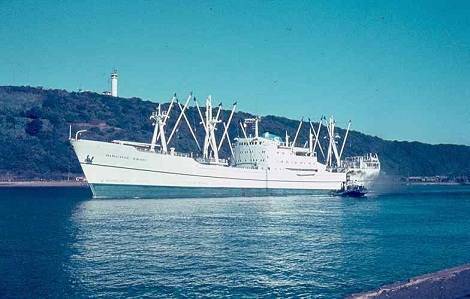 The lovely smooth lines of the passenger/freighter BIRGITTE SKOU (5,133-gt) seen sailing from Durban harbour during the 1960s. Note the pilot boat turning away as the ship makes for the open sea. Note too the old signal tower on the Bluff, which was often mistaken for a lighthouse. Birgitte Skou, which was owned and operated by the Danish Skou Line was at a later stage listed as in service with the American Alcoa Steamship Company. She was built in the Kieler Howaldswerke yards at Kiel, Germany in 1960 and underwent a renaming to Ebel in 1979, was renamed Desanmar in the following year, and finally became the New Haining in 1982. She was withdrawn from service and broken up in 1982. Picture by Ron Galliers
News continues below…

Construction of the Sudan – Kenya – Uganda railway gets go-ahead
The long dreamed of railway line connecting East Africa with the Sudan has come a step closer with the news that Thyssenkrupp GfT Gleistechnik, Ayr Logistics Ltd and MosMetrostroy will jointly undertake the construction of a railway from Juba in South Sudan.
The project became viable with the signing of the Comprehensive Peace Agreement between Sudan (Khartoum) and the Sudan People's Liberation Movement in 2005 but numerous obstacles have since remained in the way.
Now as South Sudan approaches a referendum that could result in the region taking full independence from Sudan, a more direct route to the sea has become one of the area's priorities, which has prompted Kenya to move ahead with plans of building a new port at Lamu capable of handling ships that are larger than currently call there.
The prospect that South Sudan may also have control of the oil fields in the north of the region adds further incentive to both projects.
According to German sources the capital for building the railway has been underwritten and is available. It is estimated that the rail project could cost at least US$ 3 billion. Of interest is that Russia's MosMetrostroy has been selected as the main contractor – the company is said to have considerable experience in building and rehabilitating Russian railways.
The railroad project is likely to bring about enormous change to an undeveloped region, with access roads, railway stations and sidings, freight terminals, hotels and power stations.
News continues below…

Cutting shipping emissions 'could raise billions'

Not even naval ships are immune from producing too much emissions, despite too much smoke being a giveaway of a ship's presence. This is the Indian destroyer INS Delhi approaching Durban harbour recently. Picture by Terry Hutson
The shipping industry can do more to tackle climate change and raise billions of dollars to help poor countries cope with its devastating impact, said international agency Oxfam ahead of last week' meeting of the International Maritime Organization (IMO).
Oxfam is calling for government officials and shipping experts of the IMO – the international shipping regulators – to consider measures to reduce uncapped and rising shipping emissions, while at the same time raising more than US$ 10 billion per year in new climate cash through the auctioning of emission permits. Progress here, said Oxfam, would bring the world closer to raising the $100 billion per year pledged by rich countries at last year's UN climate talks to help poor countries protect themselves from the impacts of climate change and develop in a low carbon way.
"This is a unique opportunity for shipping to become less of a source and more of a solution to the climate crisis," said Tim Gore, Oxfam's EU climate change policy advisor.
"The industry could give vulnerable communities a significant helping hand in the fight against climate change by both controlling a major – and rising – source of global greenhouse gas emissions and generating desperately needed cash so they can cope with its devastating effects.
"Shipping plays a vital role in keeping the wheels of global trade moving. The International Maritime Organization could implement a fair scheme to control emissions, that won't penalize trade from developing countries and will provide some of the vital resources needed to tackle climate change."
The IMO met just ahead of the next round of UN climate talks in China (taking place this week between 4–9 October) and the last gathering of the Advisory Group on Finance (AGF), which was established to identify ways to raise the $100 billion per year pledged at Copenhagen. The group's recommendations are due to be published in October.
Gore said: "Despite the continuing global recession rich governments can raise the billions required to help poor countries cope with climate change without dipping into their cash strapped budgets. The shipping industry can't do it alone, but it can be part of a package of innovative finance-raising measures including those addressing uncapped emissions from international shipping and aviation, a Robin Hood Tax on financial transactions and re-direction of rich-country fossil fuel subsidies.
"No stone should be left unturned in the search for new climate cash and the shipping industry must play its part to raise tens of billions for a new UN climate fund ensuring poor communities get the resources they need."
News continues below…

Pics of the Day – SAFMARINE BAYETE
Safmarine's 3,075-TEU container ship SAFMARINE BAYETE (35,835-gt, built 2009) which was introduced in service in early 2009, seen here in European waters. Shortly after its introduction in January last year a leading Zulu traditionalist and adviser to the Zulu King said the use of the name Bayete was unfortunate, as it was an expression of great respect reserved for the use of the King's subjects when addressing His Majesty, and no other. "The word cannot be used even for a son of the king, nor when referring to any previous king," he said. He called the use of the word to name a ship "disrespectful". Picture by Koos Goudriaan, courtesy Robert de Lange
Don't forget to send us your news and press releases for inclusion in the News Bulletins. Shipping related pictures submitted by readers are always welcome – please email to info@ports.co.za
Did you know that Ports & Ships lists ship movements for all southern African ports between Walvis Bay on the West Coast and Mombasa on the East Coast?
TABLE BAY UNDERWAY SHIPPING
SHIP PHOTOGRAPHERS
Colour photographs and slides for sale of a variety of ships.

Thousands of items listed featuring famous passenger liners of the past to cruise ships of today, freighters, container vessels, tankers, bulkers, naval and research vessels.
P O BOX 809, CAPE TOWN, 8000, SOUTH AFRICA
snai@worldonline.co.za
http://home.worldonline.co.za/~snai
South Africa's most comprehensive Directory of Maritime Services is now listed on this site. Please check if your company is included. To sign up for a free listing contact info@ports.co.za or register online