Ports & Ships Maritime News
October 5, 2010
Author: Terry Hutson
Shipping, freight, trade and transport related news of interest for Africa
Want to advertise on the website using your Banner? - contact info@ports.co.za
SEND NEWS REPORTS AND PRESS RELEASES TO info@ports.co.za
TODAY'S BULLETIN OF MARITIME NEWS
Click on headline to go direct to story – use the BACK key to return
Looking for help? Try our MARITIME SERVICES DIRECTORY CLICK HERE
First View – SAFMARINE ORANJE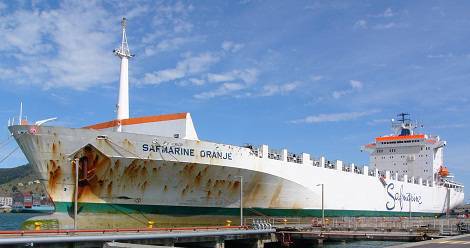 The container ship SAFMARINE ORANJE (27,103-gt, built 1991) has frequently been reported as being South Africa's only remaining ship on the local register - something that is perhaps true only if large mechant ships are considered and specialised or smaller vessels are ignored. The comment is usually accompanied with a lament over the loss of a meaningful South African Register. Be that as it may, this container ship is a sad reminder of the once numerous ships in Safmarine colours that bore the homeport of Cape Town on their sternparts, back in the days before 2000 when the company was South African owned and could be regarded as the national sea carrier. If reports are correct Safmarine Oranje is in the process of being withdrawn from service and will soon join others that are now but a memory. Picture by Aad Noorland
News continues below...

Cunard takes delivery of QUEEN ELIZABETH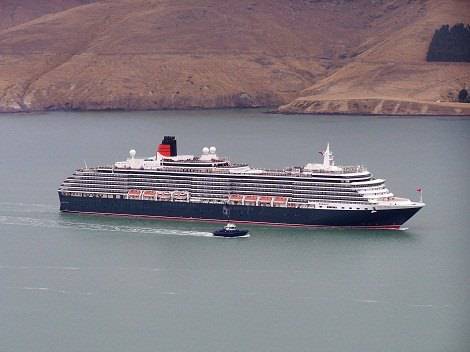 A near sister ship to the new QUEEN ELIZABETH is QUEEN VICTORIA, seen here at Lyttelton in New Zealand. Picture by Alan Calvert
The UK port of Southampton is preparing to welcome the latest Cunarder, QUEEN ELIZABETH for the first time when the ship arrives on Friday this week, 8 October when she will berth alongside the Ocean Terminal at 9am.
Last Thursday Cunard took delivery of the second largest Cunarder ever built and the third new liner that the company has built in six years.
The handover took place on board the 92,400-gt ship at the Fincantieri Monfalcone shipyard in Italy, an event that included a speech by Cunard President and MD Peter Shanks and the ceremonious lowering of the Italian flag to be replaced by the Red Ensign. With that the 294-metre long ship entered the Register of British Shipping.
"This ceremony to mark the completion of the ship, and our acceptance of delivery, is just the first of a number of significant events over the next few weeks – including the ship's official naming by Her Majesty The Queen in Southampton on Monday 11 October," said Peter Shanks. "I'm certain the British will take this truly magnificent ship to their hearts, as they have all the Cunard Queens."
Later that day Queen Elizabeth left the shipyard and is currently sailing to Southampton, from where she will depart on her maiden voyage at 5pm on Tuesday, 12 October.
Queen Elizabeth has 1,046 cabins that can accommodate 2,500 guests which will be assisted by a crew of 1,097.
An active bridge cam is in operation on the ship and can be viewed HERE
News continues below…

Piracy: Two seafarers taken from bitumen tanker off Niger Delta
Niger Delta pirates, or militants if you prefer, have taken another two seafarers hostage, this time from the bitumen tanker MV ECKHARDT (9,267-dwt, built 1975).
The attack on the ship occurred about 10 n.miles off the port of Bonny, where one of Nigeria's main oil export terminals is located. A Nigerian Navy spokesman, Commodore David Nabaida said the attack took place last Friday (1 October) and that the ship's captain and chief engineer had been kidnapped.
"We have not been able to establish their identities," the commodore said. He added that the ship had been warned to stay away from the area but had ignored the advice.
At this stage there have been no confirmation of a ransom demand and there are no suspects, he said.
After a period of quiet MEND – the Movement for the Emancipation of Niger Delta – has taken to attacking shipping again in the Niger Delta region and even as far afield as the coast of Cameroon. These attacks usually take place on ships at anchor, with two or more of the crew being abducted and taken away for ransom from the ship's owners or operators. People on shore – usually those working for the oil majors or associated companies - are also vulnerable and have been abducted by the movement and held for ransom.
On most occasions those held for ransom are released later (after payment of the ransom) unharmed physically, but there have been exceptions. Three French seafarers and a Thai citizen who were seized earlier in September have still not been released.
Members of MEND were subject to an amnesty recently which has since been broken. MEND has taken responsibility for twin car bomb attacks in the capital of Abjuja last Friday in which at least 12 people lost their lives. The attack took place during Nigeria's 50th anniversary Independence Day celebrations and Nigerian authorities have admitted they received a warning from MEND at least five days before the blast.
In South Africa meanwhile a former leader of MEND, Henry Okah has been arrested under South Africa's counter-terrorism legislation. He is under suspicion of being one of the masterminds of Friday's blast and is being held in police cells pending a bail appeal. Okah was previously released from a Nigerian jail in terms of the amnesty granted to members of MEND. In Nigeria police have made three arrests in connection with the car bombs.
News continues below...

Safmarine cosies up to Indian subcontinent and creates new region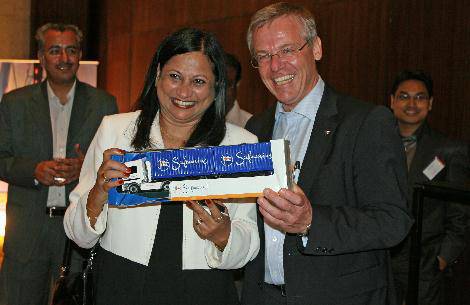 The formation of the Safmarine India Sub-Continent region was officially announced by CEO Tomas Dyrbye at an event in Mumbai on Friday, 1 October. He is pictured with Ms Zenita Machado, Director, ATZ Shipping Trade and Transport Pvt Ltd.
Liner shipping company Safmarine Container Lines has announced the formation of a new region in its global organisation aimed at enhancing its service to customers trading with the Indian subcontinent.
Safmarine CEO Tomas Dyrbye made the announcement at an event in Mumbai last Friday (1 October) – Mumbai having been appointed as the new region's headquarters.
He said the formation of the new region for Safmarine was a clear indication of how important the Indian sub-continent had become to the shipping line.
"Our ambitions are big. We want to grow with you. We are determined that the formation of this region will have tangible benefits for our customers. We want to forge long-term customer relationships, creating good transparency in the value chain and reducing transaction costs for shippers," he said. The new region within Safmarine will cover India as well as Pakistan, Sri Lanka, Bangladesh, Afghanistan, Nepal and the Maldives. The Indian sub-continent and surrounding countries had previously formed part of the Safmarine West and Central Asia region which included the Persian Gulf. These countries have now been combined with the North African and Levant countries to serve customers in the newly-established Middle East and North Africa Region.
News continues below…

Transnet Freight Rail passes the barrier on coal line – 65 million tonnes now feasible this year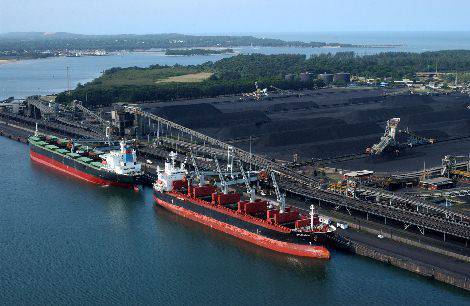 Healthier news for Richards Bay Coal Terminal (RBCT) and coal exporters comes with the report from Transnet Freight Rail (TFR) that it has delivered a record 17.7 million tonnes of coal to RBCT during the third quarter July to September this year.
This is in marked contrast to preceding quarters and represents a 16% increase on coal railed to the port during the same period for 2009. On this basis TFR is more confident of improving on the previous year's achievement by sending up to 65 million tonnes down the line to the port by December. In September the rail company delivered 6.2mt to the port.
As TFR takes delivery of new locomotives and rolling stock it can expect further improvements or at least to maintain higher levels of productivity along the coal line as it edges towards its target of delivering 81mt of coal a year to RBCT.
Meanwhile, Transnet Capital Projects (TCP) is involved in a study that aims at expanding exports of coal via Richards Bay Coal Terminal and iron ore via either Saldanha. Addressing a conference in Johannesburg, TCP's director for planning (ports) Dave Stromberg said the future plan is to expand delivery of coal to RBCT beyond 81mt, aiming ultimately towards the terminal's present capacity of 91mt annually.
He said the intention was also to expand Saldanha's capacity from its current 44.7mt of iron ore to 60mt and later to 80 million tonnes a year. Transnet was also looking at ways of building a new manganese terminal to handle volumes of up to 12 million tonnes a year.
News continues below…

Maritime hostage negotiator chosen by WISTA as its Personality of the Year
A maritime hostage negotiator, Suzanne Williams has been chosen by the Women's International Shipping & Trading Association (WISTA) as its Personality of the Year.
The announcement was made at the annual WISTA conference which was held this year in Athens, Greece, just completed. The successful candidate for Personality of the Year runs her own company in London, Sue Williams International, which represents the company Special Contingency Risks and has for some years been responsible for successfully negotiating the release of a number of people who were kidnapped by terrorists or pirates.
As such she is one of those people who work behind the scenes in bringing about the release of seafarers captured when their ships have been seized off Somalia, or in other cases, seafarers and oil workers taken from ships off West Africa. She spent 32 years with the London Metropolitan Police, including as a hostage negotiator since 1991. At the time of her retirement from the police in 2008 she was head of the Hostage Crisis Unit at New Scotland Yard.
Her work with issues involving maritime violence began in 1996 when she was requested by a British coroner to investigate a suspicious death at sea as a result of piracy. Since then she has assisted in the preparation and performance of counter terrorist exercises involving kidnap and hostage negotiations, of which many were of a maritime nature.
WISTA-UK president Maria Dixon told the Conference that Ms Williams was making a remarkable contribution to strengthening the protection of crew members from piracy at a time when the International Maritime Organization had designated 2010 as Year of the Seafarer. Further, the IMO had taken up the theme for 2011 of 'Piracy: Orchestrating the Response'.
Ms Williams is a member of WISTA-UK.
There were three other candidates for the international Personality Award, which has been a highlight of WISTA conferences since 2006. They were Ms Karin Orsel, chief executive of Dutch-based Management Facilities Group, a bulk shipping company; Capt Adamu Audu Biu, chief executive of the Nigerian Shippers Council; and shipowner Ms Borgny Edervik. They were nominated respectively by WISTA Sweden, WISTA Nigeria and WISTA Norway.
News continues below…

MSC Cruises to stage MSC LIRICA in Persian Gulf for 2011/12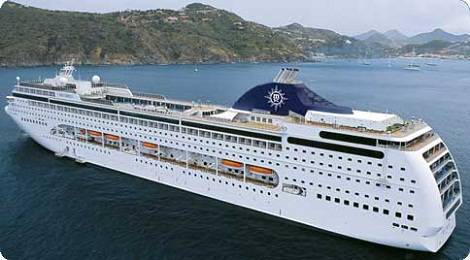 MSC Lirica
MSC Cruises, which will be operating the cruise ships MSC SINFONIA and MSC MELODY in South African waters during the coming South African summer (MSC Sinfonia arrives in South Africa next month), has announced that the United Arab Emirates in the Persian Gulf is to be its latest destination.
The cruise line intends staging MSC LIRICA (59,058-gt, built 2003) in Abu Dhabi for the 2011/2012 winter (Northern Hemisphere) season. The itinerary includes a full schedule of nineteen 7-night cruises from Abu Dhabi, with departures every Sunday from 30 October 2011 through to 4 March 2012. Alternately there will be departures from Dubai every Friday from 28 October to 9 March 2012.
Ports that will be called at include Muscat in the Sultanate of Oman, Al Fujairah in the UAE, the island kingdom of Bahrain plus two special nights in Abu Dhabi and Dubai in the UAE.
The 59,000-gt MSC LIRICA, which is a similar class of ship to MSC Sinfonia, has a capacity of 2,069 guests in 780 cabins and features a sophisticated and elegant décor, excellent Italian and international cuisine and a dazzling array of entertainment and on-board activities. The ship boasts shops, a casino, a card room and a 713-seat Broadway Theatre. There are four different restaurants to choose from, and passengers can soak up the atmosphere of the Lord Nelson Pub or enjoy a range of music in The Beverley Hills bar or dance their hearts out in the Blue Club Discotheque.
The ship sails from Genoa in Italy on 14 October 2011 for a 16-night maiden cruise to Abu Dhabi to begin her first ever cruise season in the United Arab Emirates. Her southbound cruise takes the ship from the Mediterranean Sea with calls in Naples and Port Said, through the Suez Canal to Aqaba in Jordan, on to Salalah and Muscat in Oman and finally to Dubai and Abu Dhabi in the UAE.
Five months later MSC Lirica will make the 16-night return cruise starting on 11 March 2012 when she bids farewell to Arabia, with scheduled stops at Al Fujairah in the UAE, Muscat and Salalah in Oman, Safaga in Egypt, Aqaba in Jordan, Port Sokhna in Egypt, through the Suez Canal to Port Said and finally to Naples and Genoa.
Pics of the Day – SINGAPORE, SMIT AMANDLA and SAFMARINE ORANJE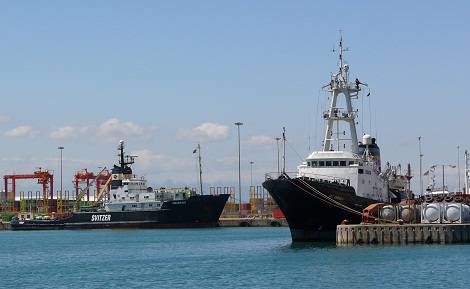 A tale of two tugs – Svitzer's SINGAPORE (2,673-gt, built 1984) on left and SMIT Amandla's South African-flagged SMIT AMANDLA (2,899-gt, built 1976), both in Cape Town. Picture by Aad Noorland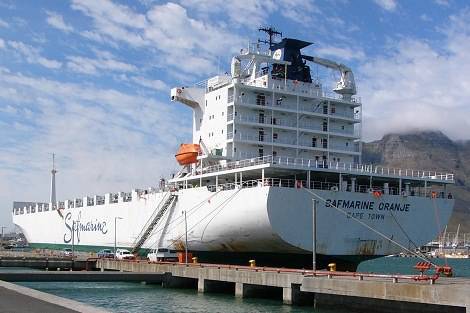 One maybe final look at SAFMARINE ORANJE looking still very outwardly capable on her berth in Cape Town harbour. Picture by Aad Noorland
Don't forget to send us your news and press releases for inclusion in the News Bulletins. Shipping related pictures submitted by readers are always welcome – please email to info@ports.co.za
Did you know that Ports & Ships lists ship movements for all southern African ports between Walvis Bay on the West Coast and Mombasa on the East Coast?
TABLE BAY UNDERWAY SHIPPING
SHIP PHOTOGRAPHERS
Colour photographs and slides for sale of a variety of ships.

Thousands of items listed featuring famous passenger liners of the past to cruise ships of today, freighters, container vessels, tankers, bulkers, naval and research vessels.
P O BOX 809, CAPE TOWN, 8000, SOUTH AFRICA
snai@worldonline.co.za
http://home.worldonline.co.za/~snai
South Africa's most comprehensive Directory of Maritime Services is now listed on this site. Please check if your company is included. To sign up for a free listing contact info@ports.co.za or register online
PROVIDING INFORMATION TO THE MARITIME INDUSTRY