Ports & Ships Maritime News
September 21, 2010
Author: Terry Hutson
Shipping, freight, trade and transport related news of interest for Africa
Want to advertise on the website using your Banner? - contact info@ports.co.za
SEND NEWS REPORTS AND PRESS RELEASES TO info@ports.co.za
TODAY'S BULLETIN OF MARITIME NEWS
Click on headline to go direct to story – use the BACK key to return
Looking for help? Try our MARITIME SERVICES DIRECTORY CLICK HERE
First View – KANPUR
The Indian flagged and owned KANPUR (47,175-dwt, built 1986) sailing from Lyttelton, New Zealand on 18 August 2010. Presumably the crew had concerns with regard to the water-tightness of No 1 hold and placed the heavy blue tarp over it for her voyage to India with coal. Picture by Alan Calvert
News continues below...

Southern and Eastern Africa ports lack capacity to deal with pollution, says PMAESA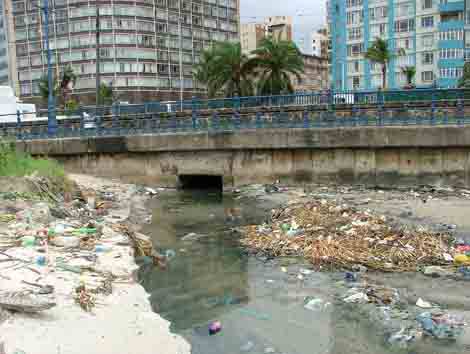 A regular pollution scene in Durban from just one of 52 stormwater outlets, drains and rivers that empty into the harbour. Picture by Terry Hutson
East African and Southern African ports lack the capacity to deal with ship waste, oil spill, ballast water management, dredging and disposal of dredged materials, says Secretary-General of PMAESA, Jerome Ntibarekerwa.
According to the secretary-general of the Port Management Association of Eastern and Southern Africa, African ports have not developed sufficient mechanisms to address the challenges of the marine environment. He said the ports of eastern and southern Africa, like others in the world are obliged to deal with environmental issues generated from shipping and had to comply with international and national regulations but they lacked capacity.
Ntibarekerwa was speaking ahead of a three-day marine environmental workshop in Mombasa which started yesterday (Monday) which will spearhead the adoption of a common African Green Port initiative.
"We have partnered with the Kenya Government and the Port Environment Network Africa (PENAF) to help port managers develop a common strategy for the continent to achieve universally accepted standards," he said. Although African countries have adopted international conventions on marine pollution, they have not put in place enough mechanisms to enforce them. In Kenya, for instance, a maritime law was only enacted last year and has not yet been fully operationalised.
The Mombasa conference is a culmination of more than a year's collaboration with regional and international experts on how to launch African port environment initiatives, Ntibarekerwa said.
"For a long time, environmental concerns have been relegated to the back-burner within the region where priority has always been given to operational efficiency in moving cargo." The Daily Nation reports that an African Green Port initiative will be launched in December this year by all African countries during the next Pan African Association Ports Cooperation (PAPC) meeting which will be held in Arusha (Tanzania).
The African Green Port initiative will set up a common programme for Africa that will implement environmental issues in the African Union Maritime Charter. The initiative will have a permanent network and will have a secretariat.
PMASEA entered into a partnership with EcoPorts Foundation for Europe last year to initiate a regional environmental support strategy to prevent high marine pollution in member countries' coastal strips. –source Daily Nation, author Gitonga Marete
News continues below…

Cape Town shipyard to build two 30m crewboats for Nigeria
Cape Town-based boat builder Veecraft Marine has secured a contract to build two 30m long aluminium monohull crewboats for service in Nigeria.
The contract, which has been awarded to Veecraft in collaboration with Australia's Incat Crowther, which will design the vessels, calls for boats that are easy to construct and robust in operation, with simple systems in line with the demands of West Africa.
Incat Crowther says that the contract represents the start of a new collaboration between it and the South African shipyard. Each vessel will feature a large working deck with guard rails. Available cargo space will be nearly 80m². The main passenger cabin features doors forward and aft and there is a toilet and luggage rack aft and comfortable seats for 30 passengers.
The forward cabin doors lead directly to the bow transfer station, protected by handrails, which allows safe, direct transfer to oil rigs.
The wheelhouse features both forward and aft control stations with excellent visibility. The vessels will each be powered by 3 Caterpillar C32s producing 1450hp. Propulsion will be by 3 fixed-pitched propellers. Loaded service speed will be 25 knots.

In other shipbuilding news concerning West Africa, Korean and Japanese shipyards are in the mix for orders to construct up to 14 LNG tankers for service with the Brass LNG project in Nigeria.
South Korean shipyards which received tender documents include Korea's Hyundai Heavy Industries, Daewoo Shipbuilding & Marine Engineering, Samsung Heavy Industries, and STX Offshore & Shipbuilding. Japanese yards include Mitsubishi Heavy Industries and Kawasaki Heavy Industries.
The Brass project requires between 12 and 14 LNG tankers spread over possibly three sizes of 155,000cbm, 180,000cbm and 216,000cbm.
News continues below...

NATO forges closer links with the maritime industry to fight piracy
by Paul Ridgway
Correspondent, London
On 14th September the NATO Shipping Centre hosted a seminar at the Transport Security Expo and Conference at Olympia in West London. The seminar entitled 'Dedicated to Hardening Vessels Against Attacks by Pirates', was a unique opportunity for delegates from various maritime organisations to take part in a tactical exercise following a vessel's voyage from Rotterdam to the Gulf of Aden where pirates attempted to seize it.
"I am really pleased that so many people were able to come and participate in this event," said Commander Stein Olav Hagalid, Head of the NATO Shipping Centre and one of the seminar facilitators. "It was a great opportunity for people from all areas of the maritime industry to come together and discuss piracy. I feel sure that everyone left with a much better understanding of how piracy affects different organisations and how we all ensure that we do as much as we can to deter, disrupt and protect vessels and crew from pirate attacks."
Over 100 delegates took part in the exercise which also gave them the chance to ask questions of the panel which included Commodore Steve Chick who was until July 2010, the Commander of NATO's counter piracy mission, Operation OCEAN SHIELD. Commodore Chick was able to give the naval point of view and explain how the naval forces in the area can help and what constraints under which they sometimes have to work.
Another panel member, Captain Sunil Mani from BW Maritime, who was the master of a vessel which was subjected to a pirate attack in the Somali Basin in 2009, was able to relate his experience. Having been through an attack, he was able to describe the best management practices such as the rigging of water hoses, fixing razor wire around the vessel and provision of a lookout to ensure that he and his crew were able to repel the pirates.
Transport Security Expo has been regarded as the only dedicated event focusing on the continuing global threat and security issues facing the aviation, maritime and supply chain industries. Such maritime security conferences are run in conjunction with NATO and the IMO.
News continues below…

Bayhead Road extension to go ahead, but don't get too excited too soon

The single lane section of Bayhead Road that is to undergo widening. Note the No Stopping sign. Picture by Terry Hutson
Following the awarding of the long-awaited contract to extend the dual carriageway of Durban's Bayhead Road beyond Langeberg Road and into Durban Container Terminal Pier 1, there may be some anticipation among transport companies that the end of congestion along that part of Bayhead Road is in sight.
However, port users shouldn't get too excited too soon, as the contract is going to take some time before work gets underway and even longer before it is completed but it is the in-between that should be feared the most.
There is no obvious alternative route into Pier 1 unless Transnet Port Terminals agrees to open a road which extends through the existing DCT Pier 2 terminal. For security reasons that seems unlikely at this stage.
Had Transnet announced that it was going to widen the entire Bayhead Road system from four lanes (two each way) to six then it might have been worth getting excited over, for it is very clear to port users that the road is inadequate as it is and has been virtually since it was originally widened some years back. The proposed Link Road from Langeberg Road to the renamed Edwin Swales VC Drive will reduce the levels of some of that traffic but is only transferring the problem in another direction.
Residents of the nearby Bluff suburb will also be on their guard against a surge in container trucks using Bluff Road to avoid some of the Bayhead Road congestion – the use of container trucks on this road is already banned by city authorities following a number of horrific accidents involving container trucks and private motor vehicles, but many truck drivers ignore the ruling and use the road, particularly at night.
The obvious answer is for inland container traffic to be put on rail but as everyone in the industry knows, this is not going to happen in any meaningful way.
News continues below…

Merc SA proposes investment, new jobs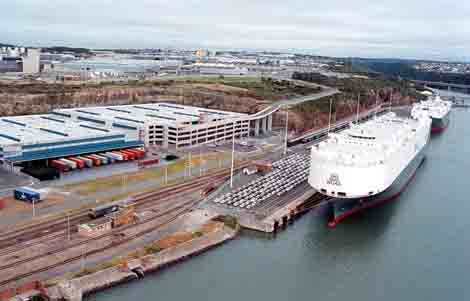 East London Car Terminal with Mercedes Benz factory above.
Pretoria - Mercedes Benz South Africa has proposed a new investment in the country's automotive industry which could see the creation of 2000 new jobs, according to the Department of Trade and Industry (dti).
Mercedes Benz is engaged in a competitive process to produce a new generation Mercedes C-class model in the country. "If successful, the more than R2 billion investment would result in higher local content and in more than 2000 new jobs, including high quality jobs at the firm's East London plant," said the ministry.
This follows a meeting between Minister Rob Davies and the vehicle manufacturer's Chief Executive Officer Dr Hansgeorg Niefer on Thursday last week.
At the meeting it was agreed that a joint working group would be established between Mercedes Benz and the department to work through the details of available government support to enable the company to produce a competitive bid against other Mercedes Benz production plants in other parts of the world. – BuaNews
News continues below…

World's oldest steam ship finds new home
SS Robin was built in London in 1890 and is owned by a Trust which is organising the ship's complete overhaul and refit to prepare her for her new role as a living exhibit. Her final mooring place has yet to be settled – the Trust is busy evaluating several options but the port of Tilbury has agreed to provide a temporary home in the meantime.
The plan is for the ship to be transformed into a new style 21st Century museum and learning centre for the British capital. This will see the ship resting on a custom-made floating dock that provides visitors with a hands-on view of the complete ship. The floating dock was commissioned in Poland and was joined together with SS Robin in June this year, involving a massive crane operation. The complete ensemble was then towed from Lowescroft to Tilbury.
Nishani Kampfner, the Trust's Project Director, said that when SS Robin arrived in Lowestoft the 120-year old vessel was in a very fragile state. "After an extensive review of options the floating dock scheme emerged as a winning formula for the vessel's long-term conservation."
He said the ambitious world-first concept displays the entire ship to visitors for the first time.
SS Robin was purchased for the sum of £1 from the owners of CUTTY SARK ten years ago, after which a technical team of East Anglian and London-based marine consultants, engineers, naval architects and shipwrights in Lowescroft went to work on restoring her.
Pics of the Day – SELI 1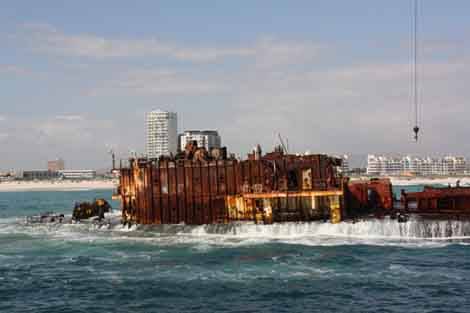 The wreck of the coal ship SELI 1, which went aground in Table Bay in September 2009, just over one year ago, is rapidly being reduced by the elements, as can be seen in these two pictures taken during a recent Cape Town Ship Society visit. To see what the ship looked like shortly after going aground Click HERE. Today's pictures are by Eric Naushutz
Don't forget to send us your news and press releases for inclusion in the News Bulletins. Shipping related pictures submitted by readers are always welcome – please email to info@ports.co.za
Did you know that Ports & Ships lists ship movements for all southern African ports between Walvis Bay on the West Coast and Mombasa on the East Coast?
TABLE BAY UNDERWAY SHIPPING
SHIP PHOTOGRAPHERS
Colour photographs and slides for sale of a variety of ships.

Thousands of items listed featuring famous passenger liners of the past to cruise ships of today, freighters, container vessels, tankers, bulkers, naval and research vessels.
P O BOX 809, CAPE TOWN, 8000, SOUTH AFRICA
snai@worldonline.co.za
http://home.worldonline.co.za/~snai
South Africa's most comprehensive Directory of Maritime Services is now listed on this site. Please check if your company is included. To sign up for a free listing contact info@ports.co.za or register online
PROVIDING INFORMATION TO THE MARITIME INDUSTRY