Ports & Ships Maritime News
September 16-17, 2010
Author: Terry Hutson
Shipping, freight, trade and transport related news of interest for Africa
Want to advertise on the website using your Banner? - contact info@ports.co.za
SEND NEWS REPORTS AND PRESS RELEASES TO info@ports.co.za
TODAY'S BULLETIN OF MARITIME NEWS
Click on headline to go direct to story – use the BACK key to return
Looking for help? Try our MARITIME SERVICES DIRECTORY CLICK HERE
First View – FRISIA ROSTOCK
The German-owned and Liberian-flagged container ship FRISIA ROSTOCK (25,406-gt built 2004) in Cape Town harbour. Picture by Ian Shiffman
News continues below...

Port News – what's happening in the world of ports
Port Elizabeth gears up for naval invasion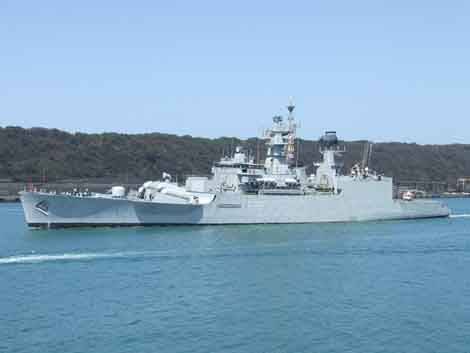 One of two Indian frigates that will call at Port Elizabeth today is INS GANGA F22, seen here leaving Durban earlier this week. Picture by Terry Hutson
Port Elizabeth is gearing up for a naval invasion today (Thursday) when warships of three nations arrive for a three-day stopover. The ships are taking part in the IBSAMAR II exercise off the east coast this and next week and will be arriving from Durban.
To accommodate between eight and nine ships they will be double banked on berths 10, 11, 13 and 14. The ships arriving are INS Mysore, INS Tabar, INS Ganga, INS Aditya, MB Niteroi, SAS Amatola, SAS Spioenkop. It is not known whether SAS Galashewe is among those due to arrive today. The ships leave again on Sunday 19 September to resume the exercise at sea.

Pressure on DP World off as creditors agree to reschedule debt
Port operator DP World, which is a division of Dubai World, is off the hook as far as any threat of being sold to recoup some of the debt owed by its parent company is concerned, after news that Dubai World has reached agreement with creditors on the rescheduling of the full amount of its debt.
On Monday (13 September) we reported on the possibility of Dubai World having to sell off parts or all of the terminal and port operating division - Dubai World looks at possibility of selling its port operations, but it appears that an accord with creditors has subsequently been reached. In a communiqué this week the Dubai government says that further rescheduling had taken place regarding the balance of the debt (US$ 25m or 40% of the total) which has considerably reduced any risk to the subsidiary company.
"The Government of Dubai is pleased with this significant outcome and with the speed at which it has been achieved, given the complexity of the situation and the large number of creditors involved," it stated.

AP Moller-Maersk responds to claims of exclusivity deal at Pipavav
Responding to reports in the UK trade paper IFW of an exclusivity deal involving Safmarine and Maersk ships using the Indian port of Gujarat Pipavav Port (GPPL) - Indian shippers point fingers at Maersk and Safmarine over exclusivity deal, AP Moller-Maersk has broken its silence on the matter by saying that its position on the matter is legally sound, adding that Indian shippers remained free to choose any line or port for service.
Without confirming or denying the report, a spokesman for the company said that in Pipavav APM Terminals has less than a 7% share of India's north-western market, "which cannot be interpreted as an anti-competitive position." Feeder operators and shipping lines find Pipavav closer to the Mumbai market than the port of Mundra, so there is a business reason for the attractiveness of Pipavav, he said.
Indian shippers told the UK paper that they planned to follow up their claims with local and national regulators.

Los Angeles and Long Beach grow imports by 24 percent
The US west coast ports of Los Angeles and Long Beach, the largest container ports in the United States, have reported import growth of 23.9% year-on-year for the month of August. They indicated that import growth showed no sign of slowing, despite analysts having predicted that shipping had already peaked in July, because, said the analysts, US retailers had shipped early this year and would hold back on restocking until there was a broader improvement in the US economy.
For interest only, as it is not a comparison, South African ports increased total container movements, import and export, by 44.5% for August, year-on-year. It is however, too early to say that shipping is back on a roll but the signs are there.
News continues below…

Piracy: Pirates may be using VLCC as 'super mother ship'
Supertanker may become pirate mothership
NATO reports that Somali pirates have moved the captured VLCC SAMHO DREAM (314,360-dwt) to a position approximately 80 n.miles off the Somali coast, leading to speculation that the supertanker could be used as a mother ship for other pirate activity in the region. At least one skiff as used by pirates to attack merchant shipping has been seen on the tanker's deck.
Samho Dream has a crew of 19 Filipinos and five South Koreans on board and was seized by pirates on 4 April. The ship is loaded with a cargo of crude oil from Kuwait and was heading for the United States when captured. The cargo is said to be worth at least US$170 million. Since her capture the ship has been at anchor near the Somali coast, until the latest move.
The International Maritime Board (IMB) has now issued a general warning to shipping after the ship left its anchorage near Hobyo on Tuesday this week. "The shipping community is warned that MV [Samho Dream] might be used either to investigate seas states or to conduct mothership operations in the vicinity of shipping lanes," the IMB said.
Australian frigate goes home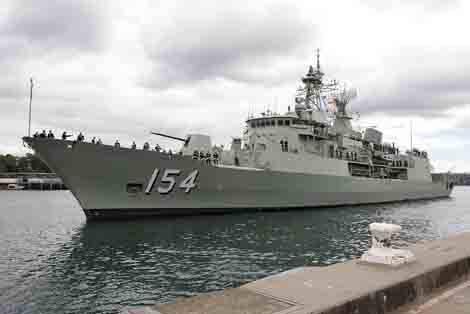 HMAS Parramatta returns home after her deployment to the Middle East. Picture Royal Australian Navy
Report from Paul Ridgway
The Royal Australian Navy frigate, HMAS PARRAMATTA returned to her homeport of Garden Island, Sydney on 15th September. The Anzac Class Frigate, carrying 192 men and women, has returned from a six-month deployment to the Middle East Area of Operations, where she contributed to the international campaign against terrorism, countering piracy in the Gulf of Aden, and maritime security.
Parramatta has made a significant contribution to the safety of vessels in maritime corridors during her deployment as part of Operation SLIPPER. The warship successfully responded to 14 distress calls in relation to suspected piracy events and successfully intercepted one pirate vessel in the Internationally Recommended Transit Corridor. Her deployment represented a change in focus to the Southern Red Sea and Gulf of Aden in response to a heightened threat posed by violent extremists operating in the region. This is the third time that Parramatta has deployed to the Gulf, with the frigate's return marking the completion of Navy's twenty-third rotation since September 2001. Parramatta has been replaced by HMAS MELBOURNE, which left Garden Island, Sydney in August.

US to appeal piracy charge dismissals
The US government is believed to be preparing an appeal against a court decision to dismiss piracy charges against five Somali men who were accused of attacking a US Navy ship, USS ASHLAND in April.
Although another Somali pleaded guilty to piracy the others were found not guilty because the court found there was no evidence that they had boarded a ship or committed robbery at sea. The intent to do so could not be proved – the men claimed they had gone to sea to carry refugees.

Russian seafarers freed in Niger Delta
Two Russian seafarers, Igor Ivanov and Andrei Pukke have been released in the Niger Delta after being held by their captors for about one month. Russia's Seafarers' Association has confirmed the men are back in their homeland but declined to give other details. It is reported elsewhere that a ransom of US$ 60,000 was paid for their release.
News continues below...

South Africa needs new growth path
Johannesburg - South Africa needs to embark on a different growth path if the economy is to grow and poverty beaten, says Trade and Industry Minister (dti) Rob Davies.
Addressing reporters ahead of the release of the UNCTAD's Trade and Development report 2010, the minister said the report showed "that we need to put ourselves on a different growth path".
"The growth we had before the crisis is not likely to reappear like before. Even though we were on a growth path before the recession we did not manage to get unemployment below 22.8 percent of the economic year to publication," said Davies.
Deputy President Kgalema Motlanthe at the weekend said government was working towards finalizing a new growth path aimed at providing a policy framework for a labour-intensive growth strategy.
The new growth path, he said, is expected to identify the policy tools available to support employment growth across the economy. "As government, we hope that the new growth path will provide another stepping stone towards the shared vision that we will require to address the structural constraints of the South African economy. [It] will define the nature of the South African jobs and equity challenge and address labour-intensive growth," he explained.
Motlanthe said there were a number of challenges in achieving a more labour-intensive growth path in the country, suggesting that social partners could do more to contribute towards achieving a higher participation rate and a better utilisation of labour.
In March, Economic Development Minister Ebrahim Patel announced a shift by government to a more labour-absorptive economy and the new growth path would include a focus on manufacturing, infrastructure development, rural development and agro-processing, and the 'green' economy.
At the time he said the new growth path would recognise the crucial role of the private sector in creating new jobs.
Government earlier this year launched the Industrial Policy Action Plan 2 (IPAP), which seeks to respond to various economic and industrial imperatives and to address weaknesses that exist in the South African economy.
The UN report found developing countries to be overly reliant on exports. These countries, the report found, needed to strengthen domestic demand for growth as well as job creation.
Davies said: "Developing countries need to recognise that they cannot expect in the future to be overly dependent on exports as a driver of economic growth. And that what is needed now is a greater re-orientation of all countries where you have to have greater balance between domestic growth and also of export growth," said the minister.
He added that Africa needed to add value to the mostly mineral products it exported.
The report anticipates that global average growth will reach 3.5 percent this year. The developed world is expected to reach 2.2 percent growth while the developing world is anticipated to reach 6.9 percent growth with Africa reaching 4.8 percent growth. South Africa is anticipated to reach growth of 3 percent.
Low interest rates and economic growth are the preconditions for job creation and poverty alleviation. It said that real wage growth at the same pace as productivity would generate domestic demand.
The document also a highlighted that an incomes policy that favours a sustained increase in wage income in line with productivity growth would have impact on keeping wages from falling, would raise consumption and productivity at the same time as productivity and thereby keeping unit labour costs unchanged therereby preventing cost push inflation. The policy had been tried by some European countries.
"As a result, monetary policy can be geared more to providing favourable conditions for financing favourable conditions for financing real productive investment that is essential for job creation," reads the report.
Additionally wage growth in line with average productivity can be greatly facilitated by institutional arrangements for collective bargaining among workers' and employers' association.
Davies said the over-valuing of currencies posed a danger, adding that a strong rand increased competitive pressure on local and abroad producers. "The issue is to ensure a competitive currency."
The report showed global recovery was fragile and uneven with emerging markets leading the recovery. The possibility of a double dip recession because of fiscus stimulus being withdrawn too quickly particularly in Western Europe is another of the issues pointed to in the report.
The report also found that there was a risk the global imbalances which contributed to the crisis in the first place would not be corrected because of a lack of macroeconomic policy.
In the US debt financed households can no longer serve as an engine of growth while in China there is reorientation of policies towards supporting faster growth of domestic consumption coherence among major economies, the report noted. – BuaNews
News continues below…

Drewry looks ahead at modal warfare for reefer trades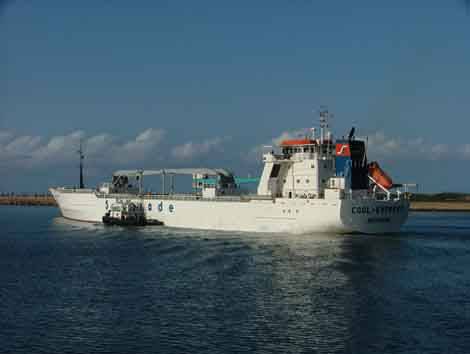 one of the breakbulk type reefer ships, COOL EXPRESS leaving Durban in this picture by Terry Hutson
British shipping consultant Drewry says that it anticipates a 'robust recovery' for the refrigerated reefer trade over the next few years which could, it suggests, lead to a 'modal war' between specialised breakbulk reefer ships and the container ships carrying reefer containers.
In the past 15 years containerized reefer traffic has gradually gained ground until it has become the predominant method of moving perishable cargo – fruit in particular – to market places such as Europe and the United States.
Drewry says that in mid 2010 there were 727 breakbulk reefer ships in service with more than 100,000 cubic feet of space, which reflected a 17 percent decrease in capacity over the past ten years. The average age of these ship is 22 years and about 37 ships have been scrapped each year since 2008.
Drewry's MD Nigel Gardiner said that the projected growth in seaborne reefer trade favours the specialised type of vessel, yet the growth cannot be accommodated by the specialised fleet, which could account for as little as 8.4% capacity by 2012.
News continues below…

Motlanthe kicks off UK visit
Pretoria - Deputy President Kgalema Motlanthe's two-day working visit to the United Kingdom, gets underway yesterday (Wednesday) with a focus on strengthening both political and economic ties with that country.
The working visit, which is expected to strengthen the North-South cooperation, will see meetings between Motlanthe and his counterpart, Nick Clegg and new Minister for Africa, Henry Bellingham.
Issues expected to top the agenda include developments on the African continent and the promotion of the African Agenda as a cornerstone of South Africa's foreign policy. He will also aim to re-kindle the interest shown by the British industry to invest in South Africa, which was raised during President Jacob Zuma's recent visit.
While in the country, Motlanthe is also expected to address the Economist's Emerging Markets Conference which provides an opportunity for business leaders to gain authoritative analysis into the current climate for operating in high-growth markets, looking at trade opportunities and investment returns.
He is expected to give the conference a glimpse of South Africa's plans to grow the economy through amongst others, attracting foreign investment.
Motlanthe is joined by Mineral Resources Minister Susan Shabangu, Finance Minister Pravin Gordhan and International Relations and Co-operation Deputy Minister Ebrahim Ebrahim who will also have their own engagements during the visit.
Gordhan is expected to participate in a panel discussion entitled: "The New BRICS - Who is climbing the economic ladder?" and meet with a few investors, while Shabangu will meet key stakeholders in the mining sector to outline South Africa's mining laws. – BuaNews
News continues below…

Nigeria could buy up to 1 million tonnes of Thai rice
Thai rice exporters said this week that Nigeria could purchase up to one million tonnes of Thai rice this year.
The Thai Deputy Prime Minister will be visiting the West African country on 26 September to negotiate the deal after Thailand received an enquiry from Nigeria showing its interest.
Rice is a staple food in several West African countries and during the worldwide shortage of the commodity last year there were strong concerns over where Nigeria and other West African nations could source the foodstuff. At that time South East Asian rice growing nations were being forced to reduce exports in favour of home consumption. Nigeria meanwhile found itself with little of the commodity available in storage in local silos and had to release N80 billion from Nigeria's Natural Resources Fund (NRF) to fund the purchase of the essential foodstuff from whoever would sell it to them. The NRF is intended for emergencies and its use brought strong criticism from the agricultural sector which argued that the money should have been invested earlier in boosting and securing Nigeria's position in the agricultural field.
Pics of the Day – DORIA aka FRONTIER
The Ocean Africa coaster DORIA (10,811-gt, built 1987) which operated on the South African coastal service for a number of years and was renamed FRONTIER in 2007. Pictures by Terry Hutson
Don't forget to send us your news and press releases for inclusion in the News Bulletins. Shipping related pictures submitted by readers are always welcome – please email to info@ports.co.za
Did you know that Ports & Ships lists ship movements for all southern African ports between Walvis Bay on the West Coast and Mombasa on the East Coast?
TABLE BAY UNDERWAY SHIPPING
SHIP PHOTOGRAPHERS
Colour photographs and slides for sale of a variety of ships.

Thousands of items listed featuring famous passenger liners of the past to cruise ships of today, freighters, container vessels, tankers, bulkers, naval and research vessels.
P O BOX 809, CAPE TOWN, 8000, SOUTH AFRICA
snai@worldonline.co.za
http://home.worldonline.co.za/~snai
South Africa's most comprehensive Directory of Maritime Services is now listed on this site. Please check if your company is included. To sign up for a free listing contact info@ports.co.za or register online
PROVIDING INFORMATION TO THE MARITIME INDUSTRY