Ports & Ships Maritime News
September 14, 2010
Author: Terry Hutson
Shipping, freight, trade and transport related news of interest for Africa
Want to advertise on the website using your Banner? - contact info@ports.co.za
SEND NEWS REPORTS AND PRESS RELEASES TO info@ports.co.za
TODAY'S BULLETIN OF MARITIME NEWS
Click on headline to go direct to story – use the BACK key to return
Looking for help? Try our MARITIME SERVICES DIRECTORY CLICK HERE
First View – MAERSK NOUMEA
The Maersk Line container ship MAERSK NOUMEA (26,582-gt, built 2001) which called at Durban during the weekend. Picture by Trevor Jones
News continues below...

South Africa backs away from Somali engagement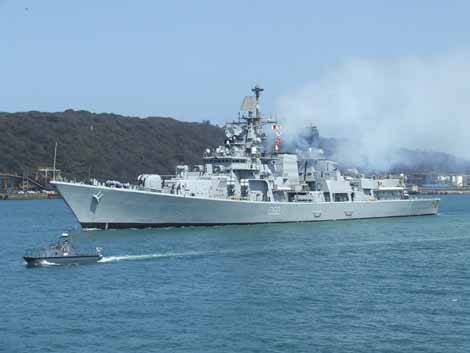 INS MYSORE, the Indian Navy destroyer seen sailing from Durban yesterday, belching the smoke that seems characteristic of the Russian-built or engined ships in the Indian Navy. Picture by Terry Hutson
As nine warships sailed from the peaceful waters of Durban Bay yesterday to join another two already at sea in one of the larger naval exercises to take part along South Africa's east coast, there is still no word from the South African government of any South African assistance to Somalia.
A total of 11 warships from three navies began an exercise yesterday that will see them range along the eastern seaboard, ending eventually off Cape Town later this month. See yesterday's News Bulletin for details of the ships and the IBSAMAR II Exercise.
Referring to reports of a request by the African Union for help with peacekeeping in Somalia which might include a naval involvement in anti-piracy measures, Deputy President Kgkalema Motlanthe said recently that South Africa would consult the African Union Mission in Somalia and with other interested parties on how best to support the political process and to find a lasting solution to the problems facing Somalia.
He said that no final decision had been made as to what South Africa's assistance to Somali would be.
The African Union recently approached South Africa to assist by either sending more troops to the war-torn Somalia or providing funding for the peace mission, something Motlanthe said would have financial and human resources implications for South Africa.
"In view of these implications, it is important that the matter first be discussed by Cabinet, before a decision is taken," Motlanthe said. That discussion was said to be scheduled for a cabinet meeting earlier this month.
"One of the most important aspects as acknowledged by the African leaders at the (recent AU) Kampala Summit is that a military intervention alone would not resolve the Somalia conflict," he added.
Analysts however believe the reason why South Africa is continuing to prevaricate on the issue is one of affordability. South Africa, they say, simply can't afford to send more peacekeeping soldiers north to settle the squabbles of other African nations, let alone consider dispatching its expensive-to-operate hardware and warships.
The government on the other hand rightly believes that a comprehensive approach that addresses the political process, security and piracy in Somalia is necessary, and that it is crucial that a search for an all-inclusive solution be stepped up.
According to Motlanthe, the broadening participation in the Somali political process to include an overwhelming number of parties remains a major challenge. This has to be done in cooperation with other African partners, in particular the Intergovernmental Authority on Development (IGAD) – an organisation to which Somalia belongs.
In the meantime, while South Africa continues to carefully tip-toe around any talk of helping combat rampant piracy throughout the north western regions of the Indian Ocean, which has engulfed the former placid waters of the Seychelles and is now threatening Madagascar in the south, its ships are free to participate in war games off the peaceful South African coast.
News continues below…

SDV's Mombasa dry port terminal ready for action
SDV Transami's new dry port in Mombasa will open in October, according to Transnami's regional managing director Tony Stenning.
The dry port will help ease ongoing congestion in the port of Mombasa, said Stenning. "With Kenya's growing economy, there is need for the Port of Mombasa to become more competitive by increasing its efficiency. The intention is to have the new terminal as a holding ground that will ease congestion there."
In 2009 Mombasa handled a total of 620,000 TEUs, well in excess of its planned capacity which placed the port and terminal under severe pressure. The new SDV dry port terminal is expected to help relieve that pressure ahead of completion of new berths and a planned second container terminal at the port.
Mombasa acts as a gateway port for not only Kenya but also neighbouring Uganda, South Sudan, Rwanda, Burundi and the eastern DRC. Last year the port was forced to handle a considerable number of transhipment containers, some of them intended for the Tanzanian port of Dar es Salaam which were redirected to Mombasa because of ongoing congestion at the Tanzanian port.
The new dry port terminal cost SDV, which is a division of the French Bollore Group, KSh700 million (US$ 8.65m) to construct.
News continues below...

The dry port will help ease ongoing congestion in the port of Mombasa
Maersk Line cuts sulphur emissions, calls for raise on regulatory bar on SOx

Lars Maersk. Picture by Terry Hutson
Maersk Line has announced that its ships will switch to using low sulphur fuel when at berth in Hong Kong, thus becoming the first voluntary fuel switch operation for Asia.
This announcement follows a successful Hong Kong-government test conducted on the container vessel ELEONORA MAERSK (170,794-gt, built 2007). "By switching from bunker to cleaner fuel at berth, we significantly reduced emissions of sulphur into the air," said Tim Smith, Maersk Line's North Asia Region chief executive.
Maersk Line ships make about 850 calls a year at Hong Kong and by switching from bunker fuel, which is used at sea, to low sulphur fuel will reduce Maersk Line's emissions of unhealthy sulphur oxides (SOx) and particles by at least 80 percent.
The Hong Kong initiative will however cost Maersk Line an estimated additional US$ 1 million annually.
Smith said the wheels of government in Hong Kong turn very slowly and Maersk Line hoped that its initiative will help accelerate regulation and prompt others to follow suit. "We share the ambitions of the local government and Civic Exchange in Hong Kong and would like to contribute to a better air quality. We hope this initiative will show the way for future legislation."
He hinted that Maersk Line would be repeating the switch to low sulphur fuels on berth in other regions. Northern Europe already employs legislation forcing shipping lines to use low sulphur fuels while within range of the European coast and it is expected that the legislation introduced by the European Union will spread to other regions as well.
Morten Engelstoft, COO of Maersk Line said that by engaging in voluntary fuel switches in Hong Kong and elsewhere, Maersk wanted to demonstrate that it is a way to quickly reduce sulphur emissions without any technical difficulties.
"We support strict sulphur regulation and we hope that our fuel switches will inspire authorities to raise the regulatory bar on SOx," he said.
News continues below…

BP well threatens ancient Libyan sites
Archaeologists fear the damage that oil platform could do to cities dating from the 7th century BC
by Andrew Johnson The Independent
Plans by BP to sink a new well off the Libyan coast could have disastrous consequences for the region's rich heritage of coastal ancient city sites and shipwrecks – already under threat from oil tankers, coastal erosion and tourist developments – archaeologists from around the world have warned.
The energy company has been under increased scrutiny following the leak from its well in the Gulf of Mexico earlier this year which spewed oil for three months in the world's worst maritime spill.
Last week a report into the blowout from BP blamed a "complex and interlinked" series of events, including human errors and mechanical failures, for the explosion that killed 11 engineers and led to the spill.
BP has, however, announced that it intends to go ahead with plans to sink a well – which would be 200m deeper than the one in the Gulf of Mexico – around 125 miles off the coast of Libya. Work is due to begin before the end of the year.
Archaeologists fear that an oil spill in the region could destroy the area's numerous ancient coastal and underwater sites and that thousands of historic shipwrecks could be at additional risk from drilling activity.
These include the ancient harbour town of Apollonia, in Cyrenaica – which dates from the 7th century BC and is five metres below sea level – along with two ancient cities in the region of Tripolitania, both of which are World Heritage Sites.
Claude Sintes, the director of the Museum of Ancient Arles in the south of France and director of the sub-aquatic team of the French archaeological mission to Libya, said that the sites are either on the beaches or underwater close to the shore. Washed-up oil would soak the porous stone and be impossible to clean, he added.
"They are very important sites and they are very fragile," he said. "If there is a problem with oil, like in the US, and it washes on to the shore it's going to be very difficult to clean the remains because the stones are porous. Apollonia is five metres under the water, and is complete with streets and buildings. In Tripolitania there are two important sites, Leptis Magna, a former Roman city, and Sabratha, where there is a theatre and mosaics. Some remains are on the beach and, if there was a leak, oil could wash up and certainly cause problems."
Paul Bennett, head of mission for the Society of Libyan Studies, which oversees British archaeological expeditions to the country, agreed that an oil spill would be disastrous for the coastal sites.
He added, however, that the area contains tens of thousands of wrecks from the Roman period, and that an opportunity to map the seabed using data collected by BP and other oil companies is being lost – along with the opportunity to ensure the wrecks aren't damaged by seismic surveying or drilling.
"If there was the kind of impact assessment you'd expect in European countries, we could see where these wrecks were," he said. "We should be taking advantage of the data collected to map the seabed. There must be tens of thousands of wrecks off the Libyan coast. We'd then be in a position to advise, to ensure they weren't damaged."
Steven Anthony, President of the Maritime Archaeological and Historical Society in Washington DC, added that the wrecks – described as "time capsules" – could also be at risk from a potential spill.
"There needs to be more research of what happens to spilled oil before drilling begins," he said. "The oil industry and BP say that leaked oil floats. But in the Gulf of Mexico oil was observed in great clouds near the bottom of the sea.
"It has happened before and will happen again, sooner or later. There isn't enough information on what happens to the oil after it leaks, or how to remedy it. When the spill in the Gulf happened, it created a lot of discussion between archaeologists about the potential problems. The oil industry needs to invest more."
Dr Nic Flemming, a British archaeologist who first mapped Apollonia as a student in 1958, said, however, that the possibility of an oil spill ranked low among his concerns regarding dangers to ancient sites.
"It's a problem, but I would say it's 17th of a host of problems," he said. "Tankers already pump out bilge; there are already oil platforms; and ancient sites are being bulldozed because their coastal locations are so valuable. Countries sign up to protection treaties, but if somebody comes along with a lot of money and says 'I want to build a hotel that will create so many jobs', then the treaties are forgotten.
"I'm horrified by the changes over the past 30 years," he added. "I remember watching a town being bulldozed into the sea, complete with columns and mosaics, to make way for a new holiday resort. I hardly dare go to look at a site any more."
A BP spokesman said drilling will start later this year, adding that any leaked oil would float and that a full seismic survey had been carried out. He said plans for Libya had been reviewed in the aftermath of the Gulf of Mexico leak.
News continues below…

Italian shipowner Guido Grimaldi dies at 92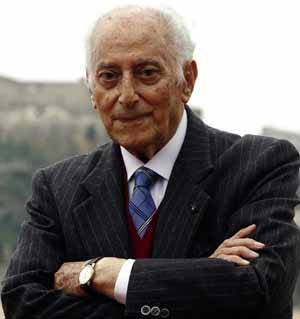 Guido Grimaldi, the man who founded the Ro-Ro shipping line that bears his name Grimaldi, has died at the age of 92.
Grimaldi remained chairman of the company right up to the end. The Grimaldi Group, which is based in Naples, is one of the pioneers of the roll on/roll off concept for shipping and has become one of the largest and has one of the most modern fleet of purpose built RoRo and multipurpose RoRo ships in the world. The group currently controls seven companies and operates more than 100 ships serving four continents.
In a brief statement the company said of its late founder, "He was a far-sighted businessman who succeeded in conveying his values and enthusiasm to his sons, Gianluca and Emanuele, as well as his son-in-law Diego."
Grimaldi was brought into the world of shipping by his uncle, Achille Lauro, and together with his brothers Luigi, Mario, Aldo and Ugo set up the business in 1947 with a WW2 Liberty ship that was assigned by the US to Italy. He later had a short political career as an Italian Monarchist Party MP during the 1950s.
Guido Grimaldi remained at the helm of his company for more than 50 years and his legacy has been the continuing success of the company he helped to found.
News continues below…

Pics of the Day – NITEROI and INS TABAR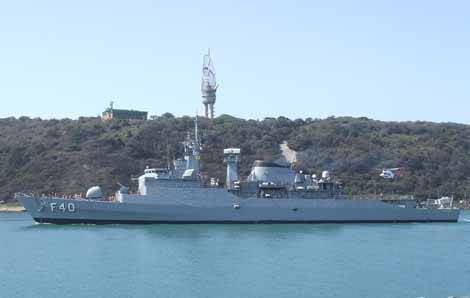 The Brazilian frigate NITEROI sails from Durban harbour after a one day stopover, after having arrived late but in time for the start of the IBSAMAR II exercise off South Africa's east coast. Niteroi experienced rudder problem which received attention at Simon's Town, delaying the ship's arrival in Durban slightly. Picture by Terry Hutson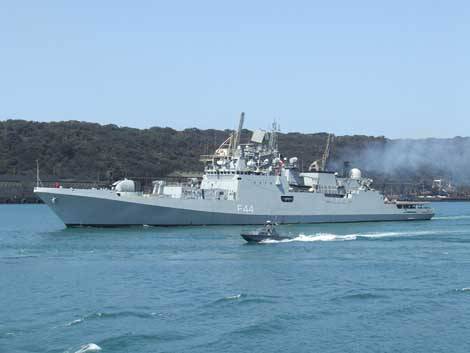 Niteroi's departure from Durban was followed a short while later by that of the Indian Navy frigate INS TABAR, with other Indian ships following at short intervals as the busy port juggled its pilots and tugs to cope with a busy morning. South African naval ships had already sailed. Picture by Terry Hutson
Don't forget to send us your news and press releases for inclusion in the News Bulletins. Shipping related pictures submitted by readers are always welcome – please email to info@ports.co.za
Did you know that Ports & Ships lists ship movements for all southern African ports between Walvis Bay on the West Coast and Mombasa on the East Coast?
TABLE BAY UNDERWAY SHIPPING
SHIP PHOTOGRAPHERS
Colour photographs and slides for sale of a variety of ships.

Thousands of items listed featuring famous passenger liners of the past to cruise ships of today, freighters, container vessels, tankers, bulkers, naval and research vessels.
P O BOX 809, CAPE TOWN, 8000, SOUTH AFRICA
snai@worldonline.co.za
http://home.worldonline.co.za/~snai
South Africa's most comprehensive Directory of Maritime Services is now listed on this site. Please check if your company is included. To sign up for a free listing contact info@ports.co.za or register online
PROVIDING INFORMATION TO THE MARITIME INDUSTRY