Ports & Ships Maritime News
September 13, 2010
Author: Terry Hutson
Shipping, freight, trade and transport related news of interest for Africa
Want to advertise on the website using your Banner? - contact info@ports.co.za
SEND NEWS REPORTS AND PRESS RELEASES TO info@ports.co.za
TODAY'S BULLETIN OF MARITIME NEWS
Click on headline to go direct to story – use the BACK key to return
Looking for help? Try our MARITIME SERVICES DIRECTORY CLICK HERE
First View – INS MYSORE
The destroyer INS MYSORE of the Indian Navy arriving off Durban on Friday, 10 September. Picture by Clinton Wyness
News continues below...

IBSAMAR II gets underway today off KZN coast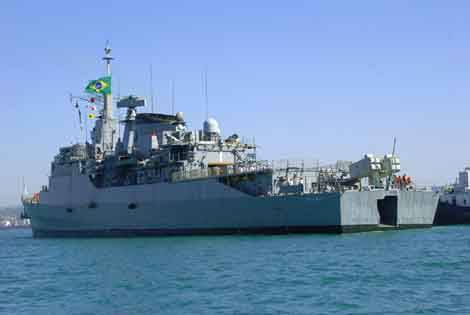 The Brazilian frigate MB NITEROI arriving in Durban yesterday morning. Picture by Trevor Jones
It's been a while since the port of Durban boasted as many as nine warships in harbour together, but that was the scene yesterday (Sunday) when the Brazilian frigate NITEROI arrived to make up the complement of surface ships taking part in the bi-annual IBSAMAR II naval exercise.
This year the exercise is commencing in Kwazulu-Natal waters although the busy commercial seas around Africa's busiest port won't long be disturbed by their comings and goings, as the group soon moves directly southwards towards Port Elizabeth and Cape Town. The group will be joined at sea by two submarines.
The fleet taking part in the exercise are as follows:
Indian Navy:
INS MYSORE D60 - destroyer of the Delhi class, built in Mumbai, India.
INS TABAR F44 – frigate of the Talwar class, built in St Petersburg, Russia.
INS GANGA F22 – frigate of the Godavari class, built in Mumbai, India.
INS ADITYA A59 – Replenishment logistic vessel, own class, built in Kolkota, India.
Brazilian Navy:
MB NITEROI F40 – frigate of the first Niteroi class, built by Vosper Thornycroft, UK.
South African Navy:
SAS AMATOLA F145 – frigate of the Meko A200 Valour class, built in Germany.
SAS SPIOENKOP F147 – frigate of the Meko A-200 Valour class, built in Germany.
SAS GALASHEWE P1567 - offshore patrol vessel (former strike craft), built in Durban.
SAS CHARLOTTE MAXEKE S102 – submarine of Type 209, built in Germany.
SAS QUEEN MODJAJDI I S103 – submarine of Type 209, built in Germany.
SAS DRAKENSBERG A301 – replenishment logistic support vessel, built in Durban.
The ships are sailing from Durban this morning (Monday) and will immediately commence the IBSAMAR II exercise as part of the overall IBSA (India, Brazil, South Africa) political alliance involving three emerging continental powers. Much of the focus of IBSA lies on commercial, technical and economic interests among the so-called countries of the South (India – South Asia, Brazil – South America, South Africa). IBSAMAR is the military equivalent of the political initiative in which the three counties navies take part - in the words of Rear Admiral RK Pattanaik, Flag Officer of India's Western Fleet, "to enhance and synergise [our] common talents at sea."
"I'm confident," he said in Durban on Friday, "that in the years ahead IBSAMAR will be looked back on as a watershed in the affairs of South Africa, Brazil and India."
Also taking part in the exercise are several aircraft from the South African Air Force, including Gripen jet fighters, Hawk and Impala jets, Oryx and Lynx helicopters and at least one reconnaissance aircraft.
The fleet will call at Port Elizabeth halfway through the exercise before continuing on to the final destination of Cape Town, where they will enter harbour to become the naval contingent at this year's Africa Aerospace Defence Exhibition. India is acting as the lead 'player' in this year's IBSAMAR II exercise – South Africa having played that role in the first IBSAMAR held in May, 2008. By common agreement the bi-annual exercise will always be held in South African waters with each country taking turns as lead nation.
While in Durban at the weekend, the South African Navy exercised its right of entry to the city by marching along the main street and taking the salute in front of the City Hall, accompanied by the military bands of the South African and Indian Navies.
IBSAMAR II demobilises in Cape Town on 27 September 2010.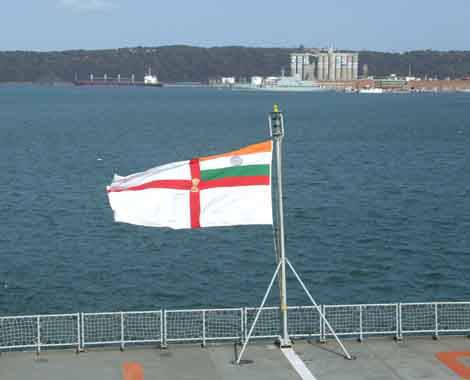 The flag of the Indian Navy flies in Durban Harbour, with the South African Navy logistics supply ship SAS DRAKENSBERG at Salisbury Island filling in the background. Picture by Terry Hutson
News continues below…

Dubai World looks at possibility of selling its port operations
Ongoing reports are suggesting that the financially troubled Dubai World is ready to sell off some of its prized assets, including the port operator known as DP World.
In August it was suggested that Dubai World, which needs to get its hands on some ready cash or find other ways of restructuring a debt reported to be totalling US$ 39.4 billion, was prepared to sell not only DP World but the Jebel Ali Free Zone and Dubai Maritime City in order to raise $19.4 billion for its creditors by 1 October 2010.
One school of thought says that the offer to sell these prized assets might simply be a message of assurance that Dubai World possesses the means of settling debts and some analysts considered that it was not necessarily an indication of any definite sales going forward.
Initially Dubai World said that assets such as DP World (its terminal and port operating division) and Dry Docks World (primarily the Dubai Dry Docks) would be excluded from debt restructuring, as both are seen as intricate parts of the emirate itself. Only in a worst case scenario would Dubai World sell off a majority stake in either, they suggested. Other divisions of the state-owned entity such as equity division Istithmar, which controls a majority stake in Cape Town's V&A Waterfront, were instead being looked at to raise much of the necessary capital.
Another alternative is for Dubai to turn once more to oil-rich Abu Dhabi for a bail-out. Whatever it does, Dubai World is sitting in a tight spot and that means by extension the emirate of Dubai is in a tight spot as well. And as the 1 October draws closer so also do the options become less.
Locally, DP World has a sizeable stake in the port of Maputo and in South Africa it owns a stevedore section trading as DP World Cargo Services – the former P&O Ports. Other Africa region divisions include the Doraleh Container Terminal at Djibouti, the port of Dakar in Senegal and container terminals in Tangier and Djen Djen, Algiers.
News continues below...

Piracy: Magellan Star recaptured by marines and Panega set free

The Bulgarian tanker Panega
In case you missed our Thursday late morning Breaking News report, two merchant ships have escaped the clutches of Somali pirates, one by way of what appears to have been a ransom-negotiated deal, and the other after the ships' crew showed excellent presence of mind and training to avoid personal capture, and then later with the aid of US Marines. Here is Thursday's special report
US Marines have successfully recaptured a container ship that had been seized the day before by Somali pirates in the Gulf of Aden.
The German-owned container ship MAGELLAN STAR (6,277-gt, built 2002) was taken by pirates on Wednesday this week (8 September) but not before the crew had disabled the ship's engines and steering and taken refuge in a secure room. From here they maintained contact with the ship's owners and with naval forces in the area by means of a satellite phone.
Aware of this, plans were put in place for marines from the US 15th Marine Expeditionary Unit's Maritime Raid Force to board the ship and capture the pirates. Earlier a Turkish frigate, TCG GOKCEADA had responded to the call that the Magellan Star was under attack but arrived too late to prevent its capture.
The US marines launched their counter attack early today (Thursday, 9 September) on small boats from the amphibious assault ship USS DUBUQUE and quickly captured nine pirates without any shooting or loss of life. The Magellan Star however had been badly trashed by the pirates, who after gaining access to the ship and discovering that it was now motionless and drifting without power on the ocean, and with no sign of the crew, became increasingly angry. The pirates established contact with the ship's owner by means of the special radio connection available for such purposes and demanded to know where the crew was.
A quick-thinking ship's owner responded: "The ship is broken, so the crew are all on leave," they were told.
In other piracy news the Bulgarian-owned tanker PANEGA (5,848-dwt, built 1986) and its crew of 15 have been released by Somali pirates after having been held in captivity for four months. It can be assumed that a ransom was paid.
Panega was the first Bulgarian-owned ship to be seized by pirates and had been taken into custody while under naval escort in an accepted sea lane. This was on 11 May and the 15-man crew were to face the next four months waiting for negotiations for their release to be concluded.
According to the shipping company that owns the Panega, the crew were not harmed or assaulted while in custody although one man was injured during the initial attack.
"After regular contacts with the captain and after we just spoke to him, Navigation Maritime Bulgare (the ship's owner) confirms that the crew is fine as much as they can be after such an ordeal. One of the members of the crew had been wounded during the hijacking of the vessel but has recovered since then. The ship is in a good condition and is on its way to a safe port. According to our information, during the duration of the kidnapping, the Somali pirates behaved in a decent and bearable way," the Navigation Maritime Bulgare statement said.
A tug is assisting the ship to an Omani port where the crew will be given a medical examination before returning to Bulgaria in a military aircraft sent specially for the purpose.
Regarding the question over whether a ransom was paid, the company responded saying:
"We believe that any discussions and comments on this issue will be irresponsible, and could threaten the lives of sailors that are still in captivity or may be kidnapped in the future. The management of Navigation Maritime Bulgare believes and hopes that the Bulgarian and international media will be understanding and respectful of this view."
Panega was en route to India in ballast to be sold for scrap. The ship was seized approximately 100 n.miles east of Aden.
Japan meanwhile has announced that its naval ships participating in the anti-piracy patrols in the Gulf of Aden will in future extend the range of escort duty by a further 200kms, to provide an escort for convoys over a distance of 1100kms in future. This is in anticipation of an expected increase in pirate activity now that the monsoon season is coming to an end. Critics are warning however that this additional distance with the same number of ships could mean a decrease in those available for escorting convoys.
News continues below…

Sundance and China-Africa Construction sign MoU on rail link to new port
Australian iron ore mining house Sundance Resources says it has appointed a Chinese company to undertake the design and construction of a proposed rail link between Sundance's Mbalam project near the border of the Cameroon and Congo and a new port on the Cameroon coast.
"CRCC China-Africa Construction Limited and Sundance Resources Ltd are pleased to announce that they have entered into a Memorandum of Understanding to establish the scope, cost and delivery programme for the railway track and rolling stock need to support Sundance's Mbalam Project in Cameroon and Congo West Africa."
The statement said the project called for an output of 35 million tonnes of iron ore a year from the proposed iron ore mines. "At the end of that work the parties may enter into a Delivery Contract for the Mine Railway Project." It said that neither party was bound to enter into the project if it was not prudent to do so.
The mine rail project is an integral part of the proposed Lolabe Port Development Project which would see a port development taking place to handle the export of iron ore.
Almost the entire board of directors of Sundance were killed in an aircraft crash in the Congo in June this year, while journeying towards the mining site at Mbalam. You can see that report here Search continues for Sundance's missing mining executives
News continues below…

MSC CHITRA not to blame for Mumbai collision
MSC CHITRA was not to blame for the collision with the bulk carrier KHALIJIA in the approaches to Mumbai harbour in early August which effectively closed India's busiest port for a week. See our report of that collision here Mumbai ports to reopen following collision
India's Directorate of General Shipping issued a finding last week which says that the Khalijia 3 was the main cause of the accident and had entered the port's entrance channel at the wrong time. It stated that poor judgement on board the bulker was the main reason for the collision.
However, as in many cases involving collisions and accidents, additional factors were found to have contributed to the accident, including the radar system attached to Mumbai Port Trust's Vehicle Traffic Monitoring System (VTMS), which was not working on that day and VTMS officials were not monitoring ship movements in its absence.
The Directorate is reported to have ruled that the owners of between 250 and 400 containers that were lost overboard from the MSC Chitra, can look to the owner of Khalijia for their recovery or compensation. A considerable number of these containers have been lost and may be lying on the sea bed.
According to MSC the accident occurred because the Kuwaiti-owned Khalijia 3 "unexpectedly continued turning to port and came back to cross the fairway again and struck the MSC Chitra on the port side, while the MSC Chitra was still properly navigating in the main channel." MSC Chitra had been deployed on MSC's East Africa – Middle East – India service.
News continues below…

Pics of the Day – ROTTERDAM and SICHEM PANDORA
Van Oord's hopper dredger ROTTERDAM (24,496-gt, built 2001) in Durban harbour last week en route to repairs in the dry dock at Bayhead. Picture by Trevor Jones
Tschudi & Eitzen's chemical tanker SICHEM PANDORA (9,215-dwt, built 1994) seen in Durban Harbour's Esplanade Channel leading to Maydon Wharf. Picture by Trevor Jones
Don't forget to send us your news and press releases for inclusion in the News Bulletins. Shipping related pictures submitted by readers are always welcome – please email to info@ports.co.za
Did you know that Ports & Ships lists ship movements for all southern African ports between Walvis Bay on the West Coast and Mombasa on the East Coast?
TABLE BAY UNDERWAY SHIPPING
SHIP PHOTOGRAPHERS
Colour photographs and slides for sale of a variety of ships.

Thousands of items listed featuring famous passenger liners of the past to cruise ships of today, freighters, container vessels, tankers, bulkers, naval and research vessels.
P O BOX 809, CAPE TOWN, 8000, SOUTH AFRICA
snai@worldonline.co.za
http://home.worldonline.co.za/~snai
South Africa's most comprehensive Directory of Maritime Services is now listed on this site. Please check if your company is included. To sign up for a free listing contact info@ports.co.za or register online
PROVIDING INFORMATION TO THE MARITIME INDUSTRY