Ports & Ships Maritime News
September 9-10, 2010
Author: Terry Hutson
Shipping, freight, trade and transport related news of interest for Africa
Want to advertise on the website using your Banner? - contact info@ports.co.za
SEND NEWS REPORTS AND PRESS RELEASES TO info@ports.co.za
TODAY'S BULLETIN OF MARITIME NEWS
Click on headline to go direct to story – use the BACK key to return
Looking for help? Try our MARITIME SERVICES DIRECTORY CLICK HERE
First View – CAPE SANTA MILAGRIA
The Tuvalu-registered bulker Cape Santa Milagria has become a bit of a fixture off Seapoint in Cape Town having languished at anchor for more than a week now since being 'arrested' at Saldanha while lawyers wrangle over debts owed to creditors reported to be to the tune of R430m. She is currently lying at anchor in the roadstead outside Cape Town harbour with a skeleton crew aboard. Report by Steve Shipside, Picture by Ian Shiffman
News continues below...

Monsoon ends and pirates strike - Greek ship seized

The Greek tanker OLIB G
The lull in pirate attacks brought about by the monsoon is over and Somali pirates have wasted little time before capturing their first ship, as seas and winds begin to moderate in the region surrounding the Horn of Africa. Early yesterday (Wednesday) the Maltese-flagged chemical tanker OLIB G was seized by armed pirates and is now on its way to Somalia.
Olib G (6,375-dwt, built 1988) is owned by an Athens shipping company and is crewed by 18 seafarers of which 15 are Georgian and three come from Turkey.
A helicopter from the US Navy ship USS PRINCETON later overflew the tanker and identified two pirates visible on the vessel. Olib G was sailing in ballast westward through the Gulf of Aden and inside the Internationally Recommended Transit Corridor when taken.

In other pirate related news, the British Royal Navy is deploying one of its new Merlin helicopters to the Horn of Africa to undertake anti-piracy patrols. The helicopter from 820 Naval Air Squadron will join the Royal Fleet Auxiliary ship FORT VICTORIA when that vessel deploys to the region on anti piracy work. The aircraft is large enough to carry a number of marines for boarding activities, along with their equipment and will also be used for surveillance of merchant shipping.

In Mombasa seven Somalis accused of piracy have been found guilty and sentenced to five years in jail. The pirates were captured in March last year when they attempted to board a German naval supply vessel off the coast of Somalia. They mistook the FGS SPESSART for a merchant ship and were repelled by the security personnel on board the navy ship. Another German Navy ship, FGS RHEINLAND-PFALZ later assisted in capturing the pirates from their skiff and they were later handed over to Kenyan authorities for prosecution.
The EU anti piracy force operating in the area welcomed the court's decision. "The judgement marks an important step in the cooperation between EU and Kenya in the repression of acts of piracy and armed robbery off the coast of Somalia," said an EU task force spokesman.

Meanwhile the master of another ship that was captured by Somali pirates more than five months ago, the SAMHO DREAM, has pleaded for help in a phone call. He described the conditions that he and his 24-member crew, comprising 19 Filipinos and five Koreans as sub-human and said things were getting worse, with the crew being deprived of sleep and starved of food. In addition they were being threatened that they will be killed if a ransom is not paid soon. The master expressed frustration and disappointment towards the ship's owners' silence over the pirate's latest demands, saying that negotiations have been ongoing for months without any appearance of success.
News continues below…

Hapag-Lloyd conquers Northwest Passage

The view of the Northwest Passage from the Hanseatic
Hapag-Lloyd's expedition cruise ship HANSEATIC has just completed a cruise of more than 4,000 nautical miles which has taken it through the famed Northwest Passage.
The 26-day voyage started on 16 August in Kangerlussuaq, Greenland, crossed Disko Bay, which is famous for its icebergs, and sailed through the Northwest Passage to the Alaskan port of Nome.
Besides numerous animal encounters and excursions on the manoeuvrable Zodiacs, the highlight of the voyage for guests was a meeting with another Hapag-Lloyd ship, the BREMEN. On 23 August 2010, the HANSEATIC began the transit through the Northwest Passage near Resolute Bay, concluding the passage on Monday, 6 September with her arrival in Barrow/Alaska.
Only a limited number of passenger ships accept the challenge of sailing along the entire Northwest Passage from east to west. The two Hapag-Lloyd Cruises expedition ships BREMEN and the HANSEATIC are among the few ships worldwide that are capable of tackling these routes, thanks to their special constructional design and the highest ice class for passenger ships (E4).
Naturally, the weather and ice conditions in this region also have an impact on the itinerary and the voyages can only be attempted during the late northern summer.
2011 Northwest Passage Cruises Hapag-Lloyd Cruises will again operate Northwest Passage cruises next year when for the first time the Hanseatic will sail through a shorter version of the Northwest Passage on a 19-day cruise, following the route used by Amundsen and Franklin and exploring the ice coast of Greenland as well as the untouched island world in the north of Canada. This voyage will take place between 14 August and 2 September 2011, starting in Kangerlussuaq and finishing in Reykjavik, Iceland.
Hapag-Lloyd's Bremen will undertake the full and popular version of the passage from Nome in Alaska to Reykjavik between 13 August and 7 September 2011, a 25-day voyage of wonder through the Canadian Arctic.
Full details of these and other cruises available from Hapag-Lloyd Cruises.
News continues below...

Cape Town tackles the winds – new strategy introduced

Cape Town's container terminal – exposed to the winds
Transnet Port Terminals believes it may get the better of Cape Town's notorious wind and adverse weather patterns, which have often brought operations at the container terminal to a halt.
This has resulted in losses through downtime, often at peak operating periods as this coincides with the city's windy season. From September to March the terminal handles increased volumes of reefer cargo (mainly fruit), but strong winds cause operational delays, especially in the container sector.
The terminal operator says it is now implementing proactive measures that will ensure operational stability during the peak period for refrigerated cargo. In previous years wind delays at Cape Town Container Terminal have been calculated at between 45 and 145 hours a month for the period between September and March. Excessive delays of vessels at anchor ultimately lead to congestion in the terminal, while rubber tyred gantry (RTG) cranes, which have only recently been introduced, are limited beyond 72 km/hour and ship-to-shore (STS) cranes beyond 80 km/hour. Beyond these wind speeds the crane equipment switches off automatically.
Port users and watchers will recall that in previous years various methods have been introduced to negate the effect of the winds. This included the idea of building a wall of empty containers to break the force of the wind, but this was quickly abandoned as impractical.
Now this year management has come up with the idea of a complex mix of flexible shift patterns and a review of container capacity in the stacking yard. This includes an ongoing assessment of available equipment with the emphasis on retaining flexible machinery. Also critical to the success of the plan, says TPT, is engagement with customers to plan vessels better and to encourage higher productivity.
Earlier this year TPT merged the Cape Town container and combi or multipurpose terminal facilities in a holistic approach to its regional port operations. The benefits of this move include shared resources, berths and stack capacity across the terminals. TPT claims that containers are being transferred efficiently between the two terminals to align with the vessel berthing strategy, while using the Agri Ro-Ro terminal (formerly known as the multipurpose terminal or MPT) for recovery periods.
TPT has also embarked on a stakeholder engagement process to share its peak/windy season strategy and gain feedback from industry. "Already positive feedback has been received from bodies such as the Harbour Carriers Association and Port Liaison Forum chaired by the Cape Chamber of Commerce and Industry," said the operator yesterday.
News continues below…

Moz riots aftermath: Life returning to normal in Mozambique

Maputo port and city, hit by last week's riots. Picture by Terry Hutson
Maputo - Life has begun to return to normal in Mozambique after serious rioting hit the cities of Maputo and Matola recently.
Unrest also took place on a smaller scale in Beira and Chimoio. The death toll stands at 13, with more than 150 people injured.
Schools reopened Monday after a three-day closure, and in central Maputo, traffic was flowing normally. Shops and banks opened at the usual time, and the privately owned minibuses known as 'chapas' were back in full service.
According to media reports, the government has ordered troops to support the police in their patrols of the city, particularly at the key points of the unrest.
These include public transport terminals and city markets. Soldiers have also helped in the clean-up operations, removing the remains of the barricades thrown up by the rioters. The number of people arrested in connection with the riots has risen to 150, following the detention of eight individuals involved in attempts on 3 September to set up barricades of burning tyres in parts of Matola.
Rioting and looting on 3 September in the central city of Chimoio led to the destruction of 160 stalls in the Francisco Manyanga informal market.
The spokesperson for the Manica Provincial Police Command, Belmiro Mutatiwa, said police were continuing to make arrests as they looked for the ringleaders of the disturbances. Meanwhile, police have arrested six people in Nampula city, accusing them of mobilising people for demonstrations against food price rises. However, the detainees claim that they were simply planning a meeting to elect a local official of the main opposition party, Renamo. - BuaNews-NNN
News continues below…

Indian shippers point fingers at Maersk and Safmarine over exclusivity deal

picture by Terry Hutson
According to the British shipping newspaper IFW, Indian shippers are up in arms over allegations that Maersk Line and Safmarine have signed a two-year exclusivity deal that forces them to use container facilities at Gujarat Pipavav Port (GPPL), which is operated by and part-owned by associated company AP Moller Terminals and which shippers claim is more expensive.
According to the secretary of the Western India Shippers Association, SRL Narasimhan, the arrangement forces shippers to use GPPL even though it is more expensive than rival container facilities and leaves them at a competitive disadvantage.
"Any type of exclusivity is anti-competitive in spirit and nature," he told IFW. "It will compel exporters and importers to ship their cargo through Pipavav if they are carried on Maersk or Safmarine vessels, rather than through the cheapest port of their choice."
Shippers also complain that Maersk Line raised its terminal handling charge (THC) at GPPL on 1 September.
The paper approached the two shipping lines but neither would comment on the exclusivity deal or the THC.
"We take all claims of anti-competitive behaviour very seriously and will look into whether there is any substance to these accusations," said each line in a statement to IFW.
The Gujarat Maritime Board, which monitors privatised ports, confirmed that a number of complaints had been received and said that such a shipping deal would amount to unfair practice. Source - IFW
News continues below…

Tall Story – Mossel Bay's post office tree included among South Africa's champion trees

The following story is about trees and may have little of maritime interest, apart from the reference to Mossel Bay's famous post office tree, which dates back about 500 years. Nevertheless we think it makes for a good and uplifting read.
by Nthambeleni Gabara
Pretoria – A massive gum tree, measuring more than 38 metres from side to side, is to become the latest edition to South Africa's list of Champion Trees.
The tree's massive crown shades part of the Gavin Relly Green on the Witwatersrand University campus grounds and is supported by a trunk of 7.5 meters in circumference. Once listed, Champion Trees have special protected status in terms of the National Forests Act of 1998. No such trees may be cut, disturbed or damaged without a license. Licenses to have the tree trimmed will be issued only under exceptional circumstances, such as a tree posing a danger to life or property.
The department initiated the Champion Trees project to identify and protect trees worthy of special protection throughout South Africa. They are regarded as of exceptional importance because of their remarkable size, age, aesthetic, cultural, historic or tourism value.
There are more than 60 Champion Trees in South Africa.
The Wonderboom Wild Fig Tree in Pretoria holds the title for the largest crown, 61 metres in diameter. This thousand-year-old monarch consists of a mother tree with rings of daughter trees that sprouted over centuries from branches touching the ground.
In Sagole, Limpopo, there is a largest indigenous tree in the country, the Big Tree or Baobab with a trunk circumference of more than 33 metres can be found.
Other trees already declared as Champion Trees include a grove of very tall rose gum trees (Eucalyptus saligna) that was planted in 1906 by forestry pioneer A.K. Eastwood at the Woodbush Forest Estate near Tzaneen.
The two tallest of these trees have been measured by professional tree climbers in 2008, and have been dubbed the Twin Giants of Magoebaskloof. At a height of 79 metres they will tower above a 26-storey block of flats, and are officially the tallest trees in Africa and the tallest of the planted trees anywhere in the world.
Other famous trees already declared as Champion Trees include the Post Office milkwood tree at Mossel Bay where Portuguese seafarers left messages to passing sailing ships centuries ago and a three-centuries-old lane of camphor trees planted at Vergelegen Estate.
Most of the trees to be added to the Champion Tree list are exotic species such as oak and gum trees. Some oak trees have been planted more than a century ago, and the largest of these has a trunk circumference of almost 11 metres.
The gum trees in South Africa reach exceptional sizes, exceeding the sizes of other gum trees planted in all other countries except in their native Australia.
Outeniqua yellowwoods of the Knysna forests draw many visitors, such as the Tsitsikama Big Tree, which receives more than 80 000 visitors a year.
In the Goudveld Forest one of the new Champion Trees have been renamed the Dalene Matthee Big Tree, in honour of the author who wrote a best-seller series of historic novels about these forests and the woodcutters of the nineteenth century.
Another baobab tree will soon be added to the list of Champion Tree. This giant tree, the King of Ga-Ratjeke, towers over the Shangane village in Limpopo after which it was named. It replaces the Glencoe baobab near Hoedspruit - the second largest baobab in the country after it partially collapsed and was consequently delisted.
Any person or organisation can nominate trees for Champion status. A nomination form can also be obtained from the department and has guidelines attached for the nomination process. Nominated trees may be indigenous or non-indigenous. Every nomination cycle starts on 1 August of each year, and ends at 31 July the following year. – BuaNews
Message for James Wilson
If James Wilson of Binnacle Marine Consultancy sees this, please contact us with another email address at info@ports.co.za as the address you gave us is not working.
Pics of the Day – V&A Waterfront and SOUTHERN VALOUR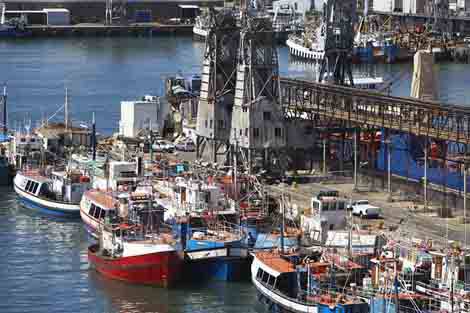 Two images of Cape Town harbour, one showing the busy V&A Waterfront, which despite all the luxury hotels and facilities springing up all around the harbour, still retains areas of quaintness and hints of the past. Above is a scene showing fishing boats on one of the jetties. In the picture below is the Unical bunker barge SOUTHERN VALOUR seen heading off across the harbour on another job. Pictures by Keith Quixley, THE AERIAL PERSPECTIVE www.aerialphoto.co.za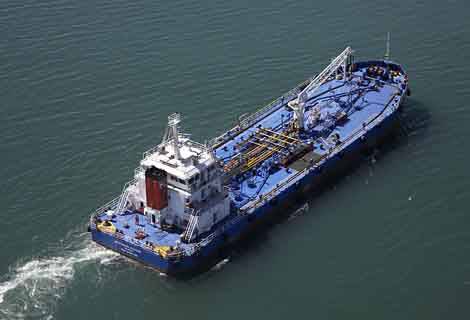 Don't forget to send us your news and press releases for inclusion in the News Bulletins. Shipping related pictures submitted by readers are always welcome – please email to info@ports.co.za
Did you know that Ports & Ships lists ship movements for all southern African ports between Walvis Bay on the West Coast and Mombasa on the East Coast?
TABLE BAY UNDERWAY SHIPPING
SHIP PHOTOGRAPHERS
Colour photographs and slides for sale of a variety of ships.

Thousands of items listed featuring famous passenger liners of the past to cruise ships of today, freighters, container vessels, tankers, bulkers, naval and research vessels.
P O BOX 809, CAPE TOWN, 8000, SOUTH AFRICA
snai@worldonline.co.za
http://home.worldonline.co.za/~snai
South Africa's most comprehensive Directory of Maritime Services is now listed on this site. Please check if your company is included. To sign up for a free listing contact info@ports.co.za or register online
PROVIDING INFORMATION TO THE MARITIME INDUSTRY