Ports & Ships Maritime News
September 8, 2010
Author: Terry Hutson
Shipping, freight, trade and transport related news of interest for Africa
Want to advertise on the website using your Banner? - contact info@ports.co.za
SEND NEWS REPORTS AND PRESS RELEASES TO info@ports.co.za
TODAY'S BULLETIN OF MARITIME NEWS
Click on headline to go direct to story – use the BACK key to return
Looking for help? Try our MARITIME SERVICES DIRECTORY CLICK HERE
First View – JAGUAR
The New Zealand coaster JAGUAR (1044-gt, built 1985) seen in the Lyttelton dry dock to undergo survey work. Jaguar is home ported in Timaru and owned by local company Black Robin Shipping Ltd. Picture by Alan Calvert
News continues below...

Naval exercise IBSAMAR II due to commence off the KZN coast this weekend

INS Trishul (F43), a frigate of the same class as INS Tabar (F44) which is due in Durban this week. Trishul was built in Russia. Picture by Terry Hutson
Ships of three navies are due to begin arriving in Durban this week in anticipation of the bi-annual IBSAMAR II exercise, which this year will take place off the KwaZulu-Natal coast.
The three navies concerned are India, Brazil and South Africa, and the exercise will repeat the successful IBSAMAR 2008 exercise held two years ago off the Western Cape coast. It was decided that the IBSAMAR exercises would always be hosted in South Africa due to its geographic location but the lead country would alternate. Two years ago it was the South African Navy that was the lead player; this year it is the Indian Navy's turn.
IBSAMAR is an acronym for India Brazil South Africa Maritime Exercises.
The Western Fleet of the Indian Navy is fielding four of its frontline ships – INS MYSORE, a guided missile destroyer of the Delhi class, INS TABAR and INS GANGA, both guided missile frigates, and INS ADITYA, a fleet tanker.
Brazil is being represented by a frigate of the NITEROI class.
The South African Navy ships involved are the two guided missile frigates SAS AMATOLA and SAS SPIOENKOP, the offshore patrol vessel SAS GALASHEWE, the type 209 submarine SAS QUEEN MODJADJI II, and the fleet replenishment vessel SAS DRAKENSBERG.
The South African Air Force will take part by deploying Oryx and Lynx helicopters as well as Gripen fighter, Hawk and Impala jet aircraft.
With increasing cooperation in the so-called South-South dialogue involving India, South Africa and Brazil, which involves the adoption of a common position on issues of international importance, defence cooperation has been taken to the level of constructive engagement between the three fast-developing economies. (Don't ask us to explain how India comes to be classified as being in the southern hemisphere.)
Because of the realities of the three states' geographic position on three continents separated by two oceans, and the reliance of all three on seaborne trade, any defence cooperation can best be advanced via the maritime field. As a result the three navies met at Simon's Town in May 2008 for the inaugural IBSA Maritime Exercise.
At the conclusion of the IBSAMAR II exercise the Indian Navy ships will visit Cape Town where they are due on 23 September 2010.
The Indian ships are on a two-month deployment that will take them to several countries in Africa, Mauritius and the Seychelles. In each country they will undertake mutually agreed upon capacity-building and capability enhancement activities during port calls while also carrying out training interaction with the local armed forces.
News continues below…

Change of name for NYK
Tokyo, 7 September – NYK Line Japan has announced that it is changing its name to NYK Container Line Ltd with the transfer of business from Tokyo Senpaku Kaisha (TSK Line) to Nippon Yusen Kabushiki Kaisha.
TSK's intra-Asian liner business will be transferred to Nippon Yusen Kabushiki Kaisha from 1 November 2010 and all TSK staff members will be moved to NYK Line Japan, which is in charge of NYK's liner service operations and related business in Japan. Taking this opportunity, the company says that NYK Line Japan will change its name and continue its efforts to better its service.
NYK Container Line says it will provide an enhanced container service by using TSK's know-how in intra-Asia containership operations and logistics designs. In addition, "NYK Container Line will strengthen its cooperation with other NYK Group companies and restart as a company capable of meeting the various logistics needs of customers by providing services that extend beyond port to port.
"NYK Container Line will provide a higher quality and more competitive service under its new organization and new company name," says the statement issued on Tuesday.
News continues below...

New submarine cable to link west coast Africa with South America

Alcatel-Lucent's cable laying ship Ile de Batz seen in Durban earlier this year during the laying of a cable along the African east coast. Picture by Terry Hutson
A black empowered South African telecommunications and investment company, eFive Telecoms has awarded a contract to French cable company Alcatel-Lucent to build a new submarine cable network linking the west coast of Africa to the east coast of South America.
According to the French company, the cable system will be composed of two trunks. The first will connect South Africa to Angola and Nigeria, while the second will connect Angola to Brazil. "This end-to-end project will further increase connectivity in Africa, deliver additional capacity for wholesale and will also enhance service and traffic protection by providing critical cable route diversity to South America," said Lawrence Mulaudzi, managing director of eFive Telecoms.
"We believe that high-growth areas such as the African continent require the development of new projects. The planned submarine network will also provide cable route diversity to South America, making the most economical and operational sense in the current landscape."
Mulaudzi said the necessary capital for the project would be raised by merchant bank Nova Africa Capital Partners. "Our financing model is that of the private model that was used successfully by Seacom," he said. "Growth in African internet and mobile telephony is driving service providers' demand for more connectivity options to ensure higher reliability, as well as increased widespread access to bandwidth. This project will further position Africa as a major hub for broadband connectivity," said Philippe Dumont, head of Alcatel-Lucent's submarine network activity. "This selection also confirms Alcatel-Lucent's end-to-end expertise in helping operators address the fast growth of data-intensive services and applications."
The new cable system is due to come into service by 2012.
Alcatel-Lucent will be in charge of the project end-to-end including the system design, manufacturing, installation and commissioning. The system will also be maintained by Alcatel-Lucent through its Atlantic Private Maintenance Agreement (APMA) which currently covers over 100,000km of critical submarine cable infrastructure from the west coast of Africa to the Caribbean and as far north as Greenland.
News continues below…

YESTERYEAR: those classic ships - SPRINGFONTEIN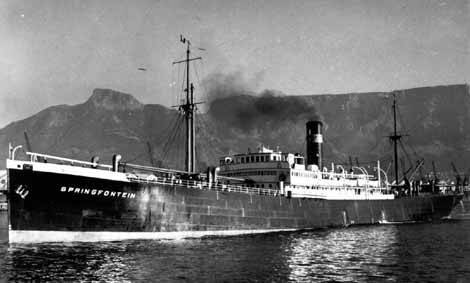 Holland Africa Line's SPRINGFONTEIN, which during the 1920s and 1930s operated on several of the line's Around Africa services, out via the west coast and later out on the east coast. Springfontein, of 7,349-gross tons was built by Lithgows Ltd in the Port Glasgow shipyards in 1921. The ship ended her days off Freetown in West Africa in 1941 when she caught fire and sank. Picture from the collection of Willem Kruk
News continues below…

First EAC Lake Victoria Investment Forum for December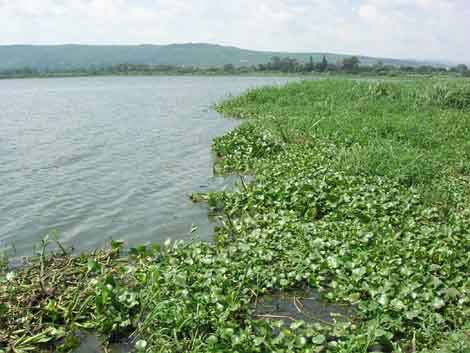 Lake Victoria scene, with water hyacinth clogging large areas of the lake. Picture IRIN
Arusha — Preparations are underway for the first-ever EAC Lake Victoria Basin Investment Forum, planned for later this year.
The Forum which is expected to bring together investors and potential investors from within and outside the region, aims to showcase the investment opportunities that abound in the Lake Victoria Basin.
The investment forum slated for December 1 -5, 2010 in Mwanza, Tanzania on the theme 'Realizing Economic Benefits in the EAC Common Market through the Lake Victoria Basin', is expected to bring together 1,000 business and government leaders from the region and internationally. The Lake Victoria Basin Commission was established by the EAC as a key stakeholder to co-ordinate the different actors and interest groups in the LVB.
The EAC/LVBC in carrying out its mandate encourages all actors to build partnerships and work together in alleviating many of the constraints to economic development of the LVB. The Forum shall offer an opportunity for the investors to reflect and realign themselves to the already operational East African Community Common Market Protocol.
As part of the Forum preparatory process, a planning meeting was held on Friday 3 with high level representation from the East African Community organs and institutions, EAC Partner States and business leaders in the region. The key planning meeting objective is to interest potential partners for the first Lake Victoria Basin Investment Forum.
The Forum itself will revolve around five sectors; Transport and Communication, Tourism, Agri-business and Fisheries, Trade and Industry, and Research and Development. The event organizers are the EAC Secretariat, the Lake Victoria Basic Commission, the host Partner State (Tanzania), national Investment Promotion Agencies and the Tourism Promotion Authorities of the Partner States, and the East African Business community.
The Lake Victoria Basin was designated an important explosive economic growth zone of the East African Community. It is a transboundary resource and the most important shared resource of the five East African Community Partner States. Source East African Business Week
News continues below…

Five fishing boats capsize at sea off Mozambique
According to Mozambican authorities, five fishing boats have capsized in heavy seas off the country's central coast, and at least 15 fishermen are feared dead.
A spokesman for the Zambezia provincial authorities said the fishermen ignored storm warnings from the weather service and went to sea on Saturday night. Of the total of 20 fishermen five have been rescued but the others are feared to have drowned.
Pics of the Day – KRUSTAMOZ 3 and 8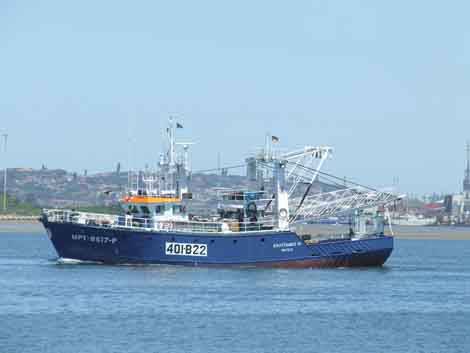 The Mozambique registered trawlers of Spanish origin, KRUSTAMOZ 1 – 8 (850-dwt, built 2001) have become familiar sights in Durban, where they 'summer' each year to avoid the cyclone season in Mozambican waters which conveniently coincides with the off-season. It is not uncommon to see all eight trawlers plus one or two others all on the Durban Eldock floating dock at the same time, undergoing maintenance refits. This year the trawlers have returned early to Durban and have once again taken up residence at the Bayhead. This picture shows them leaving for Quelimane in February this year - all eight sailed in naval fashion, line astern. Pictures by Terry Hutson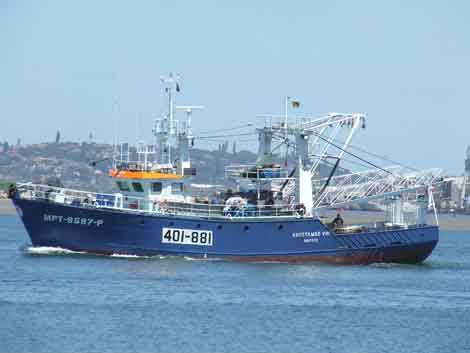 Don't forget to send us your news and press releases for inclusion in the News Bulletins. Shipping related pictures submitted by readers are always welcome – please email to info@ports.co.za
Did you know that Ports & Ships lists ship movements for all southern African ports between Walvis Bay on the West Coast and Mombasa on the East Coast?
TABLE BAY UNDERWAY SHIPPING
SHIP PHOTOGRAPHERS
Colour photographs and slides for sale of a variety of ships.

Thousands of items listed featuring famous passenger liners of the past to cruise ships of today, freighters, container vessels, tankers, bulkers, naval and research vessels.
P O BOX 809, CAPE TOWN, 8000, SOUTH AFRICA
snai@worldonline.co.za
http://home.worldonline.co.za/~snai
South Africa's most comprehensive Directory of Maritime Services is now listed on this site. Please check if your company is included. To sign up for a free listing contact info@ports.co.za or register online
PROVIDING INFORMATION TO THE MARITIME INDUSTRY