Ports & Ships Maritime News
September 7, 2010
Author: Terry Hutson
Shipping, freight, trade and transport related news of interest for Africa
Want to advertise on the website using your Banner? - contact info@ports.co.za
SEND NEWS REPORTS AND PRESS RELEASES TO info@ports.co.za
TODAY'S BULLETIN OF MARITIME NEWS
Click on headline to go direct to story – use the BACK key to return
Looking for help? Try our MARITIME SERVICES DIRECTORY CLICK HERE
First View – JO SELJE
The Norwegian chemical tanker JO SELJE (36,800-dwt, built 1993) arriving at Durban's Maydon Wharf to load liquid bulk product. Picture by Terry Hutson
News continues below...

Piracy: get ready for increased pirate activity as monsoon moderates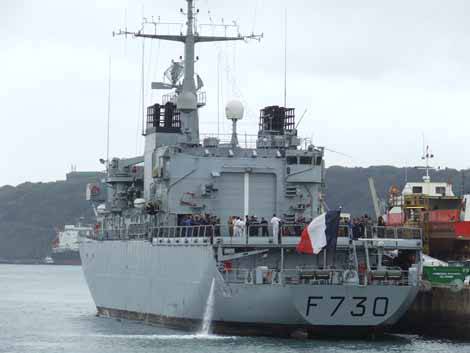 The French patrol frigate FS Floreal which has joined the EU NAVFOR Task Force operating off Somalia. Picture by Terry Hutson
BIMCO, the world's largest shipping organisation has passed on a warning and recommendation from the United States Navy Office of Naval Intelligence regarding piracy off the coast of Somalia and the Western Indian Ocean.
The warning says that Somali pirates have the capability and intent to surge into merchant shipping lanes as soon as heavy seas in the Horn of Africa region subside in mid- September. Somali pirate activity will likely increase in the Indian Ocean, Arabian Sea, and the Gulf of Aden as the southwest monsoon season ends. Waters will calm and be conducive for pirate small boat operations.
Pirates will attempt to access merchant shipping lanes and attack vessels in the Indian Ocean in excess of 1,000 n.miles from the eastern Somali Coast. Pirates will attempt to operate as far east as the Maldives and as far south as Madagascar. Pirates have demonstrated the capability to attack merchant ships transiting the Red Sea as well.

The next few notices come from EU NAVFOR, the European Union naval presence operating off the coast of Somalia mainly to provide escorts for ships carrying food and welfare aid parcels and also to assist in anti-piracy activities generally.

On 5 September, while patrolling in the Gulf of Aden, the EU NAVFOR Spanish ship INFANTA CRISTINA was replenished at sea by the EU NAVFOR German Oil Tanker FGS RHOEN. In such an activity, the manoeuvring between the ships always has to be clear, safe and quick. In less than half an hour, replenishment was performed from one ship to the other and the refueling was completed. With replenishments at sea, tankers enable EU NAVFOR warships to remain longer at sea.

During the recent port visit in Mombasa by the French flagship FS DE GRASSE, the Force Commander, Rear-Admiral Philippe Coindreau, liaised with local authorities and partners. These included the Chief of the Kenyan Navy, Mayor of Mombasa, Coast Province Commissioner (regional representative of the State) and the Head of the Kenyan Maritime Authority.
The Chief of the Kenyan Navy expressed concern over piracy and a desire for the Kenyan Navy to be more involved in EU NAVFOR's efforts against these criminal activities. Kenyan authorities have praised EU NAVFOR for its actions and have declared their concerns about piracy and its affect on the local economy, particularly as Mombasa port is a main point of entry on the East coast of Africa.
The meetings between the various parties were aimed at sharing matters of common interest and contribute to form a coherent understanding of the anti-piracy operations. Mombasa is also a logistic base for the United Nations Support Office for AMISOM (UNSOA), and the World Food Program (WFP), two key partners for EU NAVFOR.

Another ship on the way to join with Operation Ocean Shield, which is NATO's involvement in anti-piracy activity off the Somali coast, is the Arleigh Burke type US destroyer, USS LABOON (DDG-58), which called at Malta en route for allow the crew a few days of rest and recuperation. The warship subsequently left for Greece before joining with other NATO naval forces off the Horn of Africa. USS Laboon has 260 crew on board, including 55 women. Many of the crew enjoyed the opportunity in Valetta to go ashore and explore the town.
Another ship to be joining naval forces in the Somali area is the French patrol frigate FS FLOREAL, which is based in Reunion. She joins FS DE GRASSE, the current flagship of the EU NAVFOR task force as the second French ship.

With PORTS & SHIPS' focus on maritime matters around the African coast, it is perhaps appropriate to include the following report, in order to show that piracy is not confined to the Horn of Africa or even the African coast.
The Japanese chemical tanker CHEMROAD LUNA was boarded by pirates in Indonesian waters of the South China Sea this past week, becoming the 27th ship to come under attack in this region since February this year. Pirates armed with knives boarded the ship at 03h00 hours and stole cash from the ship before fleeing the ship and scene. There were no injuries to crew or pirates.
The International Maritime Board (IMB) says there has been a surge in pirate attacks in the South China Sea, with eight attacks reported during the past fortnight off the Indonesian island of Mangkai. The IMB says pirates use guns and machetes to rob the ship and crew of cash and valuables.
News continues below…

Read the latest Port Statistics for August
South African port statistics for the month of August 2010 are now to hand, courtesy Transnet. These suggest that the nation's ports, and Durban in particular have experienced an extremely busy month, with possibly the highest ever number of containers being handled in Durban in one month – 261,605 TEUs. The port of Ngqura, which turns one year old (in operating time) at the end of this month, also enjoyed its highest turnover, with 43,256 TEUs handled. The port handled a total of 691,000 tonnes of cargo for the month and with the 1.1mt handled in nearby Port Elizabeth, this is good news for the Eastern Cape. See details below.
As is customary the figures shown in this report reflect an adjustment on the overall tonnage to include containers by weight – an adjustment necessary because Transnet NPA measures containers in terms of the number of TEUs and no longer by weight - for which PORTS & SHIPS estimates an adjustment of 13,5 tonnes per TEU to reflect tonnages. This figure is on the conservative side with 14 tonnes or even more perhaps being a more realistic figure, particularly in view of the increasing quantity of bulk cargo which is now being handled in containers. Were we to use this the actual tonnages achieved would be considerably higher.
For comparative purposes readers can see statistics from 12 months ago (August 2009) by clicking HERE.
Use your BACK button to return to this page.

Port of Saldanha, iron ore loading berths. Picture by Terry Hutson
Figures for the respective ports during August 2010 are (with July 2010 figures shown bracketed):
Cargo handled by tonnes during July 2010


| | | |
| --- | --- | --- |
| PORT | Aug 2010 mt | July 2010 mt |
| | | |
| Richards Bay | 7.321 | 7.000 |
| Durban | 7.747 | 6.264 |
| Saldanha | 2.592 | 4.759 |
| Cape Town | 1.212 | 0.894 |
| Port Elizabeth | 1.129 | 0.914 |
| Ngqura | 0.691 | 0.485 |
| Mossel Bay | 0.153 | 0.139 |
| East London | 0.215 | 0.207 |
| Total all ports | 21.061mt | 20.657mt |
Containers (measured by TEUs) during August 2010 (TEUs include Deepsea, Coastal, Tranship and empty containers all subject to being invoiced by NPA

| | | |
| --- | --- | --- |
| PORT | Aug 2010 TEUs | July 2010 TEUs |
| | | |
| Durban | 261,605 | 217,529 |
| Cape Town | 62,858 | 55,274 |
| Port Elizabeth | 36,913 | 36,674 |
| Ngqura | 47,991 | 35,928 |
| East London | 4,798 | 4,347 |
| Richards Bay | 1,813 | 1.027 |
| Total all ports | 415,978 | 350,779 |
Ship Calls for July 2010


PORT

Aug 2010
vessels

Gross
tonnage
July 2010
vessels
Gross
tonnage
Durban
414
10.950
438
11.321
Cape Town
209
4.077
229
3.944
Richards Bay
161
5.180
162
5.628
Port Elizabeth
95
2.564
95
2.318
Ngqura
33
1.510
30
1.282
Saldanha
34
1.790
49
2.927
East London
24
0.544
28
0.752
Mossel Bay
139
0.257
115
0.212
1076
25.363
1100
27.103
- source TNPA, but with adjustments made by Ports & Ships to include container tonnages
News continues below...

News of ships and shipping lines
Wilhelmsen sells four car carriers for recycling
Wilh. Wilhelmsen has sold four of its older car carriers for recycling in China (that's the latest approved word for 'scrapping' or 'breaking up'). The ships are the TAMPERE (32,000-dwt, built 1979), TAPIOLA (32,000-dwt, built 1978), TOBA (32,000-dwt, built 1979), and TOUCOING (32,000-dwt, built 1978). Two of the ships were previously laid up in Norwegian waters. It is thought that the Chinese breakers may have paid around US$ 407 a ton.

Slow steaming set to continue
About half of all container ships currently in service are operating on a slow steaming basis, reports the shipping analyst Dynamar. The report says that slow steaming has enabled shipping lines to integrate more than 2.2 million TEUs of new capacity this year, with 450,000 TEUs of that capacity coming from ships previously placed in laybye.
"It is also strongly believed that, rather than allowing rates to slide again the way they did in the run-up to the downturn of September 2008 and thereafter, carriers will sharply manage capacity by increasing the laying up of vessels again, while at the same time further stepping up the strategy of slow steaming. Carriers have to; there is no next bailout by stakeholders," said Dynamar.
As if to confirm this finding, Maersk Line said in its weekly newsletter that it will continue with slow steaming even as markets turn to the better. "Slow steaming is here to stay," wrote Morten Engelstoft, Maersk Line's COO. By slow steaming the company also realised its target of reducing carbon dioxide emissions per container by 12.5% from 2007 to 2009, with an eventual reduction level set at 25 percent.
Despite the introduction of slow steaming, Maersk Line has achieved a score of 77% on time arrivals compared with its closest competitors managing between 59% and 64 percent. Maersk says it was also a difficult concept to sell to engine manufacturers.

MSC charters four Maersk Ships for Cheetah Service

Maersk Boston in Durban harbour. Picture by Trevor Jones
Mediterranean Shipping Company (MSC) has chartered four laid up Maersk ships which will be deployed on MSC's Cheetah Service between South Africa and the Far East, where they will operate in direct competition with Maersk and Safmarine's Safari Service.
The four sister ships, which are well-known on the South Africa service, are among the fastest container ships in service with speeds of 30 knots. They have been taken on 12- month charters. The four ships are: MAERSK BEAUMONT, MAERSK BOSTON, MAERSK BENTONVILLE, and MAERSK BROOKLYN Each vessel is 48,853-gt and were built between 2006 and 2007.
Brazilian Navy arrives
The Brazilian Navy frigate NITERÓI has arrived in Simon's Town ahead of the forthcoming IBSAMAR 2010 naval exercise involving ships of the South African, Indian and Brazilian Navies. Niterói will depart shortly for Durban to link up with the Indian and South African ships due in the KZN port this week.
News continues below…

Quelimane may gain cargo at Walvis Bay's expense
Maputo, 6 September – Mining company Noventa, the concession-holder on the Marropino tantalum mine in Mozambique's Zambézia province, is analysing the possibility of starting to use the port of Quelimane for its exports, according to Mozambican daily newspaper Notícias.
Noventa recently announced it had carried out the first loading tests with eight tons of tantalum, which will be the basis for adjusting the routes and other logistics procedures needed for 2011, when the main is expected to reach maximum production.
The initial idea for transporting the ore was to send it by road to the port of Walvis Bay in Namibia, which could take between seven and 10 days, but using the port of Quelimane drastically reduced the time needed as it is just 350 kilometres from the mine.
Operations at the Marropino mine were re-launched in April 2010 after a halt of around a year.
Recently,a s well as production, Noventa has been directing its investments to researching into more tantalum reserves in the region.
The Marropino processing unit currently produces 300,000 pounds of tantalum pentoxide per year, a mineral which is used in the production of mobile phones, audio and video equipment and other electronic items. (macauhub)
News continues below…

DHL appointed official logistics partner to next year's Rugby World Cup
Singapore, 6 September 2010: DHL announced today that it has become the Official Logistics Partner to Rugby World Cup 2011 (RWC 2011). As Official Logistics Partner, DHL will be responsible for ticket distribution as well as Rugby World Cup Limited (RWCL)/International Rugby Board's (IRB) express shipments and international and domestic freight movements, including the delivery of competing teams' equipment.
The announcement was celebrated by kicking the RWC 2011 Official Match Ball off Auckland's iconic Sky Tower today (Tuesday). At nearly 200 metres above ground, the world's tallest known kick off was made by New Zealand Legend and Rugby World Cup 1987 winning squad member, Grant Fox, and took place in the same week as the Official One Year to Go countdown to the kick off of RWC 2011 opening match.
Approximately 200 movements of equipment will take place during the Tournament with an expected 2 to 6 tonnes of equipment per move. DHL will transport this equipment as well as store and deliver uniforms and official equipment from training grounds to playing venues around New Zealand. It is expected DHL trucks will drive a total of almost 30,000 kilometers over the course of the Tournament.
"We look forward to working with DHL over the next 12 months to further the promotion of the Game around the world as the sporting community looks forward to Rugby World Cup 2011 in New Zealand," said Bernard Lapasset, Chairman, Rugby World Cup Limited. "This is a tournament that will write another memorable and successful chapter in the Rugby World Cup success story."
"Come September 2011, 20 teams will travel to New Zealand, bringing a combined 76 tonnes of baggage and equipment and an average of 4 tons of baggage and equipment each. The DHL team will be responsible for handing all this equipment and, quite literally, delivering Rugby to the world," said Gary Edstein, Senior VP, DHL Express Oceania.
News continues below…

Pics of the Day – SIMON STEVIN
Jan de Nul's mining and fallpipe vessel SIMON STEVIN (35,034-gt, built 2010) made an impressive appearance in Cape Town harbour this week. The newly built ship is flagged in Luxemburg and has a registered owner in Spain and is operated by the Belgian dredging specialist Jan de Nul. Pictures by Aad Noorland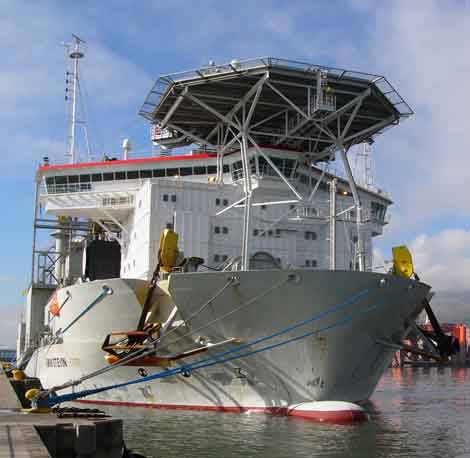 Don't forget to send us your news and press releases for inclusion in the News Bulletins. Shipping related pictures submitted by readers are always welcome – please email to info@ports.co.za
Did you know that Ports & Ships lists ship movements for all southern African ports between Walvis Bay on the West Coast and Mombasa on the East Coast?
TABLE BAY UNDERWAY SHIPPING
SHIP PHOTOGRAPHERS
Colour photographs and slides for sale of a variety of ships.

Thousands of items listed featuring famous passenger liners of the past to cruise ships of today, freighters, container vessels, tankers, bulkers, naval and research vessels.
P O BOX 809, CAPE TOWN, 8000, SOUTH AFRICA
snai@worldonline.co.za
http://home.worldonline.co.za/~snai
South Africa's most comprehensive Directory of Maritime Services is now listed on this site. Please check if your company is included. To sign up for a free listing contact info@ports.co.za or register online
PROVIDING INFORMATION TO THE MARITIME INDUSTRY