Ports & Ships Maritime News
September 1, 2010
Author: Terry Hutson
Shipping, freight, trade and transport related news of interest for Africa
Want to advertise on the website using your Banner? - contact info@ports.co.za
SEND NEWS REPORTS AND PRESS RELEASES TO info@ports.co.za
TODAY'S BULLETIN OF MARITIME NEWS
Click on headline to go direct to story – use the BACK key to return
Looking for help? Try our MARITIME SERVICES DIRECTORY CLICK HERE
First View – BELUGA ENERGY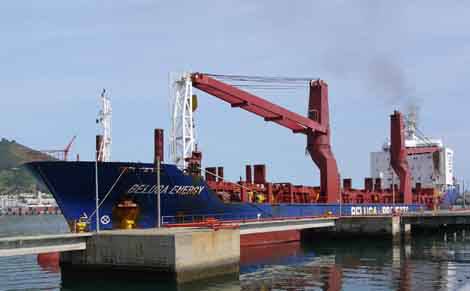 Beluga Shipping's general cargo vessel BELUGA ENERGY (9,611-gt, built 2005) at Cape Town's E Mole. Picture by Aad Noorland
News continues below...

Container growth set to catch terminal industry with its pants down

Durban Container Terminal, …creaking at the seams
Drewry, the shipping consultants are forecasting further challenges with congestion at container terminals on the back of strong container growth over the next five years.
While highlighting that the problems will become especially serious in fast-growing areas of the Far East and Middle East, the report carries serious warnings for less frequented but still proportionately busy regional ports in South Africa, East Africa and West Africa.
Already the port of Durban is creaking along with an unrecognised, or perhaps unpublicised congestion problem at its two container terminals, which are partly the fault of unproductive operations but also stem from seasonably high volumes that are now entering the port during South Africa's peak months.
According to Drewry, the Great Recession of 2008-2009 is over, so far as container handling is concerned. It recorded a decrease of 10% from 524 million TEU in 2008 to 473m TEU in 2009, but says those numbers are again growing.
Drewry says that emerging economies were hardly affected by the recession and while volumes in Europe and North America fell by 15%, in the Middle East and in Africa it claims the downturn was hardly felt.
Local economists and port users might disagree.
In the 2010 Drewry container report Neil Davidson, senior adviser on ports said that 2009 was unlike anything that had been seen before. "Historically, for global terminal operators, it has always been about expanding and adding capacity as quickly as possible. Then, suddenly, they were all faced with changing their mindset towards drastic cost control and halting of projects."
Drewry says it believes container growth will be in the order of 7.2% a year between 2009 and 2015, which would result in container port volumes rising by 245 million TEUs from 473 million TEUs to 718 million TEUs, which is an increase of a little over 50% for the period.
The challenge lies with growth in capacity at the world's container terminals forecast to increase only by 20%, or a mere 143 million TEUs, which means a shortfall in terminal capacity if everyone has got the sums right. As a result, says Drewry, some parts of the world will see the spectre of congestion returning by 2015 unless more projects to build greater port capacity are brought back to life within the next three to five years.
In South Africa, where the main container port of Durban continues to creak at its seams, there appears to be a lack of urgency with resuscitating some of the projects and plans to enlarge container capacity. Efforts at concluding the 'ownership' of Salisbury Island, where the Pier 1 Container Terminal is expected to expand into, are still tied down in debate and discussion over 'ownership' among government parastatals and similarly plans to widen sections of Bayhead Road to better accommodate the increase in road traffic have not yet been announced, despite an assurance earlier that the project would be underway by July this year.
Nevertheless some proactive action is being taken, including the conversion of Maydon Wharf multi purpose terminal (berths 9-12) for container handling as a future container terminal – this involves deepening some of the berths and is by nature a medium term project but at least a start has been made. In other respects private enterprise has taken the initiative and container ships are being handled elsewhere on Maydon Wharf using private stevedores and transport operators – BPO and Freightmax in particular.
News continues below…

South Africa records trade surplus in July
Pretoria - South Africa recorded a trade surplus of R2 billion in July, the South African Revenue Services (SARS) said on Tuesday.
According to SARS, the surplus was due to an increase in exports and imports at 0.8 percent and 8.1 percent respectively.
"The trade surplus for July 2010 is R2.0 billion (surplus of R0.4 billion in July 2009) compared to a surplus of R5.6 billion in June 2010, a month-on-month decline of R3.6 billion," said SARS adding that the cumulative deficit for the year to date is R6.6 billion compared to R18.4 billion in 2009.
Experts had expected the trade balance to show a deficit of R1.4 billion.
"The continued rise in exports is encouraging. The sharp fall in the growth rate comes after two very large increases in the preceding months. These figures have no implications for monetary policy and we still expect the Reserve Bank to reduce interest rates next week," said the Nedbank economic group. – BuaNews
News continues below...

YESTERYEAR: those classic ships - BONTEBOK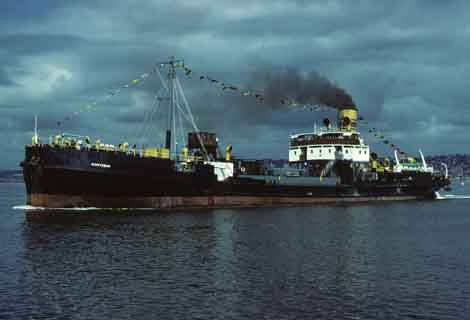 The departmental suction dredger BONTEBOK of the SAR&H (now Transnet) seen in February 1985, flying the grey paying-off pennant and with VIP guests on board as she made her final journey across Durban Bay.
The steam-powered suction hopper dredger Bontebok was built by Wm Simons & Co of Renfrew UK as Yard No.795 and was launched on 1 June 1952, being handed over to the SAR&H in the following year. Her gross tonnage was 3,318-gt and deadweight 4,176-dwt. The vessel was just on 100m in length and she drew 18ft 7ins draught in the measurement used in SA at that time. The dredger was powered with a 6-cylinder triple expansion stream engine which was also built by Wm Simons & Co. This produced 3,000ihp and giving the vessel 10 knots of speed. After withdrawal in 1985 Bontebok was scrapped in Durban in 1986. Picture by Trevor Jones
News continues below…

Full steam ahead for Rift Valley Railway

Mombasa rail scene… lot's of work remaining
It should now be full steam ahead for the troubled Rift Valley Railway spanning both Kenya and Uganda from the port of Mombasa to Kampala.
This follows the final restructuring of the company to give Egyptian investment arm Citadel Capital a controlling interest of 51% in the consortium that has taken 100% of the concession to operate and manage the two railway systems.
In its statement issued this week Citadel said that Citadel had confirmed that its shareholding in Rift Valley has risen to 51% through its subsidiary Ambiance Ventures Ltd as it completed the restructuring first announced in March 2010.
The 21-year concession was first awarded to a consortium headed by South Africa's Sheltam Rail, which never managed to move far off the stopblocks and which attracted fierce criticism and calls for the re-nationalisation of the railway. The main problem appeared to be a lack of capital to redevelop the railway that since independence approximately 50 years earlier has been allowed to gradually deteriorate into the state where it handled freight measured in hundreds of thousands of tonnes a year instead of millions.
This partly contributed to the severe congestion experienced at the port of Mombasa, in particular the container terminal at the Kenyan port.
Citadel Capital and its partners in the consortium, Kenya's Trans-Century Ltd (34%) and Uganda's Bomi Holdings Ltd (15%) said in a statement that they are grateful for the support provided by the Kenyan and Ugandan governments, as well as the investors in the consortium holders, customers of the railway and its management and staff.
"We look forward to working with our partners to build the reliable, efficient and safe national rail system that Kenyans and Ugandans truly deserve," said Citadel's MD, Karim Sadek.
The railway network under the control of Rift Valley Railway consists of 2,352 kilometres of track, leading from Mombasa to Nairobi and into Uganda and Kampala. A branch line extends from Eldoret to Kitale and another from Nakuru to Kisumu, a port town on Lake Victoria. Currently a little over one million tonnes of freight is carried by the railway, compared with the approximately 18 million tonnes that is handled at the port of Mombasa.
News continues below…

South Africa, Japan to advance relations
Pretoria, 31 August - A delegation of Japanese government and business representatives will hold talks with South African representatives in a move to strengthen ties amid growing global competition for rare metals and other resources in the continent.
International Relations and Cooperation Deputy Minister Sue Van Der Merwe will chair the meeting between the delegations and her Japanese counterpart Osamu Fujimura in Cape Town today (Wednesday).
For South Africa, which is rich in gold, platinum and rare earths, Japan is eyeing expanding exports to the country related to the construction of infrastructure in various fields such as transport.
"The purpose of the visit is to investigate opportunities in the areas of trade and investment within infrastructural development projects in the energy and transport sectors," department spokesperson Saul Molobi said on Tuesday.
The high level delegation also includes Japanese Vice Minister of Economy, Chiaki Takahashi as well as business representatives from various companies such as Toyota, Hitachi, Sumitomo, Mitsubishi, Nippon Export and Investment Insurance.
Currently there are about 86 Japanese companies operating in South Africa and Japan was the biggest export market for South Africa in 2005, 2006 and 2008. However, due to the Global Economic Recession, Japan dropped to 3rd position in 2009.
Bilateral trade between the two countries is expected to recover from 2010. Two-way trade amounted to R107 billion in 2008 with South Africa enjoying a trade surplus of R25 billion.
The two countries share deep and fruitful bilateral relations. They cooperate in various fields including investments, science and technology, public administration, education, business, sports and recreation among others.
More than 1200 South Africans have been trained in various training courses in Japan. The Japan International Cooperation Agency (JICA) currently despatches more than 20 experts and volunteers to South Africa, to train government officials in various fields such as maths and science teachers and artisans.
This year marks the 100th year since the establishment of an official contact between South Africa and Japan with the appointment of an Honorary Consul of Japan, Sir Julius Jeppe, in Cape Town in 1910.
According to Molobi, programmes of events have been organised in both South Africa and Japan to promote people-to-people contacts and a better understanding of the two countries' respective cultures. – BuaNews
News continues below…

Pics of the Day - MAERSK CONSTANTIA and ORIANA
Not quite in the Yesteryear era but getting there, is the MAERSK CONSTANTIA (52,615-gt, built 1979), one of the so-called 'Big Whites' that helped inaugurate the container trade in South Africa. Maersk Constantia entered service in South Africa as SA WATERBERG along with sister ships SA Sederberg, SA Helderberg and SA Winterberg. Following the acquisition of Safmarine by AP Moller-Maersk, SA Waterberg was subsequently transferred to Maersk Line as their Maersk Constantia. She was sold at about the time when this photograph was taken in Durban in 2008 to ship breakers in Bangladesh. At one time these ships were among the largest container vessels in the world, fully deserving of their nicknames 'Big Whites'. Picture by Terry Hutson
Serving to remind us that along with summer, the 'cruise season' in South Africa is just around the corner. The 2,100-passenger ORIANA (69,153-gt, built 1995) of P&O Cruises has been a regular caller in South Africa at roughly two-year intervals. Picture by Terry Hutson
Don't forget to send us your news and press releases for inclusion in the News Bulletins. Shipping related pictures submitted by readers are always welcome – please email to info@ports.co.za
Did you know that Ports & Ships lists ship movements for all southern African ports between Walvis Bay on the West Coast and Mombasa on the East Coast?
TABLE BAY UNDERWAY SHIPPING
SHIP PHOTOGRAPHERS
Colour photographs and slides for sale of a variety of ships.

Thousands of items listed featuring famous passenger liners of the past to cruise ships of today, freighters, container vessels, tankers, bulkers, naval and research vessels.
P O BOX 809, CAPE TOWN, 8000, SOUTH AFRICA
snai@worldonline.co.za
http://home.worldonline.co.za/~snai
South Africa's most comprehensive Directory of Maritime Services is now listed on this site. Please check if your company is included. To sign up for a free listing contact info@ports.co.za or register online
PROVIDING INFORMATION TO THE MARITIME INDUSTRY