Ports & Ships Maritime News
August 24, 2010
Author: Terry Hutson
Shipping, freight, trade and transport related news of interest for Africa
Want to advertise on the website using your Banner? - contact info@ports.co.za
SEND NEWS REPORTS AND PRESS RELEASES TO info@ports.co.za
TODAY'S BULLETIN OF MARITIME NEWS
Click on headline to go direct to story – use the BACK key to return
Looking for help? Try our MARITIME SERVICES DIRECTORY CLICK HERE
First View – CSAV RIO ILLAPEL
The car carrier CSAV RIO ILLAPEL (47,020-gt, built 2009) which is on charter to Mitsui OSK Line (MOL) and has been a regular caller at the ports of Durban and Port Elizabeth and those in East Africa since entering service last year, is seen discharging new and used motor vehicles at Lyttelton, New Zealand in July this year. Picture by Alan Calvert
News continues below...

Zuma in China to boost ties

Pres Jacob Zuma
Pretoria, Monday 23 August - President Jacob Zuma has arrived in China for a four-day state visit to boost trade with China, South Africa's largest export destination by country.
The visit forms part of a worldwide tour to expand ties with fast-growing emerging economies. South Africa is clamouring to become the fifth member of the BRIC economies which comprise Brazil, Russia, India, and China. Zuma has already had interactions with the Heads of State from Brazil, Russia and India.
According to the International Relations and Co-operation Department, Zuma's state visit to China will be an opportunity to consolidate ties with African countries, where China is increasingly turning for resources, markets and diplomatic support.
"The state visit takes place within the context of strengthening South-South cooperation with the objective of deepening and broadening the current bilateral relations to a new Comprehensive Strategic Partnership between South Africa and China," the department said.
During the visit, which began on Monday, Zuma and China's Premier Wen Jiabao are expected sign a Comprehensive Strategic Partnership Agreement, which will be the first such agreement concluded by China with any other country. Government-to-government agreements would also be concluded in the areas of geology and mineral resources, environment management, transport and railways.
Zuma, who is accompanied by 12 ministers, will visit Beijing and Shanghai during the three-day visit.
A business seminar, involving more than 200 South African businesses will also be held in Beijing, where contracts between South African and Chinese companies will be signed.
South Africa's trade relations with China have expanded dramatically since 1998, the department said. China became South Africa's largest export destination by country at start of 2009, and was also South Africa's largest partner when it came to imports.
Total trade between the two countries was R119.7-billion in 2009, a growth of two percent over the R118-billion recorded in 2008, allowing China to overtake the United States as South Africa's biggest export destination.
However, trade statistics with China reflected the potential that still existed for expanding the commercial relationship. – BuaNews
News continues below…

Walvis Bay used for smuggling vehicles into Africa
Namibian police have advised shipping companies in Namibia to tighten up particularly at the Port of Walvis Bay after Interpol brought to the attention of local police that vehicles were being smuggled into and through the country.
Two vehicles, which were stolen in Dubai and Italy and brought into the country through Walvis Bay, have recently been impounded by police. They entered the country through the port without being verified and police say this is just the tip of an iceberg. Stolen motor vehicles are entering the country through Walvis Bay and are being further smuggled into neighbouring countries, including Angola, Botswana, Zimbabwe, Zambia and even Malawi, said the police.
They warned Namibian clearing houses to be on the alert otherwise they could find themselves facing prosecution on charges of being part of the smuggling syndicates.
Meanwhile police in the Erongo region have held a meeting with shipping and other transport logistics service providers to discuss how to prevent the smuggling of motor vehicles through Namibia. Erongo Regional Police Commander, Commissioner Festus Shilongo said that with the collective efforts of all in the logistics sector as well as those of the Namibian police, Namibia would be able to prevent the smuggling syndicates from using the country as a springboard into other states.
He said that all it took was for those in the transport and logistics sector to adhere to legal requirements as stipulated in various legislation. On the other hand, any company suspected of being involved faced the prospect of being arrested and charged. That included drivers and companies owning vehicles that are used to transport the imported motor vehicles from the port to their final destinations, he said.
"This effort requires the involvement of all second-hand goods offices, vehicle clearance units, Interpol and traffic officers on our roads to check and control," said Shilongo. Drivers should expect to be stopped at any point during the transportation process by law enforcement agencies to check and verify if they have complied with or met all requirements. – source New Era
News continues below...

YESTERYEAR – those classic ships - RIJPERKERK
RIJPERKERK (5,985-gt, built 1917) of Holland Afrika Lijn was one of seven ships deployed on the Dutch company's Around Africa services sailing out via the west coast, as opposed to a sister service operating in the other direction first through the Mediterranean and Suez Canal and down the East African coast. The ships operated the following rotation: Hamburg, Antwerp, Amsterdam, Rotterdam, Cape Town, Mossel Bay, Port Elizabeth, East London, Durban, Lourenço Marques (Maputo), Beira, Moçambique, Mikindani, Lindi, Dar es Salaam, Zanzibar, Tanga, Mombasa, Port Sudan, Port Said, Genoa, Marseilles, Antwerp, Rotterdam, Hamburg.
Rijperkerk was the exception, and did not include calls at Mossel Bay, Port Elizabeth or East London. The remaining ships in this service were Klipfontein, Jagersfontein, Springfontein, Giekerk, Grijpskerk and Nijkerk.
In this photograph Rijperkerk is seen sailing from Cape Town. Picture provided by Willem Kruk
News continues below…

Japan builds naval and air base at Djibouti
The Japanese government is to build its foreign military base in Djibouti, Afrik-News has reported. The plan is aimed at strengthening and sustaining the fight against Somali pirates, Japanese ambassador to Ethiopia, Kinichi Komano, said.
After the signing of a land leasing agreement a few weeks ago between Japan and Djibouti allowing the construction of a military facility in Djibouti, Japan has become the third country to have a military base in Djibouti next to US and France.
Japan has deployed two military ships and two reconnaissance aircraft to discourage attacks by pirates on merchant shipping and is a contribution towards the international effort against piracy in the Gulf of Aden, the ambassador said. With close to 90 percent of Japanese exports being shipped through the Gulf of Aden and into the Red Sea and the Mediterranean, the Asian country's international trade had been threatened by Somali pirate attacks.
In order to create an internationally recognized transit corridor that provides security for about 30,000 cargo ships that transit the Gulf of Aden every year, some 24 countries formed the Contact Group on Piracy off the Coast of Somalia which aims at maintaining an international naval force in the corridor. This was formed in January 2009 under the umbrella of the United Nations and by April 2010 included 47 countries and 10 international organizations ensuring that there is an average of about 17 naval ships on patrol in the troubled waters on any given day.
In September last year, Japan and a host of other countries including Britain, Cyprus, Singapore and the United States, came together in a concerted effort to coordinate international naval patrols, encourage shipping self-protection measures and discourage the payment of millions of dollars in ransom to pirates. They signed the 'New York Declaration,' an international plan of protecting ships and thwarting piracy off the coast of Somalia.
Explaining why his government needed its own facility, Ambassador Kinichi indicated that while Japanese reconnaissance aircraft are now using Djibouti's airport for landing and refueling his government does not intend to continue seeking accommodation at the US military base for their operational staff on a long-term basis. – source Afrik- News
News continues below…

Rail link connecting Zambia with Malawi and Nacala opens on Friday

The first train, carrying ballast for the new track, arrives at Chipata on 9 December 2009
This coming Friday marks the official opening of the railway between the two border towns of Chipata and Mchinji linking Zambia with not only Malawi but also the Mozambique port of Nacala.
The connection thus provides landlocked Zambia with another route to the sea, lessening its dependence on the Tazara Railway and Dar es Salaam, or Beira in the east and South Africa (Durban) in the south.
Although Chipata is not yet linked by rail with the rest of Zambia's railway network, it is on the main trunk road from Lusaka. Still in the pipeline is to continue the line to either Mpika on the Tazara Railway to Tanzania, or for environmental reasons a longer extension might be considered further south to Serenje to avoid the two Luangwa Valley National Parks.
The first locomotive to arrive in Chipata did so back in December 2009 when it hauled a ballast train into the town. Since then the remainder of the new track, a mere 35km in length, has been completed to realise a dream of creating a direct connection with the sea at Nacala. The delay in completing the short line has been blamed on a lack of funds.
With Nacala being a deep water port there are obvious advantages for copper-rich Zambia to look in this direction. The alternate Tazara route is long and in any case the port of Dar es Salaam is heavily congested. The line to the central Mozambique port of Beira is another option although this requires railing cargo through a third country (Zimbabwe). It would then go on to a port that experiences load restrictions owing to the port approaches being badly silted, although dredging is now reported to be underway in anticipation of coal exports from Moatize.
Zambia currently makes fairly extensive use of Durban, far to the south but providing a more reliable service for the country's general cargo and bulk commodities. Another option that is being explored is to use the port of Maputo by railing cargo through Zimbabwe on that country's line to the Mozambique capital.
These are Zambia's options but at least it does have a wider range of choices than many African landlocked countries. The new line at Chipata brings yet another to the table, one that would become even more attractive if the line were now further extended to connect with the rest of Zambia's network.
News continues below…

Pics of the Day – COMPASS CHALLENGER and BOURBON HESTIA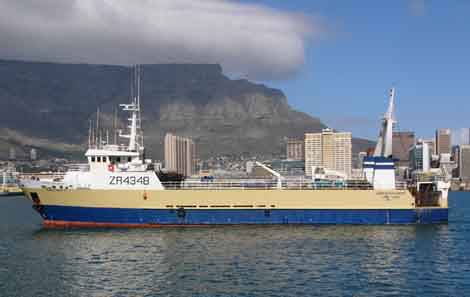 The South African stern trawler COMPASS CHALLENGER (819-gt, built 1983) seen arriving back in her home port of Cape Town. Picture by Aad Noorland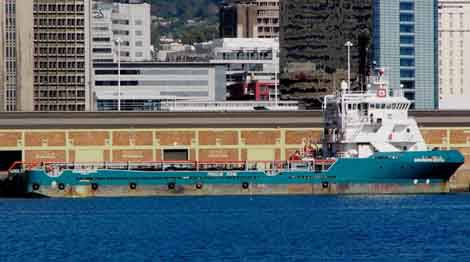 The French offshore supply vessel BOURBON HESTIA (2321-gt, built 2006) which has arrived in Cape Town on lay-by. Picture by Aad Noorland
Don't forget to send us your news and press releases for inclusion in the News Bulletins. Shipping related pictures submitted by readers are always welcome – please email to info@ports.co.za
Did you know that Ports & Ships lists ship movements for all southern African ports between Walvis Bay on the West Coast and Mombasa on the East Coast?
TABLE BAY UNDERWAY SHIPPING
SHIP PHOTOGRAPHERS
Colour photographs and slides for sale of a variety of ships.

Thousands of items listed featuring famous passenger liners of the past to cruise ships of today, freighters, container vessels, tankers, bulkers, naval and research vessels.
P O BOX 809, CAPE TOWN, 8000, SOUTH AFRICA
snai@worldonline.co.za
http://home.worldonline.co.za/~snai
South Africa's most comprehensive Directory of Maritime Services is now listed on this site. Please check if your company is included. To sign up for a free listing contact info@ports.co.za or register online
PROVIDING INFORMATION TO THE MARITIME INDUSTRY