Ports & Ships Maritime News
August 23, 2010
Author: Terry Hutson
Shipping, freight, trade and transport related news of interest for Africa
Want to advertise on the website using your Banner? - contact info@ports.co.za
SEND NEWS REPORTS AND PRESS RELEASES TO info@ports.co.za
TODAY'S BULLETIN OF MARITIME NEWS
Click on headline to go direct to story – use the BACK key to return
Looking for help? Try our MARITIME SERVICES DIRECTORY CLICK HERE
First View – DONG SAN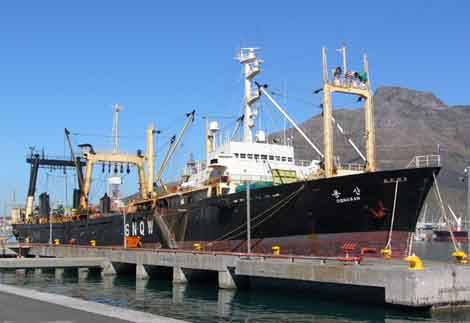 The South Korean longliner DONG SAN in port at Cape Town on the E Mole. Picture by Aad Noorland
News continues below...

Piracy – Somali pirates demand US$ 4 million for Egyptian ship


Somali pirates have demanded a ransom of US$ 4 million, according to a Somali news service, Somaliweyn.
The ship is the Egyptian vessel SUEZ, which was captured in early August in the southern Red Sea. The vessel is loaded with a cargo of cement and has a crew of 23, made up of 11 Egyptians, plus nationals from India, Sri-Lanka and Pakistan. The ship's owner, Red Sea Navigation is reported to have refused to pay the amount saying it is exorbitant. When negotiations for the Suez's release began the pirates initially demanded $20 million.
In 2008 another Red Sea Navigation ship was seized by pirates – the company on that occasion managed to talk down the ransom from $10m to $600,000.

Meanwhile, an environmental nature protection organisation, Ecoterra Intl which monitors events along the Somali coast says reports that piracy is on the decline are incorrect and points out that at least 23 ships remain in custody along with over 420 seafarers in custody awaiting being ransomed. These include a middle aged British sailing couple, taken into custody when the yacht they were sailing from the Seychelles to Tanzania was captured earlier this year. The yacht was later abandoned by the pirates but the couple were taken ashore into a remote part of Puntland under the control of pirate groups. The British government has steadfastly refused to pay a ransom for their release despite reports of the woman's failing health.
The Ecoterra report points out that all ships navigating in the Western Indian Ocean are advised to keep east of 60 degrees east when routing north/south and to consider routing east of 60° east and south of 10° south when proceeding to or from ports in South Africa, Tanzania and Kenya.
The Indian government has issued a notice to Indian-flagged ships not to sail in waters south and west of a line linking Salalah in Oman to Malé in the Seychelles.
This comes at a time when there is a growing conviction that Somali pirates have taken up residence on one or more isolated Seychelles islands from where they range out into the ocean.
Ecoterra points out that the level of piracy has remained high despite the international forces having a continuously expanding naval presence around the Horn of Africa, one that is greater than even during World War 2. Ecoterra also disputes claims that international navies have the legal right to operate inside Somali territorial waters. It says that the UN Security Council Resolutions that are quoted by the international forces state that incursions within the 200 n.mile territorial water limit require consent by the Somali government, and says this has never been given. A letter ostensibly from the former Somali president Abdullahi Yusuf has never been produced and another signed on the Somali government's behalf by Mauretanian former UNSRSG Ahmedou Ould-Abdallah is, according to Ecoterra, null and void.
The organisation said that deliveries of arms and military hardware for AMISOM peacekeeping troops inside Somalia are made under the guise of 'humanitarian aid'.

Late last week a Japanese maritime patrol aircraft on patrol over the Internationally Recommended Transit Corridor located a dhow and a skiff carrying suspected pirates. Having been altered the French EU NAVFOR flagship FNS DE GRASSE, a helicopter and boarding party was launched from the ship some 50 miles away which closed with the skiff.
According to EU NAVFOR six suspected pirates were found on the skiff but any incriminating items such as weapons or ammunition had already been thrown overboard. Nevertheless, after a search of the skiff and dhow the suspects were taken to the French ship for interrogation, after which they were released and allowed to sail back to Somalia.
News continues below…

Strong Rand hurts Grindrod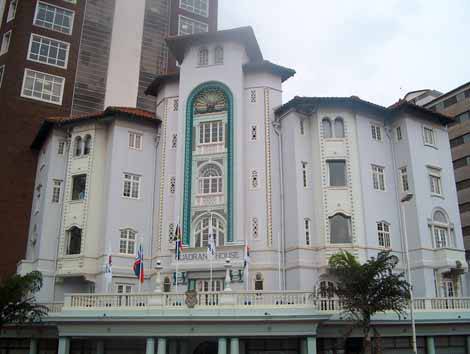 Quadrant House, Durban, the headquarters of Grindrod Limited. Picture by Terry Hutson
A strong rand ate deeply into Grindrod Limited's profits for the six months that ended on 30 June 2010, bringing earnings down 10 percent from R530.5m over the same period last year.
Grindrod's position is that although a wholly owned South African company much of its trading is done in US dollars or other foreign currency, and when the rand is strong earnings will be affected. For the period under revue Grindrod reported earnings of R435.5 million and headline earnings of 95.4 cents a share.
What also affected Grindrod's results was that no ship sales took place during the period under review.
Nevertheless the group remains in a healthy position with a well filled war chest to take advantage of acquisition opportunities as they present themselves.
Among the highlights for the half year, Grindrod's shipping division took delivery of four new vessels and exercised an option to purchase a chartered ship. In May Grindrod announced that its shipping division had acquired Associated Bunker Oil Contractors (ABC), a Rotterdam-based bunker tanker business. ABC operates four bunker tankers delivering marine fuels to ships in the ports of Antwerp, Rotterdam and Amsterdam and this is seen as an expansion of the group's bunker fuel business and an expansion into international and niche market sectors.
This was followed recently with the development of a new bunkers-only service to ships transiting the English Channel which is to be operated from three anchorages in the Thames Estuary as from 1 September. This is being developed in close cooperation with the Port of London Authority and requires a diversion of only 1 – 2 hours from the shipping lanes, in contrast to other bunkering facilities in the English Channel.
In Mozambique the Maputo Port Development Company (MPDC) in which Grindrod holds a 24.7% shareholding, recently negotiated an extension of its concession to operate the port until 2033, with an option for a further 10 years. The extension smooths the path for the implementation of the Maputo Port Master Plan which aims at developing the port to its potential.
Grindrod and its strategic partners have already made substantial investments in the port and its terminals in anticipation of greater use of the port from South Africa. In particular an extension to the coal terminal sub-concession was also negotiated to 2043 along with an agreement to expand the Maputo Coal Terminal to an annual capacity of between 16 and 25 million tonnes.
In other developments Grindrod's Freight Services Division concluded the acquisition of Fuelogic, a bulk liquid transporter operating in South Africa. This business has long term contracts delivering volumes of approximately 2.4 million litres per annum.
News continues below...

Terminal modernisation aims at reducing Luanda port congestion
The modernisation work underway at container Terminal II at the port of Luanda will, in the short term, reduce ship congestion along the coast of the Angolan capital, according to the coordinator of the management commission of the National Agency for Private Investment (ANIP).
At the end of a ceremony which saw the signing of an investment contract worth US$ 56.5 million by terminal management company Sociedade Gestora de Terminais (Sogester) and ANIP, Aguinaldo Jaime said that it was fundamental for the country to have efficient port facilities so that ships did not have extended stays, which could affect the quality of services to the detriment of consumers.
Angola, he said, was essentially an importing country, despite undergoing a process of diversification of its economy. He added that, "we have to continue, for some time, to be an importing country."
In his turn, the assistant director general of Sogester, Anatólio Barreira, noted that the investment had made it possible to employ new staff and would help to improve working conditions at Terminal II and to improve the waiting period for ships in the port of Luanda in general.
According to Barreira, the investment was mainly intended to remodel and modernise sections of the port of Luanda and to import modern cargo-handling infrastructure to handle cargo more efficiently. - source macauhub
News continues below…

Tanzania's Ngaka Project has coal reserves of 800 million tonnes
Prospecting of the Ngaka Basin has suggested coal reserves as large as 800 million tonnes, reports Atomic Resources, the company undertaking the exploration.
"The weight of available exploration data, including drilling conducted by the British Colonial Development Corporation (CDC) and now Tancoal, strongly suggests that the Ngaka basin could have resources as large as 800 million tonnes," said Dr Pascal Semkiwa, principal geologist at the Geological Surbey of Tanzania.
Dr Semkiwa's visit to Ngaka coincided with the opening of test pits to enable bulk sampling.
"I am now confident that this target is realistic and would greatly benefit Tanzania as well as many other countries," he said.
During his visit, Dr Semkiwa examined coal seams and visually inspected coal samples being extracted from the test pits at Ngaka.
"The quality and consistency of the coals I saw outweighs what I anticipated it to be. Exploration drilling gives a very good idea of what lies beneath, but nothing can compare with the excitement for a geologist to be able to see the coal uncovered. This will be the commencement of commercial coal mining in a country that has always imported all of its coal needs, yet has vast coal resources in the Ngaka basin," he said.
He added that Tanzania could also become an exporter of good quality coal to neighbouring and overseas countries. – source Tanzania Daily News
News continues below…

News from the shipping lines
Final sailing for SAECS seasonal reefer service
The SAECS (South African Europe Container Service) Reefer Express service between South Africa and northern Europe has been withdrawn following the final sailing last Friday (20 August) after a decrease in reefer traffic. SAECS provided the seasonal service using five container ships of between 1,200 and 1,800 TEU capacity – three from Safmarine, one from MOL and one from DAL. The port rotation was Cape Town, Port Elizabeth, Rotterdam, Tilbury, Cape Town.

CSAV and Libra team up between Far East and South Africa
Chilean container line CSAV and its subsidiary Libra Container Line has inaugurated a new container service between the Far East and South Africa, using eight CSAV vessels in the 2,700-TEU range. Libra will take slots in the partnership. Known as the New Discovery Service, the rotation is Xingang, Ningbo, Shanghai, Chiwan, Hong Kong, Singapore, Durban, Cape Town, Singapore, Xingang, Ningbo, Shanghai, Chiwan, Hong Kong, and Xingang.

Euronav announces FSO contract with Maesrk Oil Qatar
Euronav NV, the wholly owned tanker division of CMB and which is under the control of the Belgian family Saverys, has announced that TI Africa Ltd., the owner of FSO AFRICA, has signed a new contract with Maersk Oil Qatar AS (MOQ) for the provision of FSO services on the Al Shaheen field offshore Qatar. The contract is for three years beginning at the end of August and the rate consists of a base rate which will increase if and when more capacity and features of the FSO are requested by MOQ.
FSO Africa and its sister vessel, FSO Asia, are the two largest and most sophisticated double-hulled FSOs in the world. They are owned by joint venture companies in which OSG and Euronav each have a 50% interest.

MOL delivers shoes to needy children in Zambia
Mitsui OSK Line (MOL) said last week that it has entered into an agreement to deliver shoes to needy children in Zambia on behalf of the Japanese Organisation for International Cooperation in Family Planning (JOICFP). MOL's involvement is to provide containers for the shoes and to transport them by sea to Durban, a gateway port for Zambia.
The shoes are collected by Sogo & Seibu Co Ltd which then donates them to JOICFP which then distributes them to children in Zambia, where the organisation is conducting health support activities. On 17 August soccer balls and other supplies collected by Sogo & Seibu departmental stores on a Soccer World Cup-related initiative, were loaded on the container ship MOL EMPIRE in the port of Tokyo.
News continues below…

Pics of the Day – ISMAIL K
The Turkish bulker ISMAIL K (21,058-dwt) which called at Cape Town last week, was built at the Torgem Shipyard in Istanbul in 2007. Pictures by Ian Shiffman
Don't forget to send us your news and press releases for inclusion in the News Bulletins. Shipping related pictures submitted by readers are always welcome – please email to info@ports.co.za
Did you know that Ports & Ships lists ship movements for all southern African ports between Walvis Bay on the West Coast and Mombasa on the East Coast?
TABLE BAY UNDERWAY SHIPPING
SHIP PHOTOGRAPHERS
Colour photographs and slides for sale of a variety of ships.

Thousands of items listed featuring famous passenger liners of the past to cruise ships of today, freighters, container vessels, tankers, bulkers, naval and research vessels.
P O BOX 809, CAPE TOWN, 8000, SOUTH AFRICA
snai@worldonline.co.za
http://home.worldonline.co.za/~snai
South Africa's most comprehensive Directory of Maritime Services is now listed on this site. Please check if your company is included. To sign up for a free listing contact info@ports.co.za or register online
PROVIDING INFORMATION TO THE MARITIME INDUSTRY