Ports & Ships Maritime News
August 18, 2010
Author: Terry Hutson
Shipping, freight, trade and transport related news of interest for Africa
Want to advertise on the website using your Banner? - contact info@ports.co.za
SEND NEWS REPORTS AND PRESS RELEASES TO info@ports.co.za
TODAY'S BULLETIN OF MARITIME NEWS
Click on headline to go direct to story – use the BACK key to return
Looking for help? Try our MARITIME SERVICES DIRECTORY CLICK HERE
First View – RIG SUPPORTER
With the Table Bay Hotel as a backdrop, the Norwegian research ship RIG SUPPORTER (2272-gt, built 1982) lies at berth in the V&A Waterfont harbour. Picture by Aad Noorland
News continues below...

Cape Town claims the lead in container terminal performance
Better planning and streamlining of operations has given Cape Town's container terminal the lead in productivity amongst the five container facilities operated by Transnet Port Terminals (TPT) in South Africa, the company said yesterday in a statement.
With an achievement of 24 gross crane moves per hour (GCH) on average during July 2010, the Cape Town Terminal enjoyed a 9% improvement from June's recorded average of 22 GCH. The overall Transnet target is 26 GCH.
Velile Dube, the new Regional Terminal Executive for TPT's Western Province operations, attributed the improved performance in July to a reduction in force majeure disruptions caused by inclement weather, as well as improved employee skills as operators become more proficient in handling the new equipment procured as part of the terminal's five year capacity creation project.
The equipment includes new Super Post Panamax ship-to-shore (STS) cranes and rubber tyred gantry (RTG) cranes. Decreased stack congestion in the terminal has encouraged a smoother operational flow.
"We have managed to strike a balance in the availability of resources to meet operational demand and have also systematically improved productivity in our RTG crane operations," Dube said.
The new STS cranes give the terminal a competitive edge because they are faster than the older cranes and boast twin lifting capability, where two (2) six metre containers are handled simultaneously. This minimises the crane cycle time and increases the cycle frequency.
Also contributing to improved productivity in July was Ship Working Hours (SWH), maintained at an average of 41 moves on all vessels. Ship Working Hours is the number of containers moved by the cranes working on a vessel in one hour.
Truck turnaround time was 26 minutes on average against a target of 30 minutes maximum, while stack occupancy was an average of 46% against a ceiling figure of 65%. Further plans to improve landside operations are advanced and even greater productivity is expected.
Greater emphasis has been placed on housekeeping compliance, which ensures conducive landside operations.
The terminal's ongoing refurbishment has extended the quay wall by 10 metres and increased the draft to -15.5 metres on the high productivity Berth 601 and the first 40m of Berth 602.
Equipped with four of the latest Super Post Panamax ship-to-shore cranes, the terminal is now able to service 305 metre vessels along Berth 601 and the first 40 metres of Berth 602. In addition, the increased berth and increased height capacity of the cranes allow for the efficient handling of Super Panamax vessels.
TPT says that customers have so far welcomed the improvements in the region.
"This superior performance by TPT has caught us by surprise and I can assure you that the 'new TPT' is a truly welcome change," said Rob McEwan, Operations Manager at Mediterranean Shipping Company (MSC).
News continues below…

West African maritime news
New port likely for Gabon
Negotiations are at an advanced stage to build a new port to handle palm oil exports from Gabon. The idea is to build the port at Nkok on the east of Libreville, which could handle the bulk of Gabon's palm oil exports. According to Bloomberg the deal is being put together with a Singapore commodity trader, Olam, who would develop a 300,000ha palm oil plantation. The report said that exports of palm oil from this could generate US$800 million a year in export revenue.

Construction of Nigeria's new port at Lekki ready to start
Nigeria's proposed new deepwater container port at Lekki some 65km east of Lagos is likely to get underway in the first quarter of 2011, once the selection of contractors is confirmed. More than 30 various contractors have expressed interest in tendering for the contract to build the port. Once complete Lekki will be capable of handling container ships of up to 8,000-TEU capacity and liquid bulk vessels up to 160,000-dwt.
Contractors must submit their bids by next month and the selection process is scheduled to be completed by the end of this year, with the winning contractor required to go on the 500ha site early in 2011.

Setting a thief to catch a thief
According to media reports from Nigeria, the Federal Government has evolved a scheme to enlist former Niger Delta militants who took advantage of the amnesty announced by the previous president. The idea is that they will become ratings and officers in the maritime security forces that are being formed to police the Niger Delta region.
The reports say that former militants will be given the opportunity of being trained as merchant seamen and officers across all categories in the merchant navy, while the younger men will be encouraged to become maritime pollution enforcement officers.
The scheme will be carried out by two federal agencies, the Nigerian Maritime Administration and Safety Agency (NIMASA) and the Niger Delta Development Commission (NDDC), in collaboration with Niger Delta states and local government. Funding for the scheme will come from the respective stakeholders and will fall under NIMASA's Nigerian Seafarers Development Programme, which aims at training 50,000 seamen and maritime professionals. Nigeria has already nominated more than 2,000 ratings for training but to achieve the ambitious target the country needs to establish additional maritime academies.
NIMASA's has plans to re-float the Nigeria Unity Line (NUL) to handle liquid bulk, dry bulk and liner shipping services. And by enforcing its Cabotage Act Nigeria hopes to direct more shipping into indigenous quarters.

Piracy brings a stop to night berthing for Nigeria
Ongoing robbery of ships entering Nigerian harbours at night has resulted in a call by the Nigerian Navy for ships to stop entering ports after dark. Rear Admiral Benjamin Acholonu, Flag Officer Commanding, Eastern Naval Command told newsmen at Calabar recently that by entering port after dark, shipping was inadvertently aiding the thieves. "The ships themselves are part of the problem," he said. "If you have any problem that prevents you from entering the harbour in daylight, then you should stay on the high seas [and not approach the coast]," he advised ship operators.
The admiral accused fishermen of aiding and abetting the robbers by feeding them information about approaching ships. He said that as a result of the amnesty militant activity had been reduced and production levels with the oil companies had begun increasing.

Maersk Damco wins Ghanaian cocoa contract
Maersk's forwarding company Damco has been chosen as the logistics provider for the firm of Barry Callebaut, which exports 2,500 TEU of cocoa annually to Europe, the US and China. Barry Callebaut currently handles approximately 75% of Ghana's cocoa exports.
Damco will provide trucking, customs clearance and air freight services to the cocoa trader. "We first started working with Barry Callebaut in 2007, and it is great to have brought them back to Damco. They are a perfect match for us in Ghana, supporting all the core services we provide, imports, exports, airfreight, trucking and ocean freight," said Frank Eshun, managing director of Damco Ghana.
News continues below...

Two more super container ships enter service
Another two of the world's largest container ships, each in the 13,000-TEU range have entered service.
In Hamburg the 13,100-TEU MAERSK EDINBURGH has arrived on her maiden voyage from the Far East, where the 140,850-gt ship was launched and named PEARL RICKMERS by her owners, the Rickmers Group of Germany. The ship has subsequently gone on charter to Maersk Line. Maersk Edinburgh was built in South Korea by Hyundai Heavy Industries.
Immediately after delivery, Maersk Edinburgh was phased in to Maersk's new joint service with CMA CGM linking Asia and North Europe. As Maersk's AE8 service, there will be ten ships of this size deployed, with each partner contributing five. The port rotation will be:
Ningbo – Shanghai – Yantian - Tanjung Pelepas - Port Kelang - Le Havre - Hamburg – Rotterdam – Zeebrugge - Port Kelang – Singapore - Ningbo.
By the end of August Maersk Edinburgh will have been joined on this service by three more vessels owned by Rickmers Group with MAERSK EMDEN due to arrive Hamburg on 27 August. Maersk Emden will be followed by MAERSK EINDHOVEN (Aqua Rickmers) on 24 September and MAERSK ESSEN (Coconee Rickmers) on 8 October. Four more 13,100TEU Rickmers vessels will join Maersk Line in 2011.
Containers are carried 17-wide below deck and 19-wide on the hatchcovers. The maximum capacity of each ship is 7,074-TEU on deck and 6,018-TEU below deck, making 13,092-TEU in total. Based on a homogeneous container weight of 14 tonnes per TEU, the maximum capacity is approximately 9,080TEU. Reefer plugs are available for 800 x 40ft containers.
Each ship is powered by a single Hyundai-Wärtsilä 12RT-flex96C main engine weighing over 2,000 tonnes and developing 68,640 kW (MCR) at 102rpm and 61,776kW (NCR) at 98.5rpm. Five 2,700kw diesel generators are installed.
Although designed for a service speed of 24.3 knots, the flex-engines still achieve 21.5 knots at 60% of the engine's normal output but can also slow steam as required under charterers' current service patterns, generating substantial fuel savings. By having this substantial speed reserve, the ships can increase speed when necessary to maintain schedule integrity, an important factor in a service industry.
See next report
News continues below…

Third CMA CGM giant goes into service

CMA CGM Christophe Colomb, the first in a series of super container ships for the French line
The second of the new super container ships to enter service this past week is the CMA CGM CORTE REAL, a 13,830-TEU giant built in the Daewoo Shipbuilding and Marine Engineering yards of South Korea for French shipping line CMA CGM.
Corte Real follows on from two earlier versions, CMA CGM CHRISTOPHE COLOMB and CMA CGM AMERIGO VESPUCCI which entered service recently. All three are deployed on the company's FAL 5 service between Europe and the Far East.
Corte Real becomes the largest container ship to sail under the flag of the UK, which CMA CGM says is as part of the white list of the Paris Memorandum of Understanding on Port State Control, which provides a guarantee of safety, security and environmental protection.
CMA CGM Corte Real entered service yesterday (17 August) in Ningbo and will operate a rotation of Ningbo, Shanghai, Yantian, Tanjung Pelepas, Port Klang, Le Havre, Hamburg, Rotterdam, Zeebrugge, Port Klang, Singapore and Ningbo.
News continues below…

Transnet to stagger purchases of locos and cranes to average and reduce the age of infrastructure
Transnet intends buying up to 100 locomotives a year over a prolonged period, Chris Wells, Transnet CEO said at the weekend in his annual report.
"Transnet has developed a locomotive fleet plan, which is aimed at reducing the average age of the locomotive fleet from 30 years to below 20 years. To achieve this, Transnet aims to purchase between 75 and 100 locomotives per annum over a prolonged period," Wells reported. He said that by smoothing the acquisition cycle, the company will better enable local development by providing a stable pattern of demand.
"Transnet is also developing a fleet plan for cranes," he added.
During the past 12 months the company took delivery of 50 Class 39 locomotives which were deployed in revenue earning operations with TFR's General Freight Business, or GFB (general cargo or goods trains including containers). Wells said that Transnet expected that the combination of new equipment, improved customer service, focus on operational efficiency and reduction in copper theft will enable GFB volume targets to be met.
"It is very pleasing to be able to report all 100 Class 43 locomotives for the GFB, which are on order from General Electric, are planned for delivery during 2012. The development of these locomotives will enable a quantum leap improvement in volumes and customer service levels."
Wells reported that the delivery of export coal to the port of Richards Bay remained static at 61,8mt for the year (2009: 61,9mt) and 10% below planned volumes due to several factors. These included Freight Rail's rolling stock availability, infrastructure failures, customer cancellations as there was no product at the mines and delays due to the commissioning of the RBCT infrastructure upgrades during the year, as well as an increasing number of cable theft incidents. "This disappointing performance, with a decline in volumes railed since 2005, is very concerning. Action has however been taken to reverse the declining trend."
News continues below…

Pics of the Day - ANJASMORO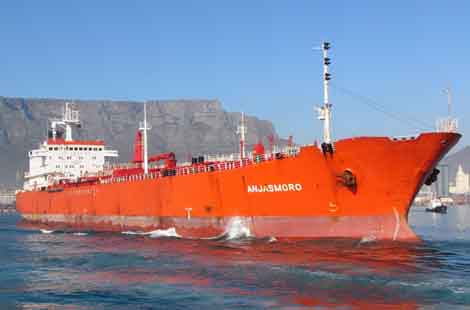 The Singapore flag products tanker ANJASMORO (32,696-dwt, built 1996), which called at Cape Town this week. Picture by Aad Noorland
Don't forget to send us your news and press releases for inclusion in the News Bulletins. Shipping related pictures submitted by readers are always welcome – please email to info@ports.co.za
Did you know that Ports & Ships lists ship movements for all southern African ports between Walvis Bay on the West Coast and Mombasa on the East Coast?
TABLE BAY UNDERWAY SHIPPING
SHIP PHOTOGRAPHERS
Colour photographs and slides for sale of a variety of ships.

Thousands of items listed featuring famous passenger liners of the past to cruise ships of today, freighters, container vessels, tankers, bulkers, naval and research vessels.
P O BOX 809, CAPE TOWN, 8000, SOUTH AFRICA
snai@worldonline.co.za
http://home.worldonline.co.za/~snai
South Africa's most comprehensive Directory of Maritime Services is now listed on this site. Please check if your company is included. To sign up for a free listing contact info@ports.co.za or register online
PROVIDING INFORMATION TO THE MARITIME INDUSTRY