Ports & Ships Maritime News
Aug 16, 2010
Author: Terry Hutson
Shipping, freight, trade and transport related news of interest for Africa
Want to advertise on the website using your Banner? - contact info@ports.co.za
SEND NEWS REPORTS AND PRESS RELEASES TO info@ports.co.za
TODAY'S BULLETIN OF MARITIME NEWS
Click on headline to go direct to story – use the BACK key to return
Looking for help? Try our MARITIME SERVICES DIRECTORY CLICK HERE
First View – AMBASSADOR BRIDGE
K Line's container ship AMBASSADOR BRIDGE (40,839-gt, built 2009) which was in Cape Town harbour last week. Picture by Ian Shiffman
News continues below...

SASOL ready to start prospecting for oil off Sofala and Inhambane
Maputo, Mozambique, 13 Aug – South African petrochemical group Sasol is preparing to start drilling to survey for hydrocarbons in the sea off the coast of Sofala and Inhambane, 95 kilometres to the southeast of Beira and 50 kilometres north of the Bazaruto National Park in Mozambique.
Sasol plans to invest over US$5 million in oil and gas exploration.
According to documents issued by Sasol the company has already carried out environmental pre-feasibility studies and will hold public consultations sessions on the 23, 24 and 26 August in Beira, Maputo and Govuro, in Inhambane province.
Mozambican newspaper Notícias noted that the report said that no obstacles were found to the project and that the company can go ahead with a full Environmental Impact Study (EIA).
According to the same document the process listed impacts on biodiversity, on fishing activities, as well as waste management, the atmosphere, water, accidental leaks of oil or gas and those of a cumulative nature.
After the studies underway and provided they show there is no negative impact the Mozambican government is expected to authorise prospecting work off the coast of Sofala and Inhambane. (macauhub)
News continues below…

Transnet issues annual report – says it has emerged stronger
Transnet CEO Chris Wells says that despite a year of many challenges, which were characterized by unprecedented global economic uncertainty, Transnet has emerged much stronger and has managed to meet most of the targets agreed with government.
During the financial year ending 31 March 2010, Transnet earned revenue of R35.9 billion, with an EBITDA of R14.4Bn. Capital expenditure for the year was R18.4Bn.
Referring to the Transnet National Ports Authority (TNPA), revenue for the year amounted to R6.839Bn, EBITDA amounted to R5.573Bn while profit before taxation came to R3,494Bn. Capital expenditure for the year was R3,231Bn. The TNPA employed a total permanent staff of 3,139 persons.
Transnet Port Terminals achieved a revenue of R5.154Bn for the year and an EBITDA of R1.621Bn. Capital expenditure amounted to R2.368Bn. TPT had a total staff complement of 5,313 persons.
The annual report said that of particular concern was the unacceptably poor levels of productivity and efficiency at Transnet's container terminals "as evidenced by the fact that container handling efficiencies did not reach targeted gross crane moves per hour (GCH). Although this did not constrain volume throughput, management deployed interventions to enhance terminals' efficiencies during the year.
"To ensure significant turnaround in efficiency and productivity, a senior team has been deployed to resolve performance issues. To date, there have been incremental improvements. For instance, during the recent three-week wage increase strike, some shifts at the Durban Container Terminal achieved record GCH levels. Until then, and during a greater part of the financial year, GCH averaged 22, which is totally unacceptable when compared to the world-class standard of over 30 GCH. We will not rest until we have turned around the efficiency and productivity levels of all our container terminals - whatever it takes! Ramping up productivity is at the core of Transnet's Quantum Leap Strategy, which is expanded on in the next section," said Chris Wells.
His report added that it was pleasing to note that a 6.5% increase in terminal efficiency was achieved during the year through the implementation of dual loading at the Port of Saldanha.
"An average of 6,341 tons was loaded per hour compared to the previous year's average of 5,954 tons per hour. The impact of dual loading would have been greater had it not been for the negative impact of a distressed vessel occupying a berth during the last five months of the financial year. This vessel finally left the port in March 2010.
"During the year, iron ore and manganese export volumes increased by 35% and 18% respectively. These levels were offset by container and automotive volumes which declined by 4,5% and 24% respectively as a result of the global economic recession.
"A significant milestone achieved during the year was the completion and commissioning of the R4 billion widening and deepening of the Durban Harbour entrance channel in February 2010 - ahead of schedule and under budget. The entrance was widened to 240 metres and dredged to a depth of -18 metres chart datum to enable the safe navigation of larger vessels. This development now makes it possible for vessels as large as 9,200 TEUs to enter the harbour. Previously, only smaller ships, with a capacity of about 2,000 TEUs, could do so (ships of 4,000TEU loaded were doing so in fact – P&S). Accordingly, this has advanced our strategic goal of positioning Durban to grow and become a port of choice for major shipping lines.
"Also, the two-berth Ngqura Container Terminal, the country's latest greenfields deep-water port, commenced operations in October 2009 and had handled 78,400 TEUs up to 31 March 2010. The terminal, which is targeting transhipment trade, boasts some of the world's state-of-the art equipment.
"The refurbishment of the Port Elizabeth manganese terminal is substantially complete, restoring capacity from a constrained 2,8mt to 4,2mt. "Another significant milestone was achieved on the Cape Corridor with the completion and handing over of Berth 601 at the Cape Town Container Terminal.
"Over the next five years, plans are in place to increase [total all ports] container capacity from 4,56 million TEUs to 6,26 million TEUs. We anticipate that 20% of our crane fleet will be new in five years."
Volumes achieved:
Containers: 3.629m TEUs
Breakbulk: 8.4 million tonnes
Liquid Bulk: 43,8 mt
Dry Bulk: 132 mt
Automotive: 401,064 units
The complete annual report can be read HERE
Beira ready to handle 10mt pa by 2012 - CFM
Mozambique's Port of Beira will be ready to handle 10 million tonnes of cargo, including coal exports, by 2012.
That's the word from the Chairman of the Board of Directors of CFM (Mozambique Ports & Railways), Rosario Mualeia. He was addressing the media after having visited facilities at the port.
"Our capability right now is about three million tonnes," he said. "I'm quite confident that by 2012 we will be able to handle 10mt and thereafter about 15 million tonnes." He said that ongoing capacity building at Beira would result in the port capacity increasing from the current 3mt to about 5mt and then from 5mt to about 8mt a year.
By the first half of 2011 the port will be ready to start receiving coal from the Moatize mines. "Within the next two or three years CFM would start the construction of a new port terminal with higher capacity," said Mualeia.
Emergency dredging of the port of Beira and its approaches was due to commence last year, he said, but had been delayed because of a lack of funds.
News continues below...

News continues below…

Holland America launches fourth Nieuw Amsterdam

picture by Trevor Jones
Launched from Italian shipbuilder Fincantieri's Marghera shipyard in Venice on 4 July, 2010, the 86,000-ton Holland America's NIEUW AMSTERDAM celebrates the glamour and history of New York City, formerly called Nieuw Amsterdam, with its inspired interior design and art collection.
Holland America Line has installed an array of works valued at over US$3 million, ranging from antiques by traditional Dutch masters to creations by renowned contemporary artists.
Some pieces reflect the Dutch Golden Age while others, such as the spectacular centerpiece in the atrium, express a contemporary curiosity. Adorning the ceiling of Nieuw Amsterdam is an eye-catching abstract sculpture of the inverted New York skyline made from clear translucent blocks that hang upside-down. The sculpture was created by husband and wife Italian artists Gilbert Lebigre and Corinne Roger of Creazioni Lebigre & Roger. The significant collection, which includes works by celebrated artists Andy Warhol, Richard Estes and Roy Lichtenstein, continues with astounding displays throughout the ship.
A complimentary self-guided iPod® art tour is available for guests wishing to view the entire collection. The iPod art tour is also available to download at no charge at HollandAmerica.com and on iTunes®.
Nieuw Amsterdam joins the recently launched EURODAM to further define and expand the Holland America Line premium brand with new concepts such as the innovative pan-Asian Tamarind restaurant and Silk Den lounge surrounded by panoramic views overlooking the ocean expanse and the Lido pool. Other additions are an Explorer's Lounge Bar, a premium wine-tasting lounge, an elegant luxury jewelry boutique, new atrium bar area, enhanced and reconfigured The Showroom at Sea, and a new photographic and imaging center.
The new ship continues several Holland America Line features, including outside-view, glass elevators at midship; the Explorations Café - a cyber-coffee house powered by The New York Times; the Pinnacle Grill and Pinnacle Bar; the innovative Culinary Arts Center presented by Food & Wine Magazine, where culinary experts provide cooking demonstrations and intimate classes in a state-of-the-art onboard show kitchens; an expanded Greenhouse Spa and salon with thermal suites and hydro-pool, the largest gymnasium ever built for Holland America Line; and a youth facility that includes the teens-only Loft. In addition the ship will feature the family-style Canaletto Italian restaurant.
Nieuw Amsterdam features 11 guest decks and staterooms spotlight all the Signature of Excellence® premium amenities. Also featured are innovative spa staterooms with additional spa amenities.
The first Nieuw Amsterdam was launched in 1906 and used both a full set of sails and steam engines. She was 17,149 tons and carried 2,886 passengers, 2,200 of them in third class. She sailed in regular service through World War I and then through to 1932.
The famed Nieuw Amsterdam II joined the fleet in 1938 as the company's flagship. The silhouette of this ship can still be seen today behind Henry Hudson's Half Moon in the company's logo. At 36,287 tons, 'the Darling of the Dutch', as she was known, was decorated in great style and was launched by Her Majesty Queen Wilhemina of the Netherlands.
Nieuw Amsterdam II served proudly in World War II completing 44 war time voyages carrying nearly 400,000 passengers (mostly troops). Following the war she was rebuilt and, as the queen of Holland America Line's 'spotless fleet', hosted countless well-known figures among her guests, including Katherine Hepburn, Rita Hayworth, Spencer Tracey and Albert Schweitzer.
Nieuw Amsterdam III was launched in 1983 as one of the most elegant ships of her time. At 33,900 tons, Nieuw Amsterdam III sailed in Alaska in the summers and in the Caribbean in the winters.
With innovative design and guest offerings, Nieuw Amsterdam IV continues the proud tradition of her name and evolution of Holland America Line's sophisticated mid-sized ships.
News continues below…

MOL enhances e-tariff service on the web
Mitsui OSK Lines (MOL) says it has enhanced the e-tariff function on its Liner Global web site www.molpower.com
Customers can check other trade tariff and country-wise local charge tariff from the web site, plus the existing information about North American and European trade tariffs.
On the web site, visitors can access the new feature from the 'Tariffs' button on the top menu bar, then select 'Other Trade Tariff' from the pull-down menu.
Three kinds of information are available on the page:
Rule Tariff-General (non-freight rate) rules and conditions;
Surcharge Tariff-Trade surcharges BAF/FAF/CAF/PSS;
Local Charge Tariff-Land side surcharges such as THC, Doc Fee and Free time rule.
News continues below…

Pics of the Day – AMERIGO VESPUCCI and COSTA MARINA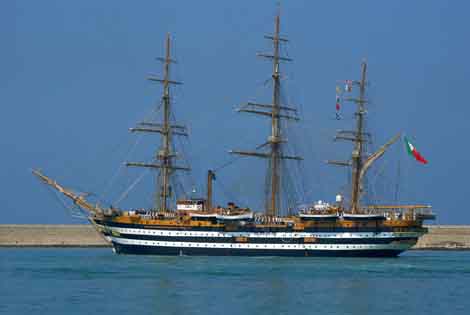 A visit to Livorno in Italy in early July brought about these two pleasurable Pics of the Day. In the above photograph the Italian sail training ship AMERIGO VESPUCCI leaves harbour for a training cruise on 6 July in front of a large exuberant crowd of well-wishers and onlookers. Picture by Trevor Jones
The following day saw a different kind of departure, the Costa Cruises' cruise ship COSTA MARINA (25,558-gt, built 1969). Something of an elderly lady of the sea, she was completely rebuilt in 1990 to give her a more modern appearance and refurbished again in 2002 and now carries up to 770 passengers along with a crew of 385. Costa Marina is marketed mainly among German speaking passengers. Picture Trevor Jones
Don't forget to send us your news and press releases for inclusion in the News Bulletins. Shipping related pictures submitted by readers are always welcome – please email to info@ports.co.za
Did you know that Ports & Ships lists ship movements for all southern African ports between Walvis Bay on the West Coast and Mombasa on the East Coast?
TABLE BAY UNDERWAY SHIPPING
SHIP PHOTOGRAPHERS
Colour photographs and slides for sale of a variety of ships.

Thousands of items listed featuring famous passenger liners of the past to cruise ships of today, freighters, container vessels, tankers, bulkers, naval and research vessels.
P O BOX 809, CAPE TOWN, 8000, SOUTH AFRICA
snai@worldonline.co.za
http://home.worldonline.co.za/~snai
South Africa's most comprehensive Directory of Maritime Services is now listed on this site. Please check if your company is included. To sign up for a free listing contact info@ports.co.za or register online
PROVIDING INFORMATION TO THE MARITIME INDUSTRY