Ports & Ships Maritime News
July 8, 2010
Author: Terry Hutson
Shipping, freight, trade and transport related news of interest for Africa
Want to advertise on the website using your Banner? - contact info@ports.co.za
SEND NEWS REPORTS AND PRESS RELEASES TO info@ports.co.za
TODAY'S BULLETIN OF MARITIME NEWS
Click on headline to go direct to story – use the BACK key to return
Looking for help? Try our MARITIME SERVICES DIRECTORY CLICK HERE
First View – SPRING DRAGON
The Greek-owned refrigerated vessel SPRING DRAGON (12,438-gt, built 1984) which called at Cape Town recently. Picture by Ian Shiffman
News continues below...

Mombasa port faces dock strike






















Mombasa Container Terminal, under threat of strike
First it was an 18-day port and railway strike in South Africa. Now it looks as though it could be Kenya's turn, as thousands of dock workers in Kenyan ports prepare to go on strike unless their demands are met.
At issue is a dispute over a house allowance promised to the labour force. Kenya's dock workers trade union says the Kenya Ports Authority (KPA) has reneged on a 2008 agreement that would see workers receiving housing allowances by the following year.
"The payment was to take effect in early 2009, but the KPA management and some officials in the Department of Transport decided to ignore the pledge," said the union's secretary-general, Simon Sang.
Sang revealed that the union has declared its intention of going out on strike unless their demands are met and says that an official 21-day strike notice had been issued to the KPA. The union had also written to the Prime Minister, Mr Raila Odinga asking for his intervention. In the meantime workers have embarked on a work to rule procedure where they do only what is essential in their duties.
"It's the KPA's failure to fulfil its promises that is the cause of this go-slow which is why we are asking the Prime Minister to intervene," he said.
Kenya's dock workers number about 5,000 and if they embark on a strike the effect on the port of Mombasa will be every bit as serious for East Africa as the recent South African strike was for not only the ports affected but the country as a whole. In the port of Durban Transnet is still dealing with the backlog, more than a month after the strike ended.
KPA's acting managing director Gichiri Ndua responded by telling the union that those participating in the go-slow will be dealt with in line with existing employment regulations. It's been intimated that any attempt to strike would be seen as an act of sabotage.
As the KPA management and workers come face to face over claims of broken promises, another problem at the port revolves around the slow approval of manifests, which importers say is resulting in an increase in landed costs because of increased storage time.
Shippers say the problem has worsened in recent weeks ever since the Kenya Revenue Authority issued an instruction to the effect that manifests could only be approved through the port authority, which has led to delays of up to two weeks.
News continues below…

Transnet cadet lost overboard from Safmarine ship
Safmarine says that it is deeply saddened by the death on one of its ships of a Transnet National Ports Authority cadet, Akhona Felicity Geveza (19), who disappeared over the side of the SAFMARINE KARIBA shortly before the vessel arrived in the Croatian port of Rijeka.
Geveza, a South African national doing her cadet ship training on the Safmarine vessel, was found to be missing at around noon on the 24 June. A search was begun and two hours later her body was discovered in the water by Croatian police.
On the following day as the Safmarine Kariba departed the port, a memorial service was held onboard and as the vessel approached the area where her body was found, the vessel stopped to allow the crew to lower a floral wreath into the water. The ship's horn sounded and a minute of silence followed in respect of the deceased.






















Safmarine Kariba on the vessel's christening in April 2008

Safmarine says that it has been cooperating with the relevant authorities which include the Croatian police, Transnet, the South African Maritime Safety Authority (SAMSA) and the UK MAIB (Maritime Accident and Investigation Branch).
The company also dispatched its Antwerp-based Director: Fleet Management to join the ship in Port Said in order to conduct an additional internal investigation into the matter, in conjunction with the designated person ashore managing crew matters from the Maersk Line Technical Vessel Organisation.
"As Safmariners we are all very shocked about the sudden, tragic loss of Ms Geveza. This is a very difficult time for the family of the deceased, the rest of the crew and for Safmarine as a whole and as vessel owners we are committed to working with Transnet in providing support and assistance to those directly affected by this tragedy," the company said.
News continues below...

News from the shipping lines
Hapag-Lloyd lifts its congestion surcharge for South Africa























Hapag-Lloyd has announced the immediate lifting of an Emergency Congestion Surcharge on imports and exports that was implemented earlier following the Transnet strike in the ports. Resulting from that action a surcharge of USD 105 per TEU was imposed. "We can confirm that this charge will phase out with immediate effect," the German container line said. Hapag-Lloyd said that the South African ports have returned to normal operations and no further congestion was being experienced.
CMA CGM prepares to bring on minority shareholder
French container line CMA CGM, which is emerging from a deep financial crisis that threatened the world's third largest container line, says its business has now recovered since the start of 2010 and that it expects the second quarter results will be even better than the first quarter, when revenues rose 29 percent to €3.2 billion.
CMA CGM is reported to be finalizing a deal in which a minority shareholder will buy into the company, probably by the end of this month. CMA CGM said that it has a few additional weeks to complete its capital increase with external investors. "These discussions, which are well advanced, require the preparation of particularly complex documents."
Safmarine adds additional space on the Asia-East Coast South America Service
As from this month Safmarine will provide additional peak season space on the ASAS service (Asia- East Coast South America) which it shares as a slot charterer with Maersk Line and Hamburg Süd. The service will now have two strings providing fast transit times for maximum coverage in the trade.
"Safmarine has successfully secured slots on both strings, which will operate for the months leading up to the December festive season," said Safmarine Liner Executive Jan Scheck. "Not only will this new arrangement allow us to offer a new, direct product from/to Da Chan Bay and Ningbo in the Far East and Itajai in East Coast South America, but we also expect certain improvements in schedule reliability and transit times."
The twin string service will revert to a single string after the end of the peak season (mid November). The two string rotations are as follows:
First String : Nagoya– Yokohama– Pusan– Shanghai– Hong Kong – Tanjung Pelepas – Singapore–Sepetiba – Santos– Buenos Aires– Rio Grande– Navegantes – Paranagua – Santos– Singapore– Hong Kong – Nagoya.
Second String : Shanghai– Ningbo– DachanBay– Hong Kong – Singapore– Tanjung Pelepas – Durban– Santos– Itajai – Port Elizabeth– Durban– Shanghai.
News continues below…

Sorting out those corridor bottlenecks




















Johny Smith (CEO of the WBCG, left), Donat Mugangu (DRC), Phillip Amunyela (Namibia), and Barrytone Kaambwe (Zambia), all co-chairman of the WBNLDC.
The Democratic Republic of Congo (DRC), Namibia and Zambia recently held discussions during a three-day meeting of the tripartite Walvis Bay- Ndola-Lubumbashi Technical Committee (WBNLDC) which was held recently in Walvis Bay, Namibia.
The meeting of this committee with a cumbersome-sounding name took the form of a follow up discussion about the WBNLDC action plan with reference to customs, immigration, road infrastructure, dry ports and veterinary issues. One of the primary aims is to speed up the implementation of measures to ease cross border movement of goods and services along the Walvis Bay-Ndola-Lubumbashi Corridor (WBNLC – formerly known more easily as the Trans Caprivi Corridor) and to share the outcome of road safety and security studies that were done along this trade route.
Attending the meeting were representatives of the public and private sector from the DRC, Namibia and Zambia. Consideration was given to extending border operating hours to 22h00 daily to accommodate increased traffic levels at the Katima Mulilo and Kasumbalesa border posts.
The committee hopes to achieve harmonization of axle load limits in the DRC matching those in Namibia and Zambia. It was also announced that the strengthening and widening of the Divundu bridge would commence by September 2010.
The Namibian government aims also to speed up the legislating process of the One-Stop-Border-Post between Namibia and Zambia.
The previously named Trans Caprivi Corridor linking Namibia to Zambia was extended recently to include the DRC, hence that equally awkward acronym/name WBNLC. Among the commodities being carried along the corridor are copper, frozen meat and chicken and other consumables.
News continues below…

Nigerian floating dock re-floated
The Nigerian Ports Authority (NPA) has successfully refloated a floating dock which sank about a month ago in Lagos harbour.
The floating dock number IV, which is capable of lifting ships of up to 6,000 tons and was acquired in 1985, sank unexpectedly during a routine test on 10 June. No explanation has been given as to why the floating dock suddenly stopped floating but port authorities appeared confident that it can be repaired and placed back in service.
According to NPA management the plan is now to dry dock and carry out repairs on the floating dock as soon as possible.
Oil trade between Angola and China attractive to tanker owners


























Sales of Angolan oil to China are stimulating investment in companies holding tankers and in fleet owners, the American website Bullmarket.com recently reported.
Investment in oil tankers and related companies is a niche market recording strong growth, which analysts are beginning to recommend. It has gained popularity as Angola is increasingly replacing Saudi Arabia as China's biggest oil supplier.
"The longer the voyage, the more profitable it is for the oil tanker industry," says Tony Daltorio, an analyst for Investment U. A cargo trip between Saudi Arabia and China lasts 21 days on average, while the route between Angola and China averages 33 days.
Prices charged by tankers plying the route between Japan and Saudi Arabia reached as high as USD 177,000 per day several years ago.
The financial crisis caused the tankers' dayrate to collapse to USD 1,246 in September 2009.
However, tanker rates are going up again, last week rising above USD 70,000 per day. According to the Bullmarket investment services company, they may soon top USD 100,000, the highest in the last two years.
"More Chinese demand, combined with longer voyages, translates into good news for oil tanker operators that have resorted to using their massive ships as glorified storage facilities during the prolonged slump caused by the recession," states the Bullmarket.com analysis.
With the 31 percent rise in Chinese oil imports in April, trips by oil tankers increased to nearly 1.13 million nautical miles, 284,000 nautical miles more than in the same month of the previous year.
"China's demand for crude oil means oil tankers have had to traverse the globe 11 extra times in a typical month," indicates the Bullmarket.com study.
Rikard Vabo, an analyst with Fearnley Fonds, said the dayrate for an oil tanker should hit USD 100,000 in December, up 43 percent over the USD 70,025 charged on 11 June.
International Energy Agency forecasts estimate a rise in Chinese oil consumption on the order of 669,000 barrels per day in 2010. They also indicate rising demand for oil tankers, as the forecasted increase implies nearly two more supertankers each week.
In a separate report from the Organisation of Petroleum Exporting Countries (OPEC), Angola produced 1.88 million barrels of oil in May, making the country the eighth biggest producer among the 12 OPEC member countries. Angola now produces more oil than Libya, Algeria, Qatar and Ecuador and ranks slightly lower than Nigeria, which produced 1.996 mb/d in May.
The OPEC report says that China's interest in Angolan oil is due to the fact that it provides more attractive margins for the Chinese refineries that process it. – source Macauhub
Pics of the day – GEO ENDEAVOUR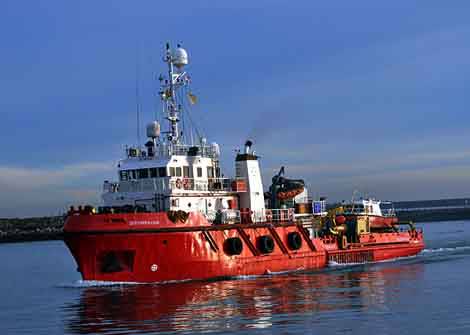 The Dutch-owned, Panamanian-flagged offshore supply vessel GEO ENDEAVOUR (514-gt, built 1985) seen arriving in Cape Town. Picture by Ian Shiffman
Don't forget to send us your news and press releases for inclusion in the News Bulletins. Shipping related pictures submitted by readers are always welcome – please email to info@ports.co.za
Did you know that Ports & Ships lists ship movements for all southern African ports between Walvis Bay on the West Coast and Mombasa on the East Coast?
TABLE BAY UNDERWAY SHIPPING
SHIP PHOTOGRAPHERS
Colour photographs and slides for sale of a variety of ships.

Thousands of items listed featuring famous passenger liners of the past to cruise ships of today, freighters, container vessels, tankers, bulkers, naval and research vessels.
P O BOX 809, CAPE TOWN, 8000, SOUTH AFRICA
snai@worldonline.co.za
http://home.worldonline.co.za/~snai
South Africa's most comprehensive Directory of Maritime Services is now listed on this site. Please check if your company is included. To sign up for a free listing contact info@ports.co.za or register online
PROVIDING INFORMATION TO THE MARITIME INDUSTRY