Ports & Ships Maritime News
July 6, 2010
Author: Terry Hutson

Ports & Ships Maritime News

Shipping, freight, trade and transport related news of interest for Africa

PROVIDING INFORMATION TO THE MARITIME INDUSTRY

Want to advertise on the website using your Banner? - contact viv@ports.co.za

SEND NEWS REPORTS AND PRESS RELEASES TO info@ports.co.za

TODAY'S BULLETIN OF MARITIME NEWS
Click on headline to go direct to story – use the BACK key to return
Looking for help? Try our MARITIME SERVICES DIRECTORY CLICK HERE
The POSH Fleet Services Singapore-flagged and owned tug SALVERITAS (2,658-gt, built 2007) was back in Cape Town harbour at the weekend. Picture by Aad Noorland
News continues below...

Several new African shipping services announced
New direct service between Asia and West Africa
Three container shipping companies, K Line, China Shipping and Hapag-Lloyd have announced a new direct service to operate between the Far East and West African ports, which replaces a transhipment feeder service from South Africa. The new service does however include calls at Durban in both east and westbound directions.
The three companies will deploy eight vessels in the 2,500-TEU range, with China Shipping providing four vessels, K Line three and one coming from Hapag Lloyd. The new service commences with the departure of CSCL MONTEVIDEO from Shanghai on 21 July.
The port rotation is Shanghai, Ningbo, Xiamen, Shekou, Port Kelang, Durban, Tema, Lome, Cotonou, Tincan Island, Durban, Port Kelang, Shanghai for a 70-day round voyage.
SE Shipping's Westabout Three Oceans Service is underway
In December 2009 we ran a report of a new multipurpose service called the Three Oceans Service (3OL) which was being introduced by Singapore based SE Shipping Lines (SESL), which linked Australia and New Zealand to South Africa, with vessels going on to Europe then through the Panama Canal, calling at a number of South Pacific island ports before returning to Australia.
See that report HERE.
The local agent for SE Shipping Lines on this service is Seaclad Maritime (tel 031 327 9400) from which company Paul Scannell advises that the service, after a couple of false starts is underway with the first vessel, the tweendecker MAGDALENA GREEN expected to arrive in Durban on 13 July.
After discharging and loading in Durban the ship will sail for Rotterdam before heading for the Panama Canal and the Pacific on her inaugural round the world schedule.
News continues below…

Piracy. Ship highjacked in Red Sea
Tanker highjacked in Red Sea
Another ship has been highjacked by what is assumed to be Somali pirates. The 13,065-dwt chemical tanker MOTIVATOR, with a crew of 18 Filipino nationals on board, was seized on Sunday north of the Bab el Mandeb area in the southern Red Sea.
The highjack, which took place in the early hours of the day, was only confirmed yesterday (Monday). Earlier the vessel had reported being under attack from pirates using small arms fire. The Motivator is carrying a cargo of lubrication oil – her destination has not been revealed.
Dutch amphibious ship JOHAN DE WITT a force multiplier – (EU NAVFOR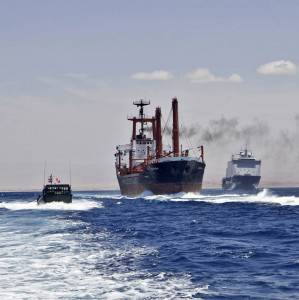 The dock landing ship Johan de Witt escorting a WFP merchant ship in Somali waters. Picture EU Navfor
In a statement issued by the office of EU NAVFOR, the European Union naval force operating in the seas off Somalia, the Netherlands Navy LPD vessel HMLMS Johan de Witt was utilized for her special capabilities during which the dock landing ship proved to be a "most useful asset in the task force."
Johan de Witt is returning to her home base at Den Helder after completing two and a half months of duty among the EU NAVFOR operations off Somalia. The Landing Platform Dock, or LPD as the vessel is described, is equipped with smaller boats and landing craft which proved more than useful in anti piracy operations, in particular those operations close inshore to the Somali coast.
The ship carries two Landing Craft Utilities (LCU) and four Landing Craft Vehicle and Personnel (LCVP).
The EU NAVFOR Force Commander, rear Admiral (LH) Jan Thörnqvist, praised the versatility of JOHAN DE WITT, stating, "This Dutch unit has, together with its Maltese Vessel Protection Detachment, proved to be a most useful asset in the task force. The ship and her crew were always successful in their tasks whether it has been escorts or close to shore-operations such as intelligence, surveillance and reconnaissance (ISR) missions."
Pirates adapt their tactics
The Dutch ship's departure comes at a time when Somali pirates are once again adapting their tactics to offset precautions being employed by merchant shipping. One of these is to move operations to the Bab el Mandeb region in the southern Red Sea, where it is more sheltered as the monsoon season approaches.
Other new tactics being employed are the use of multiple skiffs to involve a mass attack on ships, in which between six and 10 skiffs approach a ship simultaneously. The pirates also use blankets, ladders and even surf boards to toss over the barbed wire hung over the ship sides that shipping companies are increasingly resorting to.
In one reported incident pirates mounted a mass attack on a ship described as being of East European origin. The pirates however met fierce opposition in the form of Russian military personnel on board the vessel and a one-hour gun battle ensued before the pirates broke off the engagement and retired. This incident took place on 27 June.
Twelve seamen released by pirates off Nigeria
On the other side of Africa, twelve foreign seafarers have been released by pirates near the troubled Delta area of Nigeria. A Nigerian Naval spokesman confirmed the release of the men who had been taken hostage after their ship, the BBC PALONIA came under attack on Friday night off the Nigerian coast. During the attack one of the German ship's crew members was shot in the leg.
There is no word on whether a ransom was paid for the release of the 12 seafarers – seven Russians, two Germans, a Latvian, a Lithuanian and a Ukrainian. They were released unharmed onto a fishing trawler operating off the coast.
News continues below...

Brazil's Vale and Australia's Riversdale Mining agree on use of Beira port coal terminal
Maputo, 5 July – Mozambique's state port and railways corporation (CFM) has signed a note of understanding with Brazil's Vale and Australia's Riversdale mining companies regarding use of the existing coal terminal at the port of Beira. CFM indicated that the note of understanding signed on Friday guarantees that the port will be able to process 5 million tonnes of coal per year to be exported by the two companies from concessions in Moatize, Tete province. It specifies that 68 percent of the terminal's capacity will be used by Vale and the remaining 32 percent by Riversdale per the contracts still to be signed by the two companies and CFM. The amount of coal Vale and Riversdale plan to eventually export is far above the capacity of Beira's existing coal terminal. A new terminal is therefore planned, which should begin operations in 2013. (macauhub)
News continues below…

Top Zimbabwe railway officials accused of fraud
Several top executives of the National Railways of Zimbabwe (NRZ) are under investigation for fraud valued at USD 15million, reports SW Radio Africa.
The radio station identified NRZ finance director Patrick Bondayi and a former police commander Frank Msutu, the current NRZ senior manager for security operations, as being two of those being investigated. The police report says that Bondayi allegedly misappropriated funds at NRZ by over-invoicing spare parts. He is reported to have been suspended three months ago as a result of these investigations.
Police said the amount of USD 15 million was hidden in offshore accounts and could be 'the tip of the iceberg'. The security chief is being investigated on charges of having failed to act after fraud was reported to him. Police said he had been alerted to the fraudulent activities of senior managers at the parastatal, but then 'sat on the cases'. – source SW Radio Africa
News continues below…

Recommended Reading. Building African partnerships to defeat piracy
For nearly two years, international navies have policed the waters off Somalia to try to stamp out piracy. More than thirty vessels are deployed across the Indian Ocean and the Gulf of Aden under a wide range of banners, including NATO, US, European Union, and Chinese.
Yet despite the size and sophistication of these international task forces, Somali pirates continue to expand operations. The African Union and several of its member states have publicly spurned piracy and have signed a code of conduct to repress piracy, commonly referred to as the 'Djibouti Code of Conduct'. But only Kenya and the Seychelles have taken any notable action. Read further on this topic, written by Michael L Baker CLICK HERE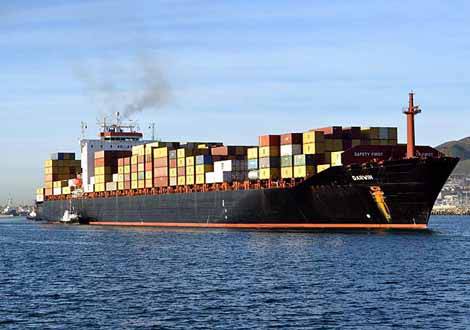 Two views of the container ship DARWIN (51,931-gt, built 1996), departing Cape Town harbour on 2 June 2010. The London-registered ship is the ex ANL Indonesia, ex Maersk Indonesia, ex MSC Indonesia which was involved in a collision with the Singapore naval vessel RSS COURAGEOUS off Pedra Branca on 3 January 2001, a collision that resulted in the Singapore Navy ship sinking with the loss of several lives. Pictures and commentary by Ian Shiffman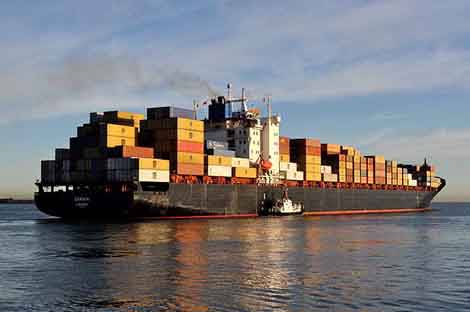 Don't forget to send us your news and press releases for inclusion in the News Bulletins. Shipping related pictures submitted by readers are always welcome – please email to info@ports.co.za
TABLE BAY UNDERWAY SHIPPING
SHIP PHOTOGRAPHERS
Colour photographs and slides for sale of a variety of ships.

Thousands of items listed featuring famous passenger liners of the past to cruise ships of today, freighters, container vessels, tankers, bulkers, naval and research vessels.
P O BOX 809, CAPE TOWN, 8000, SOUTH AFRICA
snai@worldonline.co.za
http://home.worldonline.co.za/~snai
South Africa's most comprehensive Directory of Maritime Services is now listed on this site. Please check if your company is included. To sign up for a free listing contact info@ports.co.za or register online